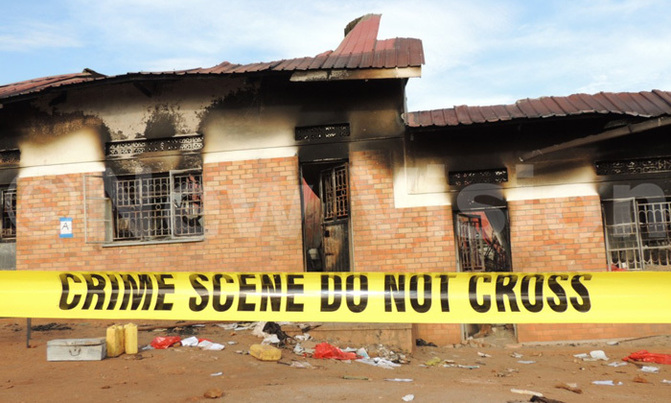 At least 37 were severely wounded. Few others escaped with minor injuries while scholastic items worth millions of shillings were destroyed.
The dormitory after the fire. Photos by Davis Buyondo
SCHOOL FIRE MANYA SSS RAKAI
Today, November 11, 2019, marks one year since 10 students died in a dormitory fire at St. Bernard's -Manya SS in Kifamba sub-county last year.

Unknown arsonists sneaked in and torched Senior Three dormitory. They locked the dormitory doors with a padlock to ensure none of over 60 occupants, escaped from the burning dorm.

At least 37 were severely wounded. Few others escaped with minor injuries while scholastic items worth millions of shillings were destroyed.
Students could not make way through these burglar proofs

The deceased included Charles Ssuuna,16, Sam Nsubuga,15, Timothy Bukenya,16, Geoffrey Lutaaya, 21, Remegious Tamale, 16, Anthony Ssekitende,15, Hudson Byamukama, 22, Emmanuel Kasozi, 15, Sharif Dodiye,15, and Maurice Basiita,15.

Their bodies were charred beyond recognition and it only took a DeoxyriboNucleic Acid (DNA) test to identify the deceased before handing the remains to their respective families.

Until today, their families are still grieving and struggling to cope with recurring memories.
According to Caroline Nabasaji, his son Charles Ssuuna, would have been among thousands that sat for their Ordinary Level exams this year to pursue his dream of becoming an engineer.
Caroline Nabasaji, who lost his son Charles Ssuuna in the inferno
"All I can say is, it has been such a painful experience. I am trying to heal from the most painful moment in my life. It feels as though it happened yesterday," said

Nabasaji, a resident of Kalisizo town council in Kyotera district, said the delayed trial for the suspects in this matter hurts them so much.

She further appealed to the government and court to use the first anniversary to expedite the trial for justice to prevail. She argued that delayed justice or judicial lapses usually incites more crimes.

Security Minister Gen. Elly Tumwine and Janet Museveni, the First Lady and Minister for Education and sports visited the school shortly after the incident.
An ambulance arrives to pick the injured

They appealed to the parents to remain calm promising to follow up the case with other security authorities to expedite the court process. But according to Nabasaji, the case is taking a snail's pace", she recounted.

Another parent Betty Namuwonge of Katwe north in Kalisizo town council declined to speak on the matter, saying nothing will return her son Anthony Ssekitende.
Late Maurice Basiita's family was calling for justice from the time of the incident. However, his elder brother Goodman Manigaruhanga, said that the family chose to rest their case because they are haunted emotionally. They could not say much about the incident.

Betty Nakatte, whose two sons Julius Kanwagi and Derrick Muyombya escaped but with severe burns said they still get nightmares about the inferno.
Betty Nakatte, whose two sons Julius Kanwagi and Derrick Muyombya escaped
Although they escaped, Nakatte explained that their scars sometimes swell. "We actually don't know at what stage the case is. We have appealed for speedy justice since the incident, but we continue losing hope every day to the persistent delays", she said.

She appealed to the government to intervene as it did with the murder of Maria Nagirinya, a social worker and her driver Kitayimbwa among other cases.

However, despite the gruesome incident, Nakatte said she took back his sons to the ill-fated school after the new administration improved on the security of the school.

"At first, they were worried, but they got used to it. Now they have completed their 'O' level. Running is not the solution but to stand and face your worst fears," she noted.

Diocese
A priest at Kitovu said there may not be a mass organised to pray for the souls of the deceased today, but they shall organise it a special one and communicate the date.

School security
The arsonists took advantage of the security lapses to sneak in and burnt the dormitory using petrol.

But Geoffrey Alingasha, the new headmaster of St. Bernard's Mannya SS, ordered a strict security mechanism to avoid similar incidents.

The school has since deployed more security personnel to watch over the school at all times. The school also procured surveillance cameras.

Dormitory Renovated
The ill-fated dormitory was refurbished and occupied by more than 100 students. It was inaugurated by former Masaka Diocesan Bishop John Baptist Kaggwa who cleansed the dormitory with holy water and prayed for the students not to be haunted by spirits of the deceased.
Dormitory during the renovation
The dormitory has two sections (rooms), each of them has two doors, one for regular entrance and exits, and the other for an emergency. Also, the burglar proofing was removed from all the dormitories.

Court Case
On May 31, the four key suspects (students) were committed to the High Court. The students are Alex Taremwa 18, Junior Mugarura 18, Dickson Kisuule 18 and Edison Niyo 21.
The students in the dock during their committal
Prosecution led by Victoria Ann Nanteza said they were through with investigations and ready to proceed for trial.

It was the sixth time the suspects were appearing in court only for mentioning and remand.

They first appeared before the Chief Magistrates Court on November 27, 2018. Other subsequent sessions were December 13, 2018, January 10, 2019, February 15, 2019, March 22, 2019, April 26, 2019, and May 30, 2019, all presided over by Adyeri.

However, Michael Tayebwa, a security guard and Cpl Steven Nzeyimana, a police officer, were charged with negligence of duty and their case is tried in the magistrates' court separately.

Suspects Relatives
Relatives of the four students said they were longing for committal for the trial to begin.

"Whether innocent or guilty, we wanted that to be proven in High Court than making constant adjournments in the pretext of investigations by the prosecution," Niyo's sister -Josephine Ingabire argued.

Ingabire claimed that she was spending a lot of money commuting from Mutukula to Masaka to attend court.

Taremwa's relatives from Kisoro district said they spend at least shs130,000 on transportation, food, and lodging every court session.

Since the suspects' arrest, human rights activists have been pushing for a speedy judicial process to ensure they get justice.

According to Hajjat Shifa Kateregga, the Executive Director of the Human Rights Defenders Masaka (HURIDEM), timely prosecution of the suspects saves time to clear doubt in the judicial system.
Related stories