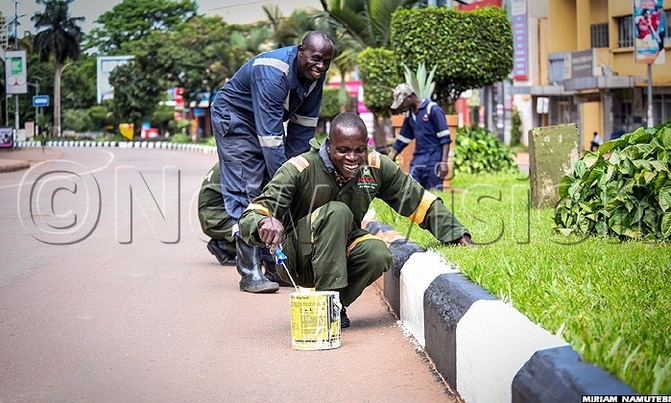 One day, this will crisis will come to a screeching end. The air of latent social hostility and suspicion will clear too, and we shall get back to our engaging chit-chat, often labelled as gossip, with our neighbours.
CORONAVIRUS PANDEMIC


KAMPALA | More than a month ago, a cloud covered our country, Uganda. A spectre of fear, panic and uncertainty - then sadness and desperation. A cocktail of powerful emotions in strange times not only here, but also across the rest of the planet.

While some scurried to the assumed safety of the villages, others sprang into a panic-shopping spree to stock up for uncertain days ahead. Every once in a while, you had to warily look over your shoulder or speed off into the distance whenever you heard someone cough or sneeze nearby.

These were - and are still - times when if one person sneezed with reckless abandon, the entire country could potentially catch a cold. Literally.

Meanwhile, the transformation on the streets became conspucious.

People wore face masks wherever they went and the usually bustling streets of Kampala crept away into sudden slumber - no more incessant car honking and traffic jam.

Eerie silence. A metropolis reduced to a ghostly town.


In fact, birds seemed to have sensed the strange human retreat and they, too, perhaps wanting not to feel out of place, folded their wings and settled for repose to match the aura of tranquility around them.


The usually physically-connected Ugandans had to suspend hugs and the majestic handshakes.

It was necessary. These were abnormal times. A deadly virus had come knocking, and it had inevitably forced its way into our borders, keen to stay for as long as it desired or for as long as we could kick it out.

By the time it arrived in Uganda, using a 36-year-old male from Dubai as a host, this new strain of the coronavirus - COVID-19 - had already spread morbid terror in many other parts of the world.

The virus was so far-reaching that the World Health Organisation eventually declared the situation a global health emergency. A global pandemic that required consolidated steely resistance and resilience of the planet to stave it off.


Meetings were frantically held to come up with ideas on how best Ugandans could be protected against a virus that has the potential to wipe out an entire generation.

Our President, Yoweri Museveni, addressed the nation more regularly than in normal times to chart Uganda's tactically approach in a war he likened to the Bush War that brought him into power over three decades ago.

While he was keen to blend his addresses with a dollop of his characteristic humour, the tone of seriousness in his message delivery was never mistakeable. This, here, was a war. And drastic measures, ever so necessary, had to be taken - and adhered to.

Immediately, schools were ordered closed, as were religious and social establishments in a raft of measures meant to curb the spread of the coronavirus that has taken the entire world by storm.

No more sports, partying, and public and private transport. Only a select list of essential services had the privilege of immunity - but even so under clear standard operating procedures.


We have had to stay in our homes, and we have neither been able to drive nor hold weddings the way we know them. Rituals turned 'scientific' in an age of social distancing and restricted movement.

Working from home became a new normal. Attending church and meetings has had to be done from home - virtually. Not to forget the dusk-to-dawn curfew.

Well, following President Museveni's latest address on Monday, during which he announced a revision of some of the measures, it became clear that this new normal will continue to be our way of life for another 14 days.

But hey, do not despair. Things. Will. Get. Better. And. Back. To. Normal.

The dark cloud of doom and gloom that loomed large at the start of this article will eventually clear. It is not a matter of if, but when, that will happen.


The days of walking long distances will soon be gone. Public transport will be back. The air of latent social hostility and suspicion will clear too, and we shall get back to our engaging chit-chat, often labelled as gossip, with our neighbours.

The day will come when we shall muse at the usual drama in the commuter taxis we use. You miss that, yes?

One day, we shall wake up and the road-blocks and car stickers will be no more. We shall drive again and find ourselves rocking our heads to the rhythm of that mellow music flowing through our car radios.

Your go-to boda boda guy will be back, and you will get back to calling him up to either ride you from point A to B, or to perform an in-city errand for you.


That roadside nyanya mbisi rolex that almost always gets you embarassingly drooling at the mere thought of wolfing it will be back. A day will come when we shall walk out freely to the streets and get about our normal busy lives.

But not just yet. We are not out of the woods yet. Just not yet! Let's not let our guard down.

For now, let's stay home and keep safe as we hold out hope that, like many other obstacles in our lives have, this one too will finally pass.





Also related to this article

Uganda relaxes coronavirus lockdown measures