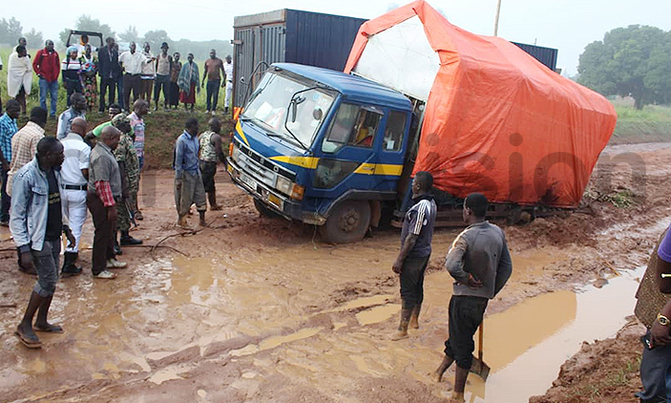 The Uganda Cranes take centre stage as they begin the quest to qualify for the the 2021 African Cup of Nations
ROLLING NEWS THROUGHOUT THE DAY

(Scroll the page for earlier updates)
_____________________________
16:30 pm | That's it...
Let's leave it here for today. A gentle reminder that Uganda Cranes will be in action at 10:00 pm local time.
Good evening!
_____________________________
16:20 pm | Burkina Faso v Uganda Cranes preview
Uganda takes its first steps into the 2021 Africa Cup of Nations qualification campaign against Burkina Faso at 10:00 pm EAT and to get you up to speed with the match and Uganda's readiness for it given the shake-up of the backroom staff, read our brilliant preview HERE.
_____________________________
16:00 pm | Police officer arrested
The natural resources committee of Parliament's hearing has ended with a Police officer being arrested and the committee allowing the evicted artisanal miners to go back to their land and do their work.
The commander of Police's mineral protection unit, Jessica Keigombe, was arrested for allegedly lying under oath after she testified that there were no evictions of artisanal miners in Buhweju and Mubende.
_____________________________
15:36 pm | Team news
Express v KCCA | Team News | The coach names the same XI that beat Wakiso Giants at Wakisha

Shabena replaces Avemah in the team that started against Maroons

Details on our Android App
Get it here👉🏿 https://t.co/D75NkaMRjo

KO 4pm at Wakisha Resource Center#EXPKCCA #COYRE 🔴🦅 pic.twitter.com/Y7QueIP4Qt

— Express FC (@ExpressFCUganda) November 13, 2019
_____________________________
15:30 pm | Team news
Mike Mutebi's First XI this evening against Express FC.#StartimesUPL #EXPKCCA pic.twitter.com/FKYQiB4AEs

— KCCA FC (@KCCAFC) November 13, 2019
_____________________________
15:15 pm | Bundibugyo PWDs get wheelchairs
Bundibugyo district in partnership with World Harvest Mission has today given out over 100 wheelchairs to persons with disabilities.
The Bundibugyo district LC5 chairman Ronald Mutegeki was on hand to pass on the wheelchairs to the beneficiaries.
_____________________________
14:50 pm | Tobacco law enforcement plan in the offing
The health ministry has said that it's
developing an implementation plan
for the Tobacco Control Act 2015. The law came into force over three years ago, but it remains largely unimplemented.
The health ministry officials said lung cancer which is caused by smoking remains one of the major health problems in the country. The disease can be also contracted through passive smoking.
"We would like to encourage people to stop smoking and drinking alcohol. There is no safe drinking of alcohol or smoking. People should avoid smoking and drinking alcohol to keep cancers away," Dr Gerald Mutungi, the commissioner for non-communicable diseases, said.
Statistics from the cancer institute indicate that new (cancer) cases are estimated at over 32,000 annually. But only about 6,000 are reported at the cancer institute.
_____________________________
14:38 pm | UPDF deploys special force in Rwenzori region
The Uganda People's Defence Forces (UPDF) has deployed a special force in the Rwenzori region.
According to the Chief of Defence Forces, Gen. David Muhoozi, the fully-fledged division will have its headquarters at Muhooti Barracks in Kabarole district.
Dubbed as the mountain division, Muhoozi said, its reach will stretch from Katunguru in Kasese district, Mubende and Kyegegwa districts.
_____________________________
14:15 pm | Uganda hosts EAC joint military training
East African Community (EAC) member countries have since last week been taking part in a two-week joint military training exercise in Jinja.
According to Deo Akiiki, the Uganda People's Defence Forces deputy spokesperson, the EAC joint Command Post Exercise (CPX) aims to promote the regional integration agenda, interoperability of the region's armed forces and to improve their readiness in responding to complex security challenges in the region.
The 12th edition of CPX, dubbed 'Ushirikiano Imara 2019' that ends on Sunday has attracted over 360 personnel from the military, police, prisons, immigration personnel and key civilian stakeholders from Uganda, Rwanda, Tanzania, Burundi, Kenya and South Sudan.
_____________________________
13:50 pm | Museveni returns from Nairobi
President Yoweri Museveni is back home from Nairobi, the Kenyan capital where he joined other African heads of state and government on Tuesday for the International Conference on Population and Development (ICPD25).
Museveni told the three-day conference that gender equality can only be achieved if societies transform and develop.
"You cannot keep a pre-capitalist society in existence and you think you will achieve easily gender equality and other goals," he told thousands of attentive delegates at the Kenyatta International Conference Centre in the Kenyan capital.
_____________________________
13:25 pm | Will South Sudan finally be able to clinch lasting peace in 100 days?
South Sudan's president and its armed opposition leader have missed another 100-day deadline to form a power-sharing government, threatening a tenuous ceasefire that has paused years of bloodshed in the world's youngest country.
The warring camps were given another extension to join forces after a meeting brokered by regional leaders but whether another delay will bring peace remains to be seen. Will results finally be seen?
_____________________________
13:05 pm | Today in the Uganda Premier League
Defending champions KCCA FC travel to Wankulukuku Stadium to take on struggling Express as they look for all three points to keep with runaway leaders Vipers SC who opened up a six-point lead at the top of the table with a slender win over URA on Tuesday.
_____________________________
12:22 pm | Parliament grills energy ministry officials
Officials from the energy ministry led by state minister Simon D'Ujanga on Wednesday faced parliament's natural resources committee.
The committee put the officials to task over complaints from people in Mubende and Buwheju over the artisan miners especially foreigners chasing them off their land over mineral prospecting.
_____________________________
12:10 pm | Cheptegei closer to IAAF award
Joshua Cheptegei has strode closer to the International Association of Athletics Federations' top accolade. He is amongst the final five male nominees for the November 23 awards night in Monaco.
Cheptegei is contesting for the top prize together with Sam Kendricks, Noah Lyles (USA), Eliud Kipchoge (Kenya) and Karsten Warholm (Norway).
The best male will together with the best female and upcoming stars be announced in 10 days at a grand function in Monaco.
_____________________________
11:55 am | WHO prequalifies first Ebola vaccine
The World Health Organization (WHO) has said it had prequalified an Ebola vaccine for the first time, hailing a "critical step" towards its licensing, access and roll-out in countries most at risk of outbreaks.
"This is the fastest vaccine prequalification process ever conducted by WHO," it said in a statement, explaining that "prequalification means that the vaccine meets WHO standards for quality, safety and efficacy."
The announcement comes hot on the heels of a decision last Monday by the European Commission to allow the release to market of the injectable vaccine, Ervebo, made by US laboratory Merck Sharpe and Dohme (MSD) after the European Medicines Agency gave the product its green light on October 18.
Since the current epidemic, which has cost some 2,190 lives out of 3,290 declared cases since it began in DR Congo, more than 236,000 people have been treated, according to the WHO.
The current epidemic in DR Congo is the tenth in the country since the first in 1976. It is the second most deadly to date after a 2014-2016 outbreak which cost some 11,000 lives and underscored the urgency to bring a vaccine to market.
_____________________________
11:39 am | Over 10,000 NGOs face closure
The minister of state for internal affairs, Mario Obiga Kania, has issued a directive that all non-governmental organisations (NGOs) that have not been validated stop operating immediately.
Addressing the press at Uganda Media Centre on Wednesday morning, Kania revealed that the validation exercise carried out by the NGO Bureau that ended on September 7 found that out of 14,207 registered NGOs, only 3,810 have valid permits.
_____________________________
11:30 am | Today's Rastoon
Health workers in government facilities in eastern Uganda are selling blood between sh30,000 and sh50,000.
__________________________
11:13 am | Umeme mounts operation in Kampala
Umeme is currently conducting an operation on illegal electricity connections around Kampala. Accompanied by Police, the team is currently in Nakulabye in Rubaga division.
Umeme engineers are going up electricity poles, checking and disconnecting wires that were illegally put. They are also checking out meters that were tampered with. All this is being done amidst hostility from residents.
_____________________________
11:00 am | The situation in Ma'di
On the road between and Adjumani and Paboo a bridge has been swept off while the Adjumani-Sinyanya road to Obongi district is also cut off by floods. Several vehicles accessing Gulu through Elegu border are stuck as floods have also swept through Arinyapi sub-county.
The Adjumani resident district commission, Peter Taban, says that as it stands, the majority of Ma'di sub-region is being cut off from the rest of the country and that after contacting the Uganda National Roads Authority for help, their team also got stuck on their way to the area to assess the situation.
_____________________________
10:41 am | Man dies at Kigo Prison
The family of Robert Kituuka who recently died while on remand at Kigo Prison has expressed dissatisfaction with the government's explanation that he died of heart failure while in jail.
Kituuka, 44, who will be laid to rest today, was on remand over a land-related case.
_____________________________
10:25 am | Heavy rains cut off Ma'di
Passengers plying the Moyo-Gulu road are spending nights on the road after heavy rains swept away bridges on alternative roads.
Trucks got stuck close to Pakelle town council which is found between Adjumani and Atiak, forcing Kampala-bound buses from Moyo to spend Tuesday night in Adjumani town but they still couldn't continue their journeys on Wednesday morning as the situation only worsened with more trucks getting stuck.
_____________________________
10:12 am | A red river?
A river near the inter-Korean border turned red with the blood of pigs slaughtered as Seoul attempts to curb the spread of African swine fever.
South Korea has culled around 380,000 pigs since the first case of the haemorrhagic disease -- which is not harmful to humans but is highly infectious in swine -- was reported in September.
Pig cases are nearly always fatal and there is no antidote or vaccine, with the only known way to prevent the disease from spreading being a mass cull of livestock.
A local NGO said that heavy rains last week caused blood from a burial site near the inter-Korean border -- where some 47,000 pig carcasses were piled up -- to seep into the Imjin River on Sunday, turning some of the stream red.
_____________________________
10:00 am | Uganda protests Rwanda killings
The government of Uganda yesterday issued a protest to the government of Rwanda, in regards to shootings by Rwandan security personnel that continue to occur along the common shared Uganda-Rwanda border.

The protest was delivered to Rwanda's High Commissioner to Uganda, Maj. Gen. Frank Mugambage, by Ambassador Patrick Mugoya, the permanent secretary in the ministry of foreign affairs. Read the statement in full HERE.
_____________________________
9:43 am | Residents storm Police post
Residents of Kazinga in Wakiso district on Wednesday morning stormed Kazinga Police Post demanding an explanation concerning the disappearance of a fellow resident Musa Awere who has been missing for almost a week.
The residents said they were angered by Kennedy Ssebagala who is in charge of Kazinga Police Post after he blocked them from mounting a search in the bushes where Awere was last seen.
_____________________________
9:28 am | Where are you catching the match from?
Traveling fans ready to cheer the @UgandaCranes against Burkina Faso on Wednesday evening. #BFAUGA #AFCON2021Q pic.twitter.com/31ifzCPUTl

— FUFA (@OfficialFUFA) November 12, 2019
_____________________________
9:13 am | Grasshopper season
Have grasshoppers shown up in your area yet? The residents of Awindiri village, Oluko sub-county in Arua district will answer yes to that question after last night's swarm.
_____________________________
9:00 am | Its matchday
Uganda Cranes take on Burkina Faso in the first of their 2021 Africa Cup of Nations qualifier in Ouagadougou. Jonny McKinstry's men held their training session last evening at the Stade Du 4 Aout.
_____________________________
8:45 am | Today in the New Vision
Have you gotten your copy of the New Vision today? If not you can also subscribe to our E-Paper.
_____________________________
8:38 am | Today's dose of motivation
You are not here merely to make a living. You are here in order to enable the world to live more amply, with greater vision, with a finer spirit of hope and achievement. You are here to enrich the world, and you impoverish yourself if you forget the errand.
Woodrow Wilson
_____________________________
8:30 am | Good morning!

A very good morning everyone. Glad you could join us again on this sunny Wednesday as we chart our way through the day's major events.