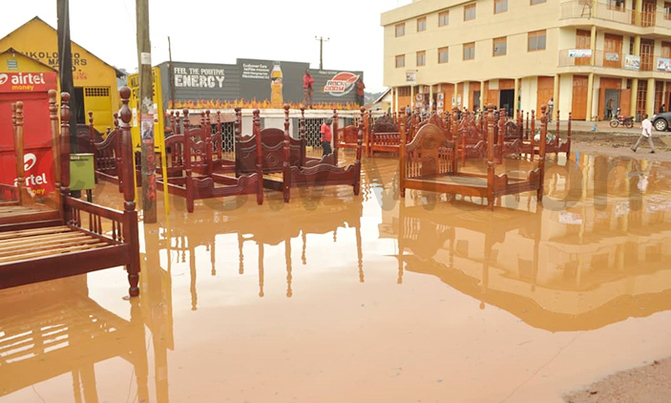 Senior Six students all over the country today enter their second day of UACE examinations while FDC prepares to petition the ICC.
ROLLING NEWS THROUGHOUT THE DAY

(Scroll to the bottom page for updates)
_____________________________
16:45 pm | Adieu
That brings an end to today's updates. Let's do this again tomorrow!
_____________________________
16:40 pm | 14 children found in preacher's home
Police in Nansana has arrested a preacher Fiaco Kulunziyiza of Tukyuke Holy Ministries in Kabumbi and two others after 14 children aged between 3-10 years were found living in his house.
Residents who heard cries from the children alerted security officials in the area who, led by Moses Kiwalabye, visited Kulunziyiza's house and found that the children who had various disabilities had been ferried from Kibaale district without informing the authorities.
Kulunziyiza, however, said even though he has been with the children for long, he was planning to report to authorities just before Tuesday's intervention. Others arrested were identified as Ndora Charles and Valens Byukusenge.
_____________________________
16:24 pm | Vision Group gives sh250m for MTN Marathon
Have you signed up for the MTN Marathon? Are your running shoes ready? Have you trained sufficiently? If you haven't yet, you have less than a fortnight to get that all done.
The marathon happens on November 24 and today, Vision Group gave the annual run a sh250m boost. The offer from Uganda's top media house has Vision Group covering the marathon, whose proceeds this year will go towards the improvement of maternal health, on all its platforms.
Vision Group has for long been a key partner for the marathon that has over the past 15 years grown into Kampala's biggest social event.
_____________________________
16:05 pm | Rights body condemns Police brutality
The Uganda Human Rights Commission (UHRC) has condemned the Police's continued brutality against journalists and other Ugandans, arguing it is not good for the country's development.
"This conduct by police must stop. I don't know why they are always full of anger against Ugandans who feed them and pay for their uniforms, guns and all other things they use," UHRC head of research and documentation Kamadi Byonabye said.
_____________________________
15:48 pm | ADF rebels kill 5 in DR Congo
Suspected Ugandan rebels hacked five civilians to death in eastern DR Congo overnight as an offensive against militia groups neared the end of its second week, local sources said Tuesday.

Suspected members of the Allied Democratic Forces (ADF) killed five people in the village of Mayi-Moya near the city of Beni, a local administrator told AFP.
_____________________________
15:22 pm | Rains flood parts of Kampala
The Tuesday afternoon rains caused havoc in parts of Kampala including in Nalukolongo in Rubaga division where several businesses were left partially submerged by floodwater.
_____________________________
15:00 pm | Whose drone?
During Tuesday's press briefing where FDC members and other opposition members put their signatures on a petition they say is destined for the International Criminal Court, a mysterious drone hovered over the venue and captured the proceedings that lasted for just over an hour.
Some FDC supporters debated whether to bring the drone down with projectiles but they ultimately decided against the move.
_____________________________
14:37 pm | Crested Cranes prepare for CECAFA
The Crested Cranes went through their Tuesday training session at the FUFA Technical Centre in Njeru under the watchful eye of head coach Faridah Bulega as they prepare to take on Djibouti in Friday's CECAFA Women Challenge Cup opener.
Together with Djibouti, Uganda is drawn in Group B with Ethiopia and Kenya, and Djibouti while Group A comprises of hosts Tanzania, Burundi, Zanzibar, and South Sudan.
_____________________________
14:22 pm | Today in History
On this day 47 years ago, former president Idi Amin Dada moved to fulfil a dream he had to expel people of Asian origin from Uganda, giving them 90 days to do so.
At the time, over 80,000 Asians were living in Uganda, 23,000 of whom had their applications for citizenship both processed and accepted. Take a trip back in time with photos and videos of one of the most controversial moves of Amin's presidency HERE.
_____________________________
14:10 pm | Kiprotich announces retirement plans
After bursting on the athletics scene at the London 2012 Olympics where he won Uganda's first gold medal in 40 years at the quadrennial games, Stephen Kiptorich is contemplating national team retirement.
In an exclusive interview with New Vision, the athletics star reveals what more he aims to accomplish on the track as well as his life after hanging up his spikes.
_____________________________
13:45 pm | JLOS review underway
The Chief Justice Bart Katureebe today opened the 24th annual Justice Law and Order Sector (JLOS) review under the theme 'Empowering the People, Building Trust, Upholding Rights'.
The sector is also presenting its annual performance report for the year 2018/19 at Mestil Hotel in Nsambya.
_____________________________
13:28 pm | Uganda Premier League
Despite the Uganda Cranes taking to the field on Wednesday in the AFCON qualifiers, the Uganda Premier League will this week have a full round of matches, starting with six matches today.
The match on most people's lips pits league Vipers against URA at St Mary's Stadium in Kitende with coach Edward Golola looking to triumph at home over the Tax Collectors for the first time in three matches without the services of leading goalscorer Fahad Bayo and captain Halid Lwaliwa who are away with the national team
Mbarara v Onduparaka (4:00 pm)
Proline v Bright Stars (4:30 pm)
_____________________________


13:14 pm | Sikhs celebrate founder's birthday
Sporting saffron and blue turbans and headscarves, hundreds of thousands of devotees all over the world are celebrating the 550th birth celebrations of Sikhism's founder Guru Nanak.
Estimates state that Sikhism has some 25 million followers worldwide.
_____________________________


12:48 pm | Body recovered in Lubigi wetland
The body of an unidentified man was on Monday morning discovered in Lubigi wetland in Nansana by residents. The man who the Police suspects to be a bodaboda rider was found without any documents and that the body could have been dumped there overnight.
_____________________________


12:33 pm | Contractors and Providers Summit
Held under the auspices of the trade ministry, the 1st Contractors and Providers Summit got underway at Serena Kampala Hotel.
The platform, a first of its kind in Uganda, is meant for contractors to network and collaborate to find solutions to challenges faced by contractors and to build and support Ugandan owned enterprises.
It also looks to create a forum for contractors to freely engage and collaborate with; government and its agencies, peer-to-peer, local and international pioneers, with the intention to improve visibility, performance and profitability of Uganda owned enterprises.
_____________________________


12:22 pm | Today's Rastoon
Private students planning to join Makerere University next year will have to pay higher tuition fees.
_____________________________


11:54 am | Man killed in Jinja Road accident
One unidentified man was killed in an accident on Jinja Road when a truck that was carrying an excavator knocked down a motorcycle, killing the passenger.
According to eyewitnesses, the unfortunate incident happened when the driver of the wide loader braked late as he tried to avoid knocking the bodaboda which was overtaking.
The passenger was thrown off the bike and died from his injuries soon after. The bodaboda cyclist is thought to have escaped from the scene with his motorcycle after the accident.
The truck drivers have been arrested and detained at Central Police Station as investigations into the incident continue.
_____________________________


11:38 am | Petition signed
FDC leaders as well as other opposition figures led by Dr Kiiza Besigye, appended their signatures to the petition under the campaign dubbed 'Article 3 Campaign'.
The name of the campaign references Article 3 of Uganda's Consitution.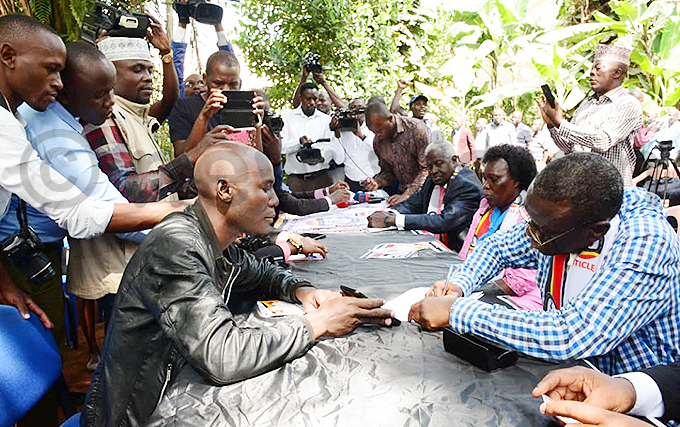 _____________________________


11:15 am | Submission of views on election Bills
Ugandans who wish to submit their views on the electoral reforms that the government presented to Parliament have only three more days to do so with the deadline of November 15 rapidly approaching
Parliament's legal committee headed by Jacob Oboth was given an extra 20 days to finalise the process of gathering views from the public. He said that they were compelled to reopen for receiving views from the public to ensure no stakeholder is left behind.
Towards the end of July, the Attorney General William Byaruhanga tabled five Bills for amending electoral laws in preparation for the 2021 elections and in response to recommendations of the Supreme Court.
The Bills include the Presidential Elections (Amendment) Bill, the Parliamentary Elections (Amendment) Bill, the Electoral Commission (Amendment) Bill, the Political Parties and Organization (Amendment) Bill, and the Local Governments (Amendment) Bill.
Oboth clarified that whereas they have reopened the door to receive views from more members of the public, they will only be receiving written presentations without having to physically convene meetings with the authors of the personations.
_____________________________


10:57 am | FDC to petition ICC
The Forum for Democratic Change on Tuesday launched the signing of a petition that the party says it wants to bring to the attention of the International Criminal Court alleged crimes committed by President Yoweri Museveni.
Former FDC president Dr Kizza Besigye was joined at the signing by Kampala Lord Mayor Erias Lukwago, Leader of Opposition in Parliament Betty Aol Ochan, Ken Lukyamuzi and Mubarak Munyagwa among other FDC and opposition figures at the party's offices on Katonga Road.
_____________________________


10:45 am | Cranes arrive in Ouagadougou
The Uganda Cranes delegation that departed for Ouagadougou aboard Uganda Airlines early Tuesday morning has arrived ahead of Wednesday's AFCON qualifier against Burkina Faso.
The group included 16 players: Dennis Onyango, Robert Odongkara, Charles Lukwago, Isaac Muleme, Joseph Ochaya, Murushid Jjuuko, Hassan Wasswa Mawanda, Halid Lwaliwa, Khalid Aucho, Tadeo Lwanga, Nicholas Kasozi, Allan Okello, Allan Kyambadde, Farouk Miya, Emmanuel Arnold Okwi, and Fahad Bayo.
The @UgandaCranes have safely arrived in Ouagadougou. #BFAUGA pic.twitter.com/OQTM3JXtT5

— FUFA (@OfficialFUFA) November 12, 2019
_____________________________


10:38 am | Today's dose of motivation
Infuse your life with action. Don't wait for it to happen. Make it happen. Make your own future. Make your own hope. Make your own love. And whatever your beliefs, honour your creator, not by passively waiting for grace to come down from upon high, but by doing what you can to make grace happen... yourself, right now, right down here on Earth.
Bradley Whitford
_____________________________
10:30 am | Good morning

Good morning everyone. Glad you could join us again on this beautiful Tuesday as we chart our way through the day's major events.