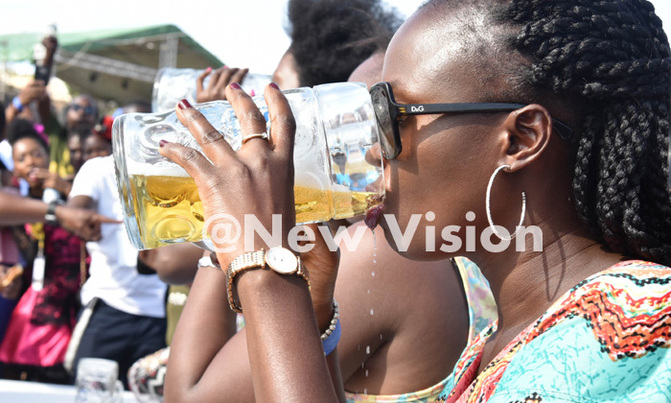 Oktoberfest began as a wedding celebration more than 200 years ago.
CULTURE

Oktoberfest in Kampala is organized by Kampala Food Network and will be held once again at the Uganda Museum Gardens today (October 5).


FACT FILE

Thursday (October 3) was the National Day of Germany, celebrated as a public holiday. It commemorates the anniversary of German reunification in 1990, when the Federal Republic of Germany (West Germany) and the German Democratic Republic (East Germany) were unified so that for the first time since 1945 there existed a single German state.

1. The Germany embassy opened in Kampala immediately after Uganda got independence on October 9, 1962.

2. Germany never severed diplomatic relations with Uganda even at the time of Kampala's worst behaviour in the 1970s.

3. In spite of the long friendly relations, Okoberfest beer and food festival was only started in Kampala in 2015.

4. Many people confuse the flags of the two countries yet the order of colours is different. Many Ugandans also hum the Germany national anthem unknowingly because of a Christian hymn that has the same tune.

5. Before the Old Uganda Airlines closed, it had flown to cities in Germany like Frankfurt.

6. Trade with Germany is significant, standing at over 210 million Euros, with Uganda exporting coffee, gold, tea and fish while importing machinery and chemical products from Germany.

7. Ugandan's love for Germany soccer predates the present obsession with British soccer and many Ugandan football coaches trained in Germany

8. Before the 1975 OAU Kampala summit, President Idi Amin dispatched his presidential jet to Germany with Uganda Television technicians to source and purchase equipment for colour broadcasting ahead of the big conference.

9. Many Ugandans have benefitted from German sponsorship for higher post-graduate studies and technical training

10. The first time a Ugandan won an Olympic gold medal was in Germany at the 1972 Munich Olympics when John Akii-Bua broke the world 400m hurdles record.


Oktoberfest began as a wedding celebration more than 200 years ago when Bavaria's Crown Prince Ludwig married Princess Therese of Saxony-Hildburghausen on Oct. 12, 1810. The wedding was celebrated with multiple days of drinking, feasting and horse races.

Oktoberfest starts in September because its final day has a fixed spot on the calendar. The last day of the festival is always on the first Sunday of October.

Oktoberfest officially begins on the second to last Saturday in September at noon when the mayor of Munich taps the first barrel at the Schottenhamel Tent, crying "O'zapft is" (It's open). The festival concludes the first Sunday of October following German reunification day on October 5.

In fact, 6 million litres of beer are guzzled down each year at Oktoberfest.

Thanks to Bavarian Purity Laws (which dictate Bavarian beer may only consist of water, malt, hops and barley), the beer here is some of the tastiest in the world, and there's no better backdrop to sip it than the world-famous Oktoberfest.


ALSO RELATED TO THIS STORY

Kampalans celebrate Oktoberfest-The Diva Edition

Beer galore at Oktoberfest

Onyango optimistic ahead of Oktoberfest 7s

Second Oktoberfest to blend Ugandan and German beer and food culture