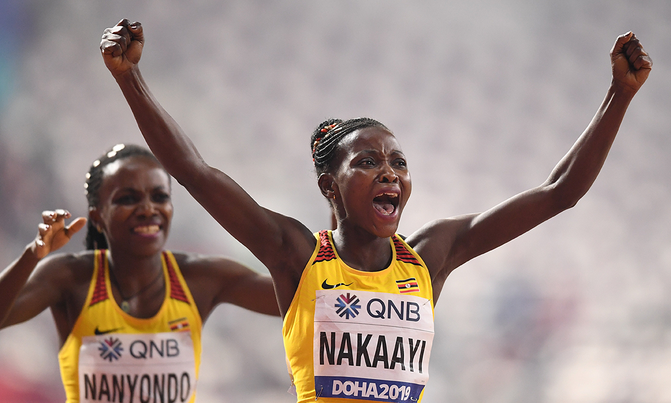 Halimah Nakaayi runs a race of her life to win Uganda's first gold in Doha - and the same time, the country's first ever medal at the World Championships.
IAAF WORLD ATHLETICS CHAMPIONSHIPS - DOHA 2019

By Joseph Kizza
@joekizza

_____________________________


DOHA - Halimah Nakaayi raced into local history books when she became the first Ugandan - man or woman - to win an 800m medal at the World Championships, when she burst past the finish line in Monday night's women's 800m final ahead of American duo Raevyn Rogers and Ajee Wilson to claim gold.


A historic, memorable night for the 24-year-old runner in Doha also saw her winning time of 1:58.04 register as a new national record.

Her compatriot Winnie Nanyondo came close to a podium finish, but she failed to cope with Rogers' powerful surge towards the end to settle for fourth in 1:59.18.

Wilson, a pre-race favourite, was stunned in the final 70 metres as Nakaayi slapped on the afterburners to beat the tiring, much taller American, who was also beaten to silver by her teammate.

Nakaayi and Nanyondo squealed with delight, jumping and embracing in pure joy as the reality of the former's accomplishment quickly sank in. She had just won Uganda's first medal at this edition - and a gold at that!


Congratulations to Halima Nakaayi who has just won the 800m women's final at the #IAAFDoha2019. Congratulations to Winnie Nanyondo for putting up a great show in the same race. Your country is proud of you!

— Yoweri K Museveni (@KagutaMuseveni) September 30, 2019

With a golden medal in the bag, Nakaayi knows all too well she will be leaving the most populous city and capital of Qatar $60,000 (about sh220m) richer.

Although she missed out on a podium finish, Nanyondo, too, will return home with some good amount of prize cash - $15,000 (about sh55m).

onday's golden triumph not only put Uganda on the medals table, but also lifted the East African nation up to joint-sixth place. The end of day four of the 10-day competition had Kenya lead the African medals standings (two gold, one bronze) ahead of Ethiopia (one gold, two silver) and Uganda (one gold).

Burkina Faso, Ivory Coast and Namibia follow with a bronze medal each.

_____________________________


A thrilling, golden finish





Chance to rise to the top

The absence of defending champion Caster Semenya of South Africa from the competition after a Swiss judge overturned a temporary suspension on controversial testosterone rules in July this year provided the much-needed space for the best of the rest to rise to the top.

And with fellow Rio 2016 medallists Francine Niyonsaba of Burundi and Kenya's Margaret Wambui also out, Wilson knew this was her chance to shine.

The American won bronze in the previous edition in London and was therefore considered Semenya's natural successor at the helm this time around. But in the diminutive pair of Nakaayi and Nanyondo, she would find herself in the company of equally hungry challengers.

On Saturday, the Ugandans powered through their respective heats to book their spots in the final. Nakaayi's 1:59.35 time in the semi-finals was not only the best across the three heats, but also her season's best.

Yet, there was more where that had come from.

In Monday's final, the pair struck a presence of confidence, rocking to and fro - just like the other racers - to keep their muscles well awake for the task before them, as their faces were flashed on giant screens during their introduction to the huge crowd inside and around the 40,000-seat Khalifa International Stadium.


Once fired off by the starter pistol, Nakaayi and Nanyondo stuck to a strategy of tact and patience, allowing Wilson and co to dictate proceedings at the front. But knowing all too well that theirs is a brief two-lap contest, the Ugandans, dwarfed by their lankier competition, consciously moved closer to the front - Nakaayi in third and Nanyondo close behind in fourth - after the bell.

As they curved up towards the home straight, Wilson was still leading, but with Nakaayi hot on her heels. Nanyondo kept up with them in third. The stadium went up several decibels as Nakaayi kicked harder, overtaking Wilson with about 30 metres to go.

With the end ever so nigh, the Ugandan had to draw every ounce of energy from her reserves to push a little harder to prevent a dangerously marauding Rogers snatching the gold from her.

Victory at last for Nakaayi! History at last for Uganda!

Safe across the line, the diminutive racer immediately let out a scream of triumph, went down on her knees and kissed the track, before helping herself back up to punch the air and bask in her new-found fame with emotional hugs from her compatriot Nanyondo and congratulatory embraces with the other racers.

That's what two minutes can do to your life!


It was the perfect conclusion to the fourth day of the competition for Uganda, who had earlier in the evening seen their own, Leni Shida and Peruth Chemutai, crash out of the women's 400m heats and the women's 3,000m steeplechase final, respectively.

Racing in Heat 3, Shida finished 6th with a time of 52.22. Meanwhile, Chemutai's 9:11.08 became her season's best, registered from a race that saw Kenyan Beatrice Chepkoech blow the field away to claim gold with a course record time of 8:57.84.



ALSO RELATED TO THIS STORY

Nanyondo, Nakaayi storm 800m final in Doha

Cheptegei races to historic World Cross Country gold

Cheptegei seals second Commonwealth gold

Cheptegei wins gold at 2018 Commonwealth Games

Commonwealth Games: Uganda wins 10,000m gold & bronze