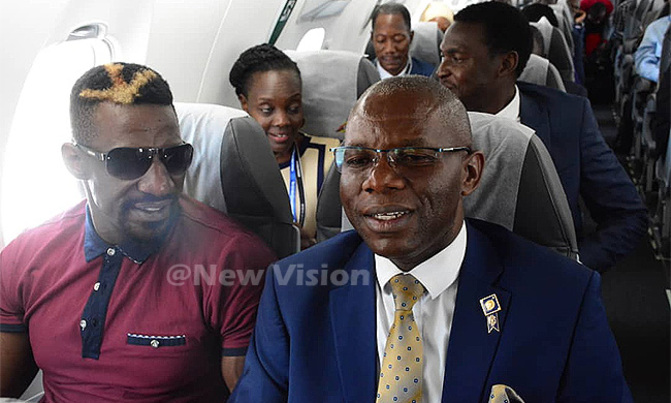 The inaugural flight underlines the start of a new chapter in Uganda's commercial aviation, with President Yoweri Museveni describing the commissioning as a "historic moment" for all Ugandans.
AVIATION | UGANDA AIRLINES

By Joseph Kizza
@joekizza

_________________________________

Uganda's new-look flag carrier, Uganda Airlines, successfully completed its maiden flight from Entebbe to Nairobi on Tuesday, raising optimism over the future of the country's aviation industry.

After a colourful ceremony of speeches and musical performances under glorious mid-morning sunshine, Flight UR202 took off from Entebbe International Airport at around 12:10pm and landed at Jomo Kenyatta International Airport in the Kenyan capital an hour later.

At JKIA, the plane was welcomed with a symbolic water salute.

The welcome ceremony was at Four Seasons, with Kenya's cabinet secretary for East African Community Adan Mohamed the chief guest.

Kenya Airports Authority (KAA) managing director, also in attendance, said "we are proud that Uganda Airlines has joined our airline fraternity at JKIA. We extend to you a warm welcome and wish you success at this airport".


Official ceremony to welcome @UG_Airlines is at Four Seasons by Sheraton. The Cabinet Secretary for East African Community Kenya - Hon Adan Mohamed is the chief guest. Uganda is represented by Hon @MonicaAzubaNte. MD of @KenyaAirports welcomes UG Airlines and offers his support pic.twitter.com/x49AlrtxSJ

— Ministry of Works & Transport (@MoWT_Uganda) August 27, 2019

The inaugural flight underlined the start of a new chapter in Uganda's commercial aviation, with President Yoweri Museveni describing the commissioning as a "historic moment" for all Ugandans.

The morning function at Entebbe was attended by Government officials, private sector representatives, diplomats, including Kenya's high commissioner to Uganda, and other stakeholders.

Amos Lugolobi, Parliament's budget committee chairperson, and his counterparts George Wilson Kumama Nsamba (infrastructure committee) and Syda Bbumba (national economy committee) were among the politicians in attendance.


Museveni is away in the Japanese city of Yokohama to attend the Tokyo International Conference on African Development (TICAD). He was represented at the official launch of the Uganda Airlines as chief guest by Prime Minister Dr. Ruhakana Rugunda.

"Today, we stand here as witnesses to this historic moment when our national carrier takes off to the skies," he said in his message delivered by Rugunda.

"All systems and necessary approvals by the relevant authorities have been given and I am confident that Uganda Airlines, with its dedicated and selfless staff, will steer this airline to international heights.

"Uganda plays a critical role in the geo-political and economic stability of East Africa as a region, and as a nation, we are strategically placed to serve our neighbours," said Museveni.

"With our national airline, our friends in South Sudan, DR Congo, Kenya, Tanzania, Rwanda, Burundi and elsewhere will be able to easily access our market and easily connect to their destinations."


Upon arrival at the Jomo Kenyatta International Airport in Nairobi, our counterparts welcomed us with a water salute.

The reception here is amazing.#LetsGo#FlyUgandaAirlines pic.twitter.com/DxBwom6ty3

— Uganda Airlines (@UG_Airlines) August 27, 2019

The tone of confidence in Museveni's message was a reverberation of that sounded by other speakers, with words such as "world-class" and "excellence" being voiced.

"We undertake to be a world-class airline that will exceed customer expectations through high-quality service, global connectivity and commitment to excellence," said Uganda Airlines CEO Ephraim Bagyenda.

"Our personnel are very highly qualified, with nearly all of them being Ugandan nationals. We want to assure you that we are committed to developing a safe, secure and efficient operation."

The first phase of the airline's operations will feature flights to seven destinations, including Nairobi, Mogadishu (Somalia), Juba (South Sudan) and Dar-es-Salaam (Tanzania).

Wednesday's flight, scheduled to depart at 6:00am local time, will be the first commercial trip. Destination: Nairobi.

From September 13, flights to Mombasa (Kenya), Kilimanjaro (Tanzania) and Bujumbura (Burundi) will begin. Later on in November this year, the revamped airline will expand its route network to "more exciting destinations in the southern and central African regions".


It has taken Uganda nearly two decades to get back to the skies, with the first-generation Uganda Airlines that started operations 42 years ago closing shop in 2001.

In 2016, the NRM Government manifesto pledged to revive the airline "in order to reduce the cost of air transport and ease connectivity to and from Uganda". President Museveni, in his delivery on Tuesday, said he appointed a taskforce comprising key industrial experts and stakeholders "with the objective of developing a comprehensive business plan to guide the process of reviving Uganda Airlines".

In 2017, the project started in earnest.

Works and transport minister Eng. Monica Azuba Ntege said the launch of the airline is "yet another milestone" reached.

"It has been a long journey of hard work, dedication and success. However, there is still much more to do to support our national airline to sustain the operations. Let us continue working together to support our national carrier," she told the nation.


Minister for Works @MonicaAzubaNte says the launch of @UG_Airlines represents another commitment by the government in its effort to promote regional trade & integration.#UgandaAirlines pic.twitter.com/qO81LJg8kD

— UBC UGANDA (@ubctvuganda) August 27, 2019

According to Museveni, Ugandans were "donating $450m [about sh1.6 trillion] to other countries through foreign travel".

"Besides, there was a lot of inconvenience to travelling Ugandans by not having direct flights and even being charged some times discriminatory fares," he added.

After the business plan for the revival of the national carrier was completed and approved by Cabinet, Government went ahead to avail funds for the purchase of four Bombardier CRJ 900 aircraft for regional flights and two wide-body long-haul Airbus A330 aircraft to cater for long-haul flights.

Two of the Bombardier planes were delivered in April this year for commercial operations, with the airline receiving an operator certificate on April 27.

The remaining two Bombardier aircraft are expected to be delivered by the end of next month (September). The Airbuses, which will do the longer international routes, will be delivered next year.


'We are committed'

Godfrey Pereza Ahabwe, the chairman of Uganda Airlines Board of Directors, said the national carrier is "anxious to set the pace for others in the region" in the "core areas" of punctuality, consistency and customer service.

In the same tone, he drummed up support from stakeholders.

"Definitely, we are a baby airline, and we expect continued babysitting, at least for the time being, from Government and our dear comrades from Parliament. Eventually, we shall reach where we are going, not only to break even, but also to make profit for Government. We are committed to this cause," he said.

Meanwhile, urging Ugandans to "support our national airline", President Museveni said its success will substantially contribute to the development of Uganda and the East African region as a whole.

He added that the airline also presents business opportunities across all sectors.

"There has never been a better time to commence commercial operations than now - when passenger traffic is growing, given the increasing demand for Uganda tourism," said the President.



Where to buy tickets


According to the airline's chief executive Bagyenda, ticketing offices are located in Kampala at Victoria University House, Victoria Mall in Entebbe town and at Entebbe International Airport.

"Beyond Uganda, we have our own offices in some destinations while in others, our customers are served through general service agents. Our customers are able to check and book tickets online via our website as an additional service.

"Our promise is to operate more direct flights at convenient times and on time," he said.


_________________________________



PICTURE THIS: Soaring to greatness



ALSO RELATED TO THIS STORY

'Historic occassion': Uganda receives new planes

New Uganda Airlines planes: A peek inside

First two Uganda Airlines planes arrive