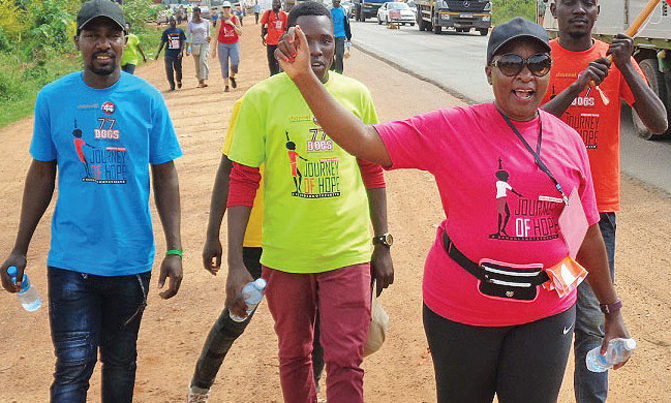 "As Dwelling Places, we are saying it is possible to keep a child off the street if you support them to stay in school," says Nkemba.
JOURNEY OF HOPE WALK 2019

By Joseph Kizza
@joekizza

________________________
KAMPALA - The countdown is on. On Monday July 1, when the calendar is flipped to usher in a new month, a large group of men, women and children will be powering out of the blocks for a 467km charity walk from Uganda's capital Kampala destined for Karamoja in the north-east of the country.

When they set off for yet another edition of the Journey of Hope Walk - a biennial arrangement -, the group will be doing so knowing all too well that their efforts are for a just cause.

Theirs will not be just a physically demanding cross-country journey, but instead, more importantly, one clearing the way for a new lease of life to thousands of helpless children that end up on the streets of major towns out of desperation.

Now in its third edition, the walk is the flagship component of the Journey of Hope campaign, initiated by Dwelling Places, a Christian NGO.

Ritah Nkemba, who is the founder of the non-profit, says the initiative's tagline #SchoolsNotStreets aims at drawing the attention of stakeholders - Government, schools, civil society, etc - to the trials and tribulations of street-connected children and carving out solutions for them.

And one way out is the school component.

"As Dwelling Places, we are saying it is possible to keep a child off the street if you support them to stay in school," says Nkemba.


Already, Nkemba's organisation has changed the lives of many children in Napak district, Karamoja sub-region, by funding their continued stay in one particular school: Lomaratoit Primary School.

Napak district was found to be one areas where majority of the children loitering on the streets of Kampala and other towns originated.

Funds raised from the last Journey of Hope Walk (2017), were to go into the construction of a classroom block at Lomaratoit Primary School. Before Dwelling Places' intervention in 2015, the school had classes from Primary One to Primary Four, but attendance was very low.

When Ritah and co threw in their weight, enrollment rose.

Out of the 200 children enrolled in Lomaratoit Primary School in 2015 in the hope that they did not go to the streets, at least 145 have continued to consistently attend school to-date. Of this lot, 23 were among the very first to complete Primary Seven in this very school last year. All passed with performances ranging from aggregate 13 to 26.

The Journey of Hope campaign is spreading out its limbs to bigger ambitions. This year's walk is aimed at raising funds for the construction of a secondary school in Lomaratoit village.

Here, progress will depend on has fast the targeted funds for the first phase (Senior One to Senior Four) come in. Nkemba's projection is that two years from now, the first phase of the project will have been completed.


"If there is no organisation to support children who have finished Primary Seven, they will drop out and go back to the streets to beg because for them, that is their only source of income," says Faith Atwine, the deputy director for communications, strategy and impact at Dwelling Places.

Dwelling Places is footing the bill of keeping the 23 Lomaratoit Primary School graduates in secondary school, but the non-profit is financially overstretched in this regard.

"That is why our priority is to construct a secondary school and hopefully Government can allow making it a Universal Secondary Education (USE) school, with Dwelling Places supporting wherever possible," says Atwine.

A recent report by Retrak, a faith-based charity, revealed that there were 15,476 street-connected children in the four towns of Kampala, Jinja, Mbale and Iganga. In each of these towns, the native tribes were the dominant on the streets, followed by the Karamojong people, making the latter the single largest ethnic group on the streets.

"Traffickers need to be criminalised. They are trafficking and exploiting the children for their own means," Atwine weighs in further.

"There is a section of children who are on the streets because someone has brought them there to beg - against their will - for the other person's benefit. Unsafe migration involves children who run away from home or who follow their peers."

Meanwhile, Kampala Capital City Authority (KCCA) has drafted a bill meant to, among other things, punish people who give handouts to children on the streets.

"We have drafted a bill, discussed it and sent it to the Attorney General for confirmation. Once it is confirmed, possibly by the end of this month, we will move to implement it," says KCCA spokesperson Peter Hillary Kaujju.


The birth of Journey of Hope

In February 2015, Nkemba and Dwelling Place country director Damon Wamara visited Lomaratoit Village. It was their first trip there since the repatriation exercise in 2007.

They found many children loitering in the village and not in school. On closer inspection, they learnt that although 93 children had been registered to study at Lomaratoit Primary School, which had classes Primary One to Four, only 35 were actually present in school, with three teachers, during the visit.

A startling revelation emerged from the community dialogue meeting. Most of the parents could not afford to contribute the mandatory sh2,000 towards school feeding and scholastic materials. Residents were asked to register all children of school-going age, yet not in school. As many as 200 children were registered and enrolled into Lomaratoit Primary School.

From that very moment, Nkemba and Wamara's task had been cut out.

When they returned to Kampala, they got down to mobilising funds to ensure that those 200 children stayed in school and to support the school to handle the increased numbers.

Out of this experience, the Journey of Hope sponsored walk idea was birthed - to raise funds to keep children in school and prevent their possible migration to the streets to beg.

The walk


The Journey of Hope walk 2019 will get underway on July 1, which is Monday next week. Three days before (June 28), there will be a flag-off ceremony by the Buganda Kingdom, with Katikkiro Charles Peter Mayiga gracing the event.

The walkers will receive the Journey of Hope flag from Mayiga and then walk to All Saints Cathedral, Nakasero, where they will hand it over to the church.

On the Sunday, June 30, the team will then receive the flag from the Church of Uganda, led by the Archbishop Rt. Rev. Stanley Ntagali, as a sign of spiritual flag-off. The group will then walk from All Saints' Cathedral Nakasero to Parliament, where they will hand the flag-off to the Uganda Parliamentary Forum for Children (UPFC).

The duration of the walk is 18 days, thought the actual walk will last 16 days, with two days of resting. In-between, there will be pitstops to allow the walkers replenish their energy tanks. Vision Group is taking part in the charity walk.


ALSO RELATED TO THIS STORY

School fence collapses on eight street kids

Cabinet debates plight of street children

Journey of hope: Walkers reach Napak, their destination

Journey of Hope 2017 in pictures: Walkers arrive in Karamoja