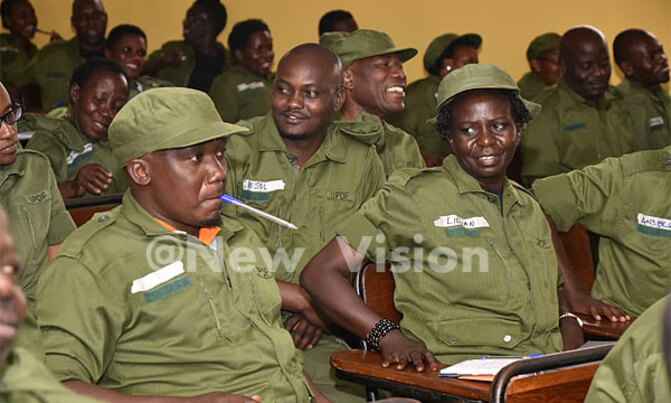 The minister for presidency, Esther Mbayo, opens a five-day induction retreat for newly appointed resident district commissioners (RDCs) in Kyankwanzi.
ROLLING NEWS THROUGHOUT THE DAY

Presented by Joseph Kizza
@joekizza


____________________________________
3:30pm


Good evening


Done here for today. Scroll down for earlier stories.

Cheers!


#UgandaToday

____________________________________

3:15pm


THE BEAST ARRIVES IN KISORO


The team will head back to Kabale after Kisoro. Then on Thursday, they will be destined for Fort Portal through Rukungi and Bushenyi.


Scenes as #KiiraEVS finally arrives in Kisoro, furthest destination.

The team will now embark on a return journey to Kampala through Fort Portal - Mubende.
📷 : @KiiraMotors pic.twitter.com/RgMYZ5I8K2

— Urban Television (@UrbanTVUganda) February 20, 2019

#UgandaToday

____________________________________

3:07pm


Planting trees along roads


That should be a provision in the Road Bill, 2018, suggests Sam Mutabazi.


Road Bill, 2018: Sam Mutabazi suggests that a provision should be made on planting of trees by the road sides to address environmental concerns. pic.twitter.com/rKC0GOr7Cb

— Parliament of Uganda (@Parliament_Ug) February 20, 2019
#UgandaToday

____________________________________

2:45pm

NDA gets new secretary

New Vision's Carol Kasujja:

The National Drug Authority (NDA) has appointed David Nahamya, director of inspectorate and enforcement, as the acting secretary. This comes after the Court of Appeal ordered the former executive secretary, Donna Asiimwe Kusemererwa, to vacate office.

The order by the Court of Appeal follows a 2017 ruling by the High Court that the appointment of Kusemererwa in January 2016 was "unlawful, unjustifiable, null and void".

In a notice signed by Medard Bitekyerezo, the NDA board chairperson, Nahamya's appointment comes after the appellant court dismissed an application in which Kusemererwa had appealed the orders of the High Court, amongst which an injunction was issued restraining her from acting in the position of the secretary to the Authority.

"We would like to assure the public that the Authority has, through its internal mechanisms as provided by law, been able to fill the management gap and operations are running normally," said Bitekyerezo.
#UgandaToday

____________________________________

2:30pm


Of handwashing and safe waste disposal


At Kyankwanzi . . .
#HappeningNow: Minister for State for Health,Hon. @MorikuJoyce addresses Resident District Commissioners (RDCs) on the importance of Sanitation and Hygiene in Disease Control & Prevention.
👉🏾She emphasized need for communities to embrace handwashing,safe waste disposal

💦
🧼👏🏼 pic.twitter.com/1VohIJSPQq

— Ministry of Health- Uganda (@MinofHealthUG) February 20, 2019
#UgandaToday

____________________________________

1:20pm


Enjoy your lunch


Bon appetite.
#UgandaToday

____________________________________

1:05pm


Induction retreat for newly appointed RDCs


Pictures from Kyankwanzi . . .


#UgandaToday

____________________________________

12:40pm

Induction retreat for newly appointed RDCs

The minister for presidency, Esther Mbayo, has opened a five-day induction retreat for newly appointed resident district commissioners (RDCs) in Kyankwanzi district.

She has warned them against corruption and conflicting with local government authorities.


#UgandaToday

____________________________________

12:05pm


UGANDA PREMIER LEAGUE: Confident Kirinya out to stop URA



New Vision's Bruno Mugooda:

Kirinya Jinja SSS FC's caretaker head coach Abbey Kikomeko feels his side have gained the much needed confidence going into Thursday's league encounter with URA FC.

URA, the hosts, are 5th on the table while Kirinya lie in 11th.

Kirinya will be carrying a whole load of confidence following their win over Police FC last week while URA will be hoping to improve their fortunes after a goalless away draw against Onduparaka the last time out.

Kirinya had gone seven matches without a win before Tuesday's victory over the Cops. That has buoyed the Jinja-based side.

"We are going to put up a serious challenge to contain defensive URA FC. Our aim is to see that we score first because its very dangerous to concede first as they know how to defend as a unit," said Kikomeko.

"We need to get a win to catch up with the big boys in the top six in the league . A loss will put us back to fight against teams in the drop zone. So we need to focus well enough in this game."

The last time the two sides met was early January, with the first round encounter ending 1-1 in Jinja.


#UgandaToday

____________________________________

11:47am


300,000 more galaxies unearthed


Shedding new light on some of the Universe's deepest secrets.


New Universe map unearths 300,000 more galaxies

The international team behind the unprecedented space survey said their discovery literally shed new light on some of the Universe's deepest secrets...https://t.co/eupKwlSTfZ #VisionUpdates https://t.co/eupKwlSTfZ

— New Vision UGANDA (@newvisionwire) February 20, 2019
#UgandaToday

____________________________________

11:02am

A 'call for action' against mycetoma - a disease neglected, overlooked

The 6th International Conference on Mycetoma in Sudan's capital Khartoum has endorsed a "call for action" urging the global community to work together with partners, researchers and other stakeholders to address the devastating consequences of this disease, the World Health Organisation (WHO) reports.

"I am pleased to see this global conference shedding light on mycetoma, a disease that has been truly neglected and overlooked for too long, which has resulted in devastating consequences for poor and vulnerable populations," said WHO regional director, Dr Ahmed Al-Mandhari.

"Tackling neglected tropical diseases (NTDs) and involving all stakeholders in this important scientific gathering is in line with our Vision 2023, which calls for solidarity and action towards achieving health for all by all in the region."

According to WHO, mycetoma is a disease of poor, rural populations particularly those exposed to manual field work, reducing ability to earn a living. It causes intense suffering, loss of function and disability.
#UgandaToday

____________________________________

10:45am


Ugandan-made car curves its way into Kabale


No, it's not a scene from Casino Royale, that 2006 spy movie starring Daniel Craig as British Secret Service agent James Bond.

This is actually a live scene in Kabale! And that black car you are seeing in the pictures is the Kiira EVS, a Ugandan-made car. It's a beast in its own right, for sure.

The sleek vehicle, made by Kiira Motors Corporation, has yet to hit the market, but already, it has given an impressive account of itself. After two short test drives in Kampala a couple of weeks ago, the its makers have taken their baby - 'The Beast' actually - out on a 1,600km test drive from Kampala to Kisoro in western Uganda.

The team is making a stopover in major towns to give Ugandans a chance to check out their own.

Here are the scenes as it cruised through the curvy hills of Kabale and how it was welcomed by excited locals in the town Wednesday morning . . .


#UgandaToday

____________________________________

10:30am


The 'Beast' cruises into the curvy hills of Kabale


Ugandan-made car, the Kiira EVS, is on 1,600km test drive. This morning, it dared to take on the graceful hills leading to Kabale - and how sleek it looked!


#UgandaToday

____________________________________

10:15am


Arrested for duplicating books



Four arrested over duplication of textbooks and novels...https://t.co/7FFthC8TmD #VisionUpdates pic.twitter.com/EbBC362Yyb

— New Vision UGANDA (@newvisionwire) February 20, 2019
#UgandaToday

____________________________________

10:03am


UGANDA PREMIER LEAGUE: Three matches today


The StarTimes Uganda Premier League returns today with three games on the card.


| | | |
| --- | --- | --- |
| WEDNESDAY FIXTURES | | |
| BUL | vs | SC Villa |
| Mbarara City | vs | Onduparaka |
| Ndejje University | vs | Tooro Utd |


BUL FC, who are 4th on the table, will host 12th-placed SC Villa while it will be a 3rd v 6th contest as Mbarara City FC entertain Onduparaka FC.

Ndejje University FC, who are languishing in the relegation zone in 14th, will hope to build onto their win against Maroons FC with another positive result at home against 8th-placed Tooro United FC.

All the games will kick off at 4:30pm local time.


#UgandaToday

____________________________________

9:48am


'Vaccine could virtually eliminate cervical cancer'


By AFP:

The rapid scale-up of the human papillomavirus (HPV) vaccine could virtually eliminate cervical cancer in a handful of rich countries within three decades, and in most other nations by century's end, researchers said Wednesday.

Without screening and HPV vaccination, more than 44 million women will likely be diagnosed with the disease over the next 50 years, they reported in The Lancet Oncology, a medical journal.

Two thirds of these cases -- and an estimated 15 million deaths -- would occur in low- and medium-income countries.

By contrast, the rapid deployment starting in 2020 of screening and vaccination could prevent more than 13 million cervical cancers by mid-century worldwide, and lower the number of cases to below four-per-100,000 women, the study found.

"This is a potential threshold for considering cervical cancer to be eliminated as a major public health problem," the authors said in a statement.


Earlier this month, the World Health Organization (WHO) reported 570,000 new cases worldwide in 2018, making it the fourth most common cancer for women after breast, colon and lung cancer.

The disease claims the lives of more than 300,000 women every year, mostly in lower income nations.

"Despite the enormity of the problem, our findings suggest that global elimination is within reach," said lead author Karen Canfell, a professor at the Cancer Council New South Wales, in Sydney.

Achieving that goal, however, depends on "both high coverage of HPV vaccination and cervical screening," she added.

Transmitted sexually, HPV is extremely common and includes more than 100 types of virus, at least 14 of them cancer-causing.

The viruses have also been linked to cancers of the anus, vulva, vagina and penis.

It takes 15 to 20 years for cervical cancer to develop in women with normal immune systems. If the immune system is weak or compromised -- by HIV infection, for example -- the cancer can develop far more quickly.

Clinical trials have shown that HPV vaccines are safe and effective against the two HPV strains -- types 16 and 18 -- responsible for 70 percent of cervical cancer cases.

The study's projections presume the vaccination of 80 percent of girls 12 to 15 years old starting in 2020, and that at least 70 percent of women undergo screening twice in their lifetime.

This would push the prevalence of the disease below the bar of 4/100,000 women in countries such as the United States, Canada, Britain and France by 2059, and in mid-income countries such as Brazil and China by 2069, the authors calculate.
#UgandaToday

____________________________________

9:40am


NRM CEC retreat concludes



The National Resistance Movement (NRM) Central Executive Committee retreat at Chobe Safari Lodge in Nwoya district officially closed Tuesday.

"As party chairman, I wish to congratulate the committee and secretariat on the fruitful discussions. The resolutions of the retreat will be communicated to members by the relevant party organs. I am also excited to have taken part in a tree planting exercise as a mark of our commitment to environmental conservation," tweeted President Yoweri Museveni.


The resolutions of the retreat will be communicated to members by the relevant party organs. I am also excited to have taken part in a tree planting exercise as a mark of our commitment to environmental conservation. pic.twitter.com/YYqa9S7uyX

— Yoweri K Museveni (@KagutaMuseveni) February 19, 2019
#UgandaToday

____________________________________

9:23am


Workers House fire 'started from a car'


On Tuesday, news of an evening fire at Workers House in the heart of the city spread across news outlets. Eventually, the blaze was snuffed out by firefighters. This is a building that houses the National Social Security Fund (NSSF) offices. Following the incident, NSSF released a statement on the fiery episode.

Here goes:

Today at about 17:05 hrs, a fire broke out on the 3rd basement of Workers House on Plot 1, Pilkington Road in Kampala. We immediately activated our NSSF Disaster Management Plan and evacuated the building. We confirm that the fire started from a car on the 3rd basement and spread to 2 other cars. Police Fire Brigade arrived on the scene a few minutes later. The fire was isolated and controlled in a small spot within a few minutes. Only 3 cars have been affected. All NSSF staff based at Workers House and all tenants have been accounted for. We would like to express our appreciation to all our staff and our tenants at Workers House who quickly responded to the alarm and evacuated the building. We would also like to thank the Uganda Police Fire Brigade who responded quickly and managed to isolate and control the fire in a small spot. Their efforts contained the fire and prevented further damage. We would like to reaffirm to our tenants, our members and the public that the Fund has put in place adequate measures, as contained in our Disaster Management Plan, at all our facilities to prevent such incidences. Barbra Teddy Arimi Head of Marketing & Communications.


Here's our official statement regarding the fire incident at Workers House this afternoon @DailyMonitor @ntvuganda @newvisionwire @nbstv @ubctvuganda @rpbyaru @vkaramagi @RedPepperUG pic.twitter.com/pYJ7uumBuC

— NSSF Uganda (@nssfug) February 19, 2019
#UgandaToday

____________________________________

9:10am

Parliament passes two bills - on wildlife and minimum wage


On Tuesday, Parliament passed into law the Uganda Wildlife Authority Bill, 2017. The object of the Bill is to provide for the conservation and sustainable management of wildlife, to strengthen wildlife conservation and management as well as to continue the Uganda Wildlife Authority (UWA).


The House also passed the Minimum Wage Bill, 2015 into law. The object of this piece of legislation is to provide for the determination of a minimum wage based on the different sectors of the economy.

Plenary was chaired by Deputy Speaker Jacob Oulanyah.


During consideration of the bill on minimum wage, Moroto County MP Samuel Okwir said trade unions have come up short in advocating for the plight of workers in their sections.

Arua Municipality MP Kassiano Wadri said Uganda is one of the nations that had never addressed the issue of minimum wage and "it offends Article 40 of the constitution".

West Budama County North MP Richard Otieno argued that what is needed is a basic needs wage not a minimum wage. "I don't support a bill which is misdirected because it does not address the issues of the workers. It is somebody's ability to pay that determines what the employer set for his workers."


Meanwhile, Kumi Woman MP Monica Amoding stood on the floor to present her private members bill Sexual Offenses Bill, 2015.

The bill was withdrawn.
#UgandaToday

____________________________________

8:57am

RAS TOON

Farmers at the Harvest Money Expo in Namboole were told Uganda is failing to meet the demand for pork in the country.


The three days of the biggest farming exhibition in Uganda ended Sunday with a record turn-out registered.

Those who attended the expo walked away with a wealth of knowledge and lessons in everything agriculture. High-profile people also showed up, including Vice-President Edward Kiwanuka Ssekandi, former agriculture ministers Victoria Sekitoleko and Dr. Wilberforce Kisamba Mugerwa.

Click the links below for more:

Day One

Day Two

Day Three



____________________________________

8:49am


Back to the Pearl


Let's turn our attention back to Uganda . . .
#UgandaToday

____________________________________

8:42am


AROUND THE CONTINENT: New bat species found in N.Africa, Europe


By AFP:

A new species of bat has been discovered in wooded areas of Europe, an international team of researchers said on Tuesday, as well as another "very rare" species that lives in caves in North Africa.

The findings add to the family of roughly a thousand species of bats, an order of mammals which are capable of transmitting and receiving ultrasound, allowing them to fly and navigate in total darkness.

The new bat species discovered in Europe is called "Myotis crypticus" and lives in wooded areas in Italy, France, Switzerland and Spain, researchers said, led by a team at Spain's National Research Council.

The species faces "growing human pressure", they said.


The bats had "gone unnoticed until now" because they "are represented by 53 species in Europe but many of them are enormously similar," said Javier Juste, a researcher at the Donana biological station in southern Spain, in the statement.

"We had to resort to genetic comparisons to verify their identity," he added.

The same study discovered a new species in North Africa called "Myotis zenatius" which is "extremely rare and vulnerable", the National Research Council said.

This species can only be found in a few caves in mountainous regions of Morocco and Algeria, it added.

"It is possible that it already deserves to be included on the list of species in danger of extinction," the researchers said.
#UgandaToday

____________________________________

8:34am


AROUND THE CONTINENT: Burundi urges summit over troops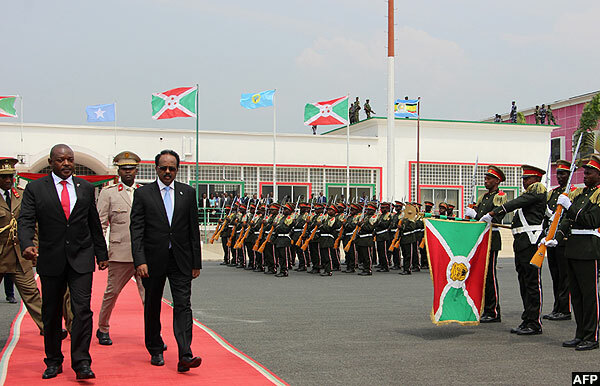 By AFP:

The presidents of Burundi and Somalia on Tuesday called for an urgent summit to discuss the contested withdrawal of 1,000 Burundian troops from Somalia before the end of the month.

The African Union is gradually scaling back its Amisom force in troubled Somalia, and announced late last year that the Burundian soldiers must leave by the end of February.

Burundi has strongly opposed the drawdown of its troops, a valuable source of foreign currency in the country, which has seen donor funding cut since a political crisis broke out in 2015.

"We agreed to call an urgent summit of Amisom troop contributing countries to review this decision," Burundi President Pierre Nkurunziza said after an official visit by his Somali counterpart Mohamed Abdullahi Mohamed.

A source at the AU, speaking on condition of anonymity, said the names of the soldiers to be sent back to Burundi had already been decided and would leave between February 21 and 26.

Burundi's Foreign Minister Ezechiel Nibigira recently returned from Egypt where he secured the support of President Abdel Fattah al-Sisi, who earlier this month took over the rotating presidency of the AU, a high-ranking source at the ministry told AFP.


Somalia's president meanwhile praised the sacrifice of Burundi's soldiers who were "among the first" deployed to Somalia.

The AU has a 21,500-strong force, Amisom, to support Somalia's fragile internationally-backed government and fight Shabaab jihadists blamed for scores of bloody attacks.

The force is to be gradually scaled back as Somalia's embryonic armed forces are trained up and deployed to replace them.

Burundi has the second-largest contingent in Amisom with 5,400 troops, after Uganda, which has 6,200 men. Other contributors are Djibouti, Ethiopia and Kenya.

Burundi has lost between 800 and 1,000 soldiers in Somalia.

Participation in Amisom is a valuable source of hard currency, and the scaleback is likely to have a big impact on Burundi -- every quarter, the AU pays it around $18 million (15.7 million euros).
#UgandaToday

____________________________________

8:25am


AROUND THE CONTINENT: Gunmen killed 'over 130' in NW Nigeria


By AFP:

An attack by gunmen on villages in northwest Nigeria last week claimed "over 130" lives, more than double the toll initially reported, the governor of Kaduna state said on Tuesday.

"The last report we got is that over 130 people were killed, not even 66," governor Nasir El-Rufai said after a meeting of military and security chiefs in Abuja.

El-Rufai (pictured), who was invited to speak at the briefing with President Muhammadu Buhari, was criticised for announcing the deaths last Friday, on the eve of elections which were subsequently delayed.


The bodies were found in eight villages in the Kajuru area of the state, which has long been a centre of deadly unrest, fuelled by ethnic and religious tensions.

A representative of the ethnic Christian Adara community, which is dominant in the area, told AFP there had been recurring attacks by Fulani Muslims in the last three years.

At the weekend, the governor said the victims were Fulanis. But a prominent Christian body has said the attack did not happen.

It is unusual for state governors to make such announcements in Nigeria and El-Rufai hit out at claims that the attack was fabricated as "irresponsible".

"I know there is a prevailing narrative in the Nigerian media that only certain lives are more important than others," he told reporters.

"We see that clearly in the slant of reporting and the denial," he said.

"Fulani leaders are providing the names of all these people, we have the list and we will release it to the press."

Nigerian media reported that Kaduna state police chief, Ahmad Abdulrahman, also attended the meeting and said 11 people had been arrested.

El-Rufai, from the ruling All Progressives Congress (APC), is known as a close ally of Buhari. He is seeking re-election as governor in upcoming polls on March 9.

Buhari, who also wants a second term of office in presidential polls postponed to this Saturday, is facing a number of security challenges across the country.

They include Boko Haram's Islamist insurgency in the northeast and an upsurge in violence between farmers and herders in central states.

Kaduna is one of several northwest states to have been hit by kidnappings for ransom and cattle rustling by criminal gangs.
#UgandaToday

____________________________________

8:20am


AROUND THE CONTINENT: SA to deliver budget faced with huge debt


By AFP:

South Africa's Finance Minister Tito Mboweni faces a balancing act ahead of his maiden budget Wednesday to reassure investors over the country's troubled public electricity company without alienating union allies ahead of national elections.

He is under pressure to bail out the state power utility Eskom -- along with its $30 billion mountain of debt -- which is at the centre of the country's mounting economic troubles.

Mboweni (pictured) will deliver his maiden budget to parliament in Cape Town at 1200 GMT.


Analysts warn of tensions that may emerge should the restructuring lead to job losses.

President Cyril Ramaphosa announced this month that the utility would be divided into three, but unions have rejected that, saying it would lead to job cuts.

Over the past few weeks the utility has implemented a nationwide programme of rolling blackouts as it failed to meet demand.

The scale of the power outages, unseen in more than a decade, has rocked the continent's most industrialised nation, plunging businesses, homes and traffic lights into darkness.

But the ruling African National Congress (ANC) has been warned by its coalition partner, the COSATU trade union federation, that sackings could damage their alliance ahead of national elections due on May 8.

"We remain totally opposed to any restructuring plan that will benefit the capitalist class and increase prices for the working class," said spokesman Sizwe Pamla.

Ramaphosa indicated last week that details of the government's rescue plan, which will be designed to stave off another damaging credit rating downgrade, would be revealed in Wednesday's budget.

Fears are mounting that if Eskom defaults on its massive debts, lenders would be entitled to call back other loans to different parts of the state including the troubled national carrier South African Airways.

Fraud, corruption and incompetence have gripped public sector businesses and compromised their credibility while mounting debts have spooked investors.



#UgandaToday

____________________________________

8:17am


Around the continent


Let's have a look at what's happening around the continent . . .
#UgandaToday

____________________________________

8:10am

Today's inspirational quote

"Being negative only makes a difficult journey more difficult. You may be given a cactus, but you don't have to sit on it." - Joyce Meyer


#UgandaToday

____________________________________

8:05am

Good morning

Welcome to this live page. Hoping you are fine today. Let's get rolling, shall we?


Use this hashtag to get onto the conversation on Twitter >> #UgandaToday