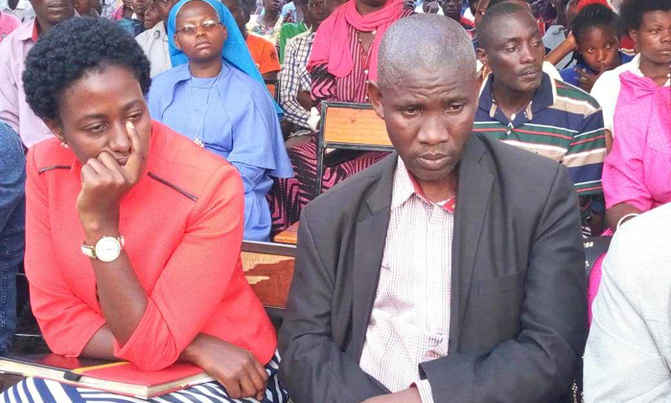 Nsubuga's transfer comes barely nine months since appointment last year. He replaced Dorothy Matovu, who went to Trinity College Nabbingo.
SCHOOL FIRE TRANSFERS RAKAI
The recent reshuffle and transfer of Rev. Henry Nsubuga, the headmaster of St. Bernard's SS- Mannya, has left parents chanting.

The Ministry of Education and Sports transferred Nsubuga to Uganda Martyrs SS-Mugalike in Kibaale district and replaced him with Geoffrey Alingasha.

While it appears to be a normal redeployment process, parents and residents in Rakai have a different view.

They have attributed Nsubuga's fate to his alleged negligence that resulted into a gruesome incident on November 11, 2019 when unknown arsonists sneaked in the school at night and burnt a dormitory in which at least ten students and 37 were injured.
The caskets containing the bodies of the dead students
Nsubuga has since come under fire with parents and some fellow staff, demanding his dismissal and replacement for his laxity that caused death of innocent students.

He is blamed for not doing enough to protect their children having learnt about the first arson attempt. Still some parents vowed to take their children to other schools in case no action was taken.

Shortly after the arson, teachers told the Police that Nsubuga declined to put immediate measures to avoid similar incidents.
The fire that killed at least 10 students, started a few minutes after midnight. Over 30 other students were badly injured, while others escaped with minor burns.

Prior warnings
The Police said a few weeks before the incident, they visited the school to train first aid drills.

However, they advised the school administrators to replace fire extinguishers since what they had in place had expired and could do nothing to put out the fire.

They further advised them to reduce the burglar proofs in the windows to allow easy escape in case of danger. However, reports indicate that these measures were not taken.

Nsubuga's transfer comes barely nine months since appointment last year. He replaced Dorothy Matovu, who went to Trinity College Nabingo.
An official within the diocese told New Vision that Nsubuga had lived beyond time amid the pressure from all corners.

"Although he played it cool, it was too much for him. The pressure from parents and constant media reports about the fire incident in one way or another tainted his reputation," the official noted.

Despite several meetings he held with parents, students and different leaders, Nsubuga could not convince them about the safety of their children.

Diocese
According to Father John Fisher Kisekka, who heads the Masaka Diocese Education Department, the school is government-aided and they get involved in any changes such as transfers.

"Yes, government (ministry) can appoint the headmaster, but the foundation body (diocese) also sends in its proposals for consideration," he said.

Parents and survivors
Geoffrey Musinguzi, whose son Davis Kiiza survived the fire said the transfer may calm the pressure at the school.
Some of the survivors of the fire pictured a day after the fire gutted the school

He explained that he took his son back to the school because he is a candidate, adding that the improved security will keep the students safe.

According to Betty Nakatte, another parent, Nsubuga's transfer may be a wake-up call to the administrators.

She further explained that being S.4 candidates, her sons Derrick Muyomba and Haruna Rashid had to go back to complete A' level.

Caroline Nabasaji, whose son Charles Ssuuna perished in the fire, said that Nsubuga's transfer will not bring her son back.

But for those still at school "may be the new headmaster and the improved security will help to protect them".

Sperito Mpakani, whose son Basiita died in the fire, said the incident stemmed from the Nsubuga's negligence.

"He took things for granted and our children died. Anyway gone is gone. The school needs to do a lot in order to earn the confidence of the parents," he said.

Nsubuga
According to a letter dated January 24, the new school term is set to open on February 4, 2019 and the redeployed people are expected to report to their duty stations not later than February 11, 2019.

But Nsubuga said that he is not aware of any transfers and could not confirm anything in the meantime. He added that he has not received an official letter confirming his new deployment.

"I just read the rumours in the newspapers and social network platforms. Perhaps, my transfer is yet to be approved," he said.
Nevertheless, his transfer has come at the time when police is still investigating him for negligence that caused death.

However, the renovation of the affected dormitory is in progress to have enough room for the students in the new term.

Frank Jjuuko, the site engineer, said it will be complete in three weeks.