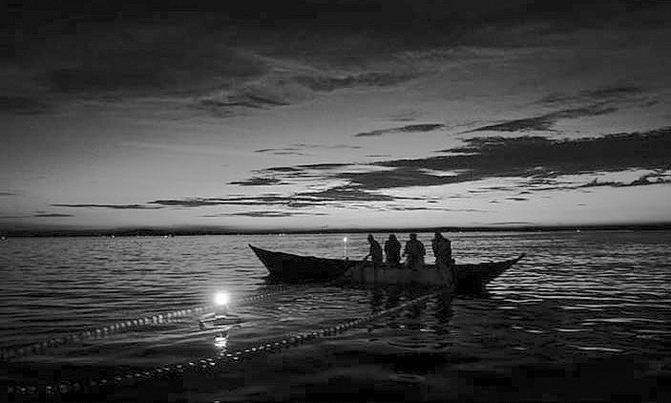 In the 19th century, most deaths on the lake were from military battles as the kings of Buganda sought to control the continent's largest water body.
DISASTER ON WATER

Ever since it was renamed Lake Victoria in the middle of the 19th Century by British explorer John Speke in total disregard of its local names such as Nalubaale, Africa's largest lake has claimed thousands of lives.

As Uganda still absorbs the shock of scores who drowned on Saturday when their boat sank off Mutima Beach in Mukono near Kampala, New Vision traces back marine tragedies on the lake.

Deaths on Lake Victoria are not new.

In the 19th Century, most deaths on the lake were from military battles as the kings of Buganda, boasting firepower of thousands of rifles bought from Arabs, sought to control the continent's largest water body.

They eventually did and as they policed the lake, they levied taxes on merchandise, in addition to conquering and annexing most islands to their kingdom.

The last king to control Lake Victoria was Mwanga II, with a flotilla of thousands of boats that he inherited from his father, Mutesa I, and grandfather, Ssuna II.


Kabaka Mwanga II


After the colonial takeover at the start of the 20th Century, death on Lake Victoria in battles came to an end.

The colonial administrators did a complete cartographic mapping of the lake, establishing routes for marine vessels and identifying all the water currents, though the traditional sailors also knew them. Safety was strictly enforced and the Inland Water Transport Act was even revised in 1964 soon after independence.

The Vessel Registration Act of 1904 was not revised, although there are efforts to update all marine laws, which also need to be brought in line with modern technological challenges.

As enforcement weakened following the advent of military rule in 1971, the marine accidents started rising.

In the mid seventies, following the coffee crop failure in Brazil that made prices shoot up elsewhere, the military government deployed helicopter gunships to hunt down people smuggling their coffee to Kenya to get better prices. Hundreds of traders perished as their boats were sunk buy the military.

The killing of coffee traders, which lasted almost a year, was the last of deliberately caused deaths on Lake Victoria, but the deaths by marine accidents increased.

There have since been more deaths reported, sometimes hundreds in a single incident, from the Tanzania side of the Lake, where marine transport is heavily used between the towns of Bukoba and Mwanza.

In Uganda, at the height of the Constituent Assembly debates in 1994, disaster struck when a marine accident between Kalangala and the city claimed many lives, including that of a delegate from the islands, one Semaala Kiwanuka, who was husband to musician Halima Namakula.

Many boat accidents have been happening every year, claiming several people. But last Saturday's that killed scores, some of whose bodies are still missing, is the most shocking in recent times.

It could be long before a conclusive report is issued, as no technical committee has as yet been instituted to investigate the matter.

Debate is raging everywhere over the accident. Below are some facts that can help put Saturday's tragedy into perspective.


First, many accounts state clearly that the boat which carried party goers from KK Beach in Gaba was in terribly bad condition.

Police state that an officer at the beach where it sailed from tried to stop it from taking off, but was intimidated by the high-profile passengers.

All accounts also are unanimous that the boat was overloaded with over 100 passengers, although it shouldn't have carried more than 50.

Unfortunately, there was even no complete passenger manifest, so some people whose dear ones perished will take long to know that they are dead.

It is also generally agreed that not everybody had a life jacket. In fact, top musician Iryn Namubiru, who was on board the ill-fated boat, said the jackets were available but the socialites didn't wear them because they apparently didn't look cool in them.


I would like to thank all of you who have reached out to me. By GOD'S GRACE I am still Alive ,safe and getting medical attention but so traumatised. My deepest thoughts to our comrades who didn't make it and condolences to the bereaved families. What can I say? GOD #NSIIMYE 🙏 pic.twitter.com/hH4qbvVYlK

— Iryn Namubiru (@irynnamubiru) November 25, 2018


There is lack of clarity on who should do what to ensure marine safety.

The police director of operations, Asumani Mugenyi, is emphatic that their job is to fight pirates and smugglers, but the standards of marine vessels is the job of the ministry of works.

The works state minister, Aggrey Bagiire, says the ill-fated boat was not licensed and had been dodging them because they had been looking for it. He says the vessel had been grounded for three months, but was hastily repaired and not tested, before it was put on the water with an excessive load.

The operators who owned the boat, Templa Bisase and his wife Sheila, also died in the accident.

Following the disaster, President Yoweri Museveni has ordered for compulsory licensing of all boats on the lake and fitting them with electronic tracking devices.

However, tough measures may not achieve much if Ugandans' mindset regarding safety doesn't change.

It is a country where people have to be forced to use car seat belts for their safety.

It is a nation where drivers insist on talking on the phone while driving.

In spite of a fifth of Uganda being covered with water, majority of the citizens never learn to swim.
Also related to this story

Lake Victoria disaster: Scenes at Mulago

UPDATE 3: Death toll rises to 32

All boats to be registered, monitored - Museveni

We are with you in pain - Government

Iryn Namubiru's rescuer drowns

Ugandans mourn victims of capsized boat