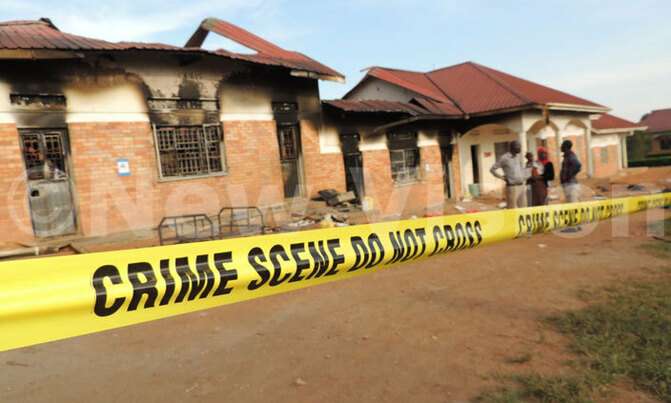 Two armed officers were deployed to guard the dormitory block


RAKAI-Amid ongoing investigations into the horrible fire incident that claimed at least ten S.3 students at St. Bernard's Mannya SS in Kifamba Sub-county, police has failed to protect the dormitory block which was cordoned off as scene of crime.

The incident happened on Sunday 11th November 2018 as the students retired for the night.

Shortly, Elly Tumwine, the Minister for Security and Internal Security Organisation (ISO) Director Kaka Bagyenda visited the school and ordered its immediate closure and students sent back home. It only remained open to S.6 candidates.

Tumwine further instructed Latif Zaake, the Masaka Regional Police Commander, to deploy at the school to restrict unnecessary entry.

Since the incident, at least two armed officers were deployed to guard the dormitory block mainly during day.

However, in spite of their presence, they have failed to block trespass into the ruined building.



The New Vision correspondent, who has pitched camp in Mannya since the catastrophic event, has seen different people including students who stayed behind, plus district, government officials and local visitors casually crossing beyond the cordoning tape entering the dorm.

The students normally enter to search for valuable items that may have survived the inferno while other people enter to take a glance at what's left of the devastated building.

This has caused worry among some teachers and local reporters saying potential evidence may be collected.

A teacher, who offered to talk preferred anonymity for flouting instructions from the school's governing board not to speak to reporters, said that uncontrolled and unauthorised access to the dormitory may impede Investigations.

"I have always wondered why the affected dormitory was sealed off as crime scene because there, still is, open access to it. Therefore what if they tamper with potential exhibits? Police has not guarded the scene well," he said.




To his concern, some people may interfere evidence and intentionally hide evidence to cover up the crime.

Jonathan Kaliika, an S.6 student said that several students often enter the dorm for various reasons without any of the deployed officers caring.

"They sit in the shade and discuss. They watch people entering the restricted dormitory. At least every day students enter the dormitories," he said

A Scene of Crime Officer, in the joint investigations, said the dormitory is still a key scene that needs protected from unauthorized access. He added that once crime scenes are cordoned off, no one is supposed to access it except the investigators.

For that reason, he said, unauthorised access may contaminate or spoil the scene. He added that they may need to do a lot of things such as collecting finger prints, send in a sniffer dog, and recover more exhibits.

"Therefore, if the scene is not guarded and people tamper with it, police may fail to conduct its investigations properly. And people may think we are not doing our job as detectives," he argued.

Emillian Kayima, the Uganda Police spokesperson said that Investigations are still on and the dormitory a crime scene. "Whoever tampers with it is doing a wrong thing. People must learn to respect crime scenes to avoid compromising them since it may fail justice delivery," he explained.

New school directive

It has been learnt that the school board advised teachers and other administrators not to speak to reporters. Teachers have already told us that they were told to keep matters concerning the incident confidential.

A female board member said that speaking to reporters on every matter may affect ongoing investigations as well as tarnishing the school image.

She argued that since the incident, different reporters have given different accounts on papers, radio and television which are not coordinated.

"Therefore, we told them not to speak to the media and wait until we compile our internal report. I t will be ready before Friday," she said.




RELATED: Rakai fire: Govt promises assistance to bereaved families