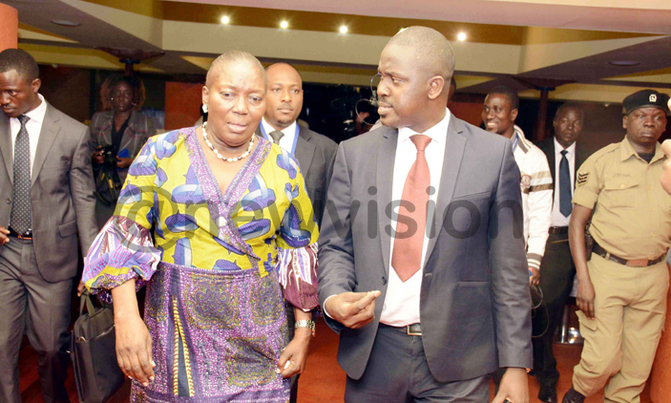 According to the Kadaga, Uganda at one time tried to increase the health budget to 11 percent, but it has sharply dropped to 7.5 percent, which she said was a point of concern
The Speaker of Parliament of Uganda, Rebecca Kadaga talks to Dr. Michael Bukenya, MP for Bukuya in Mubende district and the chairperson of the Parliamentary Committee on Health. PHOTOS: Eddie Ssejjoba
The Speaker of Parliament, Rebecca Kadaga has asked African Members of Parliament to lobby their respective governments to increase the annual national budgets on health in order to meet the target of 15 percent that was pronounced at the Abuja summit in 2011.

She said when African leaders met in Abuja, they committed themselves to increase their respective health budgets, targeting at least 15 percent, but after many years, this had not been fulfilled.

According to the Kadaga, Uganda at one time tried to increase the health budget to 11 percent, but it has sharply dropped to 7.5 percent, which she said was a point of concern that every legislator should vigorously advocate for its increase.

"I don't see any reason why the legislators cannot increase this budget as per the commitments by our leaders," she said this morning at the opening of the Network of African Parliamentary Committees of Health (NEAPACOH) meeting at the Commonwealth Resort, Munyonyo.

The two-day conference, with a theme; "Building the capacity of African policy makers for improved reproductive health and family planning outcomes in the region: Challenges and Opportunities' attracted participants from 25 African countries, partners and experts on reproductive health from Uganda and other parts of the World.
According to the Speaker, evidence from research showed that there were four pillars to reduce maternal mortality, which she said, include antenatal care, emergency obstetric care, skilled attendance at birth and family planning services.

She, however, noted that despite the talking and desire to improve the health needs of ordinary people especially in Africa, little has been so far achieved mainly because governments had not fulfilled their commitments.

She directed members on the Parliamentary Committee of Health of Uganda to draft a private members' bill on health insurance, which she pledged to push for debate and enactment into law.

Kadaga who accused government of moving slowly on introducing the bill, warned that if the minister of health was not ready, she would allow a private members' bill to be tabled in parliament.
The deputy speaker of parliament of the kingdom of Eswatini (former SWaziland) Phila Buthelezi and other participants attending a two-day conference for the Network of African Parliamentary Committees of Health (NEAPACOH ) which opened at the Commonwealth Resort, Munyonyo.
She asked legislators to remove legal and administrative barriers for the ordinary people to access quality health services and influence resource allocation, ensuring for clear budget lines and expenditures on health.

Kadaga told the legislators to share their experiences and practices that can enhance the achievement of Sustainable Development Goals (SDGs), Family Planning 2020 and Sexual Reproductive Health related commitments.
State minister for urban planning, Dr. Chris Baryomunsi said that in order to improve the general health conditions of people and reducing maternal mortality rates, people needed to get information and education on the number of children they can have.

He said there was concern for governments in Africa to ensuring the quality and general health conditions of citizens improve by empowering them to make choices on the number of children to produce depending on their ability to look after them.
Participants pose for a group photo
"The concern is not about controlling population increase, but it should be sustainable and match the economic development of the respective country, by letting people have children they can look after and be able to make choices of when to have children," he said.

The director general of the National Population Council, Dr. Jotham Musinguzi said the problem was that many African countries have good and clear policy frameworks but the continent remains behind due to lack of political will and commitment to support the implementation of the policies.

"We therefore see a lot of hope in parliamentarians, who, through legislating on good policies for health, appropriating funds for health programs and oversight roles can change this trend," he stated.
RELATED STORIES
Health practitioners meet to review performance
The poor will benefit from health schemes
The poor will benefit from health schemes