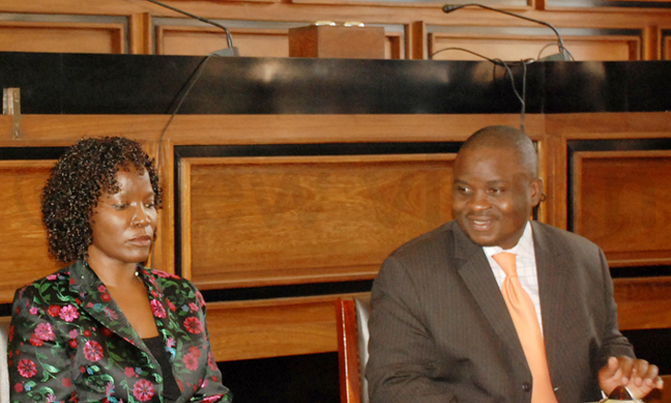 Namugwanya asks city leaders not to be excited about the exit of Musisi, but rather focus on what the public requires of them.
Pic: A power struggle between the Lord Mayor Erias Lukwago (right) and the KCCA executive director, Jennifer Musisi (left), has for the last seven years undermined the political decision-making processes at City Hall

KAMPALA - Minister of State for Kampala Capital City Authority (KCCA) Benna Namugwanya has said Lord Mayor Erias Lukwago has no powers to demand accountability from KCCA executive director Jennifer Musisi.

Namugwanya, speaking to the press in her office in Kampala, said it is only the government auditors who have the mandate to demand for accountability from any government official who resigns or whose contract has ended.

Quoting the Public Services standing order Namugwanya said any government public officer is guided by the standing order, adding that if any officer resigns or ends her contract she/he is supposed to hand over a report to auditors who verify the report and once there is a lapse the auditors will have the right to question her.

Namugwanya said between now and December 15, Musisi has a lot she can do, if all is not complete, then her successor will take over from where she stopped.



She was reacting to remarks made by Lukwago during a press briefing on Tuesday. Lukwago told the media that before Musisi exiting the authority premises she will have to account to Lukwago and his council.
Our Executive Director Dr @JenniferMusisi has issued a notice of resignation from her position as @KCCAED after 7 and a half monumental years at the helm of Kampala Capital City Authority...read on via our https://t.co/DFYoNz3V5i feed.#AsanteJennifer pic.twitter.com/MiIykpi4zY

— KCCA (@KCCAUG) October 16, 2018
She also told the media that he is going to screen all KCCA technical team staff, who joined under the leadership of Musisi.

Namugwanya asked city leaders not to be excited about the exit of Musisi, but rather focus on what the public requires of them.

"The rains are coming in November, we should be preparing for how we are going to manage the flooding and how diseases which come with rains can be controlled," she added.

Concentrate on meeting the medium income status of the city by 2020, promote government programmes for youth and women in order to enable them to fight poverty rather than thinking of issues like rebranding the city logo.


Lukwago during the presser said he will work on rebranding the city and restructuring, Namugwanya said before rebranding the city, he will have to go through a process which he has to respect.

Namugwanya however praised Musisi's efforts of bring Kampala to a better status saying that she found a rotten city and in the process of streamlining the system she stepped on people's toes.



"Musisi has done a lot in the road sector, brought in a cashless system of revenue collection among other developments let us build on her legacy," she said.
Related to this story