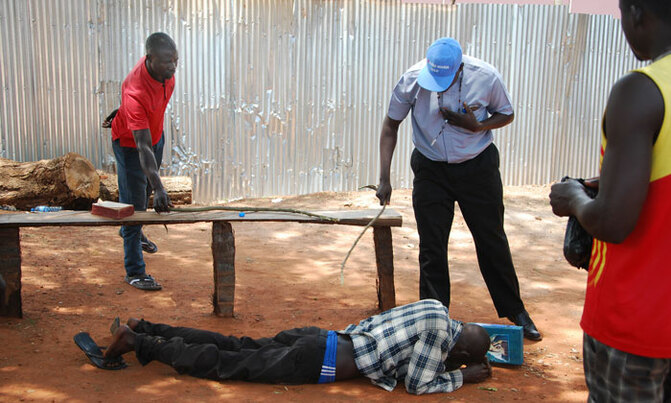 Rubangakene, while at the Gulu Police Station, showed the Police the swollen back which he said was as a result of the beating.
There was drama at a bodaboda stage near Gulu Senior Secondary School as a Catholic priest caned a Christian over alleged extortion of money in the name of Radio Maria.
Rev. Fr. Charles Onen, the assistant curate of Holy Rosary Catholic Church lost his cool soon after the Sunday Mass and caned 25-year-old Jimmy Rubangakene over allegations that he had been collecting money from the public to support the operations of Radio Maria.
The incident, which occurred at about 2:15pm, took the bodaboda riders by surprise when Onen emerged from his vehicle and asked for sticks. When one of the bodaboda riders handed him a cane, the priest immediately ordered Rubangakene to lie down.

He started caning him repeatedly. Rubangakene denied collecting money on behalf of Radio Maria. He admitted that he had only been given sh10,000 by some well-wishers, which he had kept in his small brown bag.

He pleaded with the priest to allow him refund the money and requested not to be taken to the Police. "Father, forgive me, I will not do it again," Rubangakene pleaded. Onen thereafter ordered Rubangakene to enter his vehicle and drove him to the Gulu Central Police Station, where he reported a case of impersonation and obtaining money by false pretence.
Rubangakene, while at the Gulu Police Station, showed the Police the swollen back which he said was as a result of the beating.

Rubangakene is not the first adult to be caned in public. In March this year, a 70-year-old man received over 10 lashes of the cane after he was reportedly found with a stolen pumpkin.

The man who hails from Nyabubare, Kigarama sub-county in Sheema district allegedly stole the pumpkin from a neighbor. When the neighbour reported to the area LC1 chairman, it was resolved that the suspect be caned and let free.
In 2017, two women received 20 strokes of cane each for allegedly defecating in their father-in-law's kitchen.

Jane Namukirori, 25, and Zaina Lumba, 26, residents of Kitumbezi village in Bukabooli Sub County in Mayuge district were on Tuesday punished by the LC1 chairperson John Opio, following a complaint from Paul Okware.

While in the meeting in Kitumbezi village, the husbands of the duo, residents and LC1 committee unanimously resolved that Namukirori and Lumba be punished publicly following their transgressions.

"You are punished for defecating in the kitchen of your father in-law," Opio said adding that the act performed by the two daughters-in-law is a disgrace to the clan members, husbands and the whole community.
Nearly 10 years ago, a primary school teacher in Soroti district was caned by angry parents who grabbed him drinking enguli (potent gin) during working hours.

Sam Odongo, a 39-year-old social studies teacher at Owalei Primary School, was beaten up and later dragged to Opuyo Police post to record a statement. The 8:30am incident happened at Ajokar trading centre.
There has been a debate in Uganda on caning. The government banned corporal punishment in schools in the early 2000s, but after a lot of debate. Some stakeholders want the cane used to achieve excellence and instil discipline. But opponents of caning counter that beating doesnt yield any results.
A student one time confessed to being caned 65 times. Whether caning can be completely done with or not is still a debate, nearly 20 years after it was banned as a form of punishment.