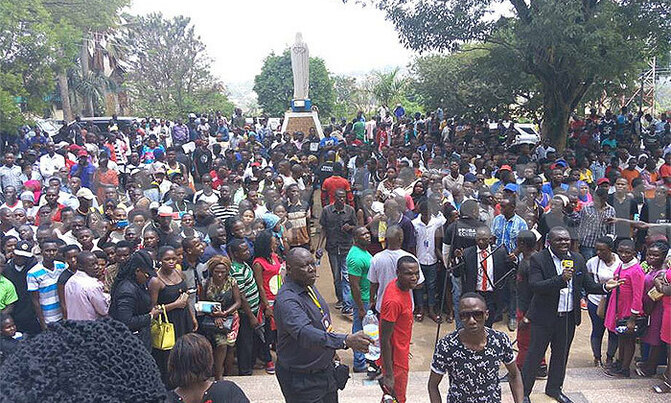 After the requiem mass at Rubaga Cathedral, the body of ugandan musician Mowzey Radio will be taken to Kololo Airstrip for vigil.
PIC: Thousands of mourners are at Rubaga Cathedral for the requiem mass of Mowzey Radio. (Credit: Lawrence Kitatta)

DEATH

MOSES SSEKIBOGO: 1985 - 2018

KAMPALA - The team organising the funeral of fallen Afrobeats musician Moses Ssekibogo (Mowzey Radio) has said there has been a slight change of plans: after a requiem mass at Rubaga Cathedral in Kampala on Friday, Radio's body will be taken to Kololo Independence Grounds, instead of the earlier-planned National Theatre.

"Due to public request and state request, we have changed the venue from Uganda National Theatre to Kololo Airstrip," the musician's Twitter page said.


Hi Fam,

Due to Public Request & STATE Request We have changed The Venue From Uganda National Theatre To KOLOLO Airstrip Same Time 4PM after Church.

Radiolove ❤️🙏🏻 pic.twitter.com/IBH8luipLd

— RADIO & WEASEL (@RadioandWeasel) February 2, 2018
At Kololo, artistes will perform in celebration of a life snuffed out at such a young stage. Radio, whose life ended Thursday morning after he was hospitalised for 10 days following a bar brawl in Entebbe, had asked not to be mourned when he dies.

Instead, the 33-year-old preferred celebration.

And that is exactly what his managers have set out to do: have his fellow musicians pay tribute to an amazing vocalist by performing at the Kololo Grounds.

There were also performances during Thursday night's vigil at Radio's home in Makindye, Kampala, attended by thousands of people.

Burial will take place in Nakawuka, Wakiso district on Saturday.

Radio, who spent his childhood and teenage life in Bukaya near Jinja, lost the battle for life nearly two weeks after being attacked at De Bar, a hangout in Entebbe town. His injuries were so severe that he had to undergo surgery at Case Hospital in Kampala, the very place he breathed his last at around 6:00am local time Thursday.

Police are hunting for a one Troy Wamala. who is the prime suspect in the January 22 night attack. Wamala is reported to have been the security guard (bouncer) at the bar and is said to have hit Radio during an altercation.

Meanwhile, in the wake of Radio's death, the bar has been closed by town officials.

News of his death has shaken the country. Tributes are still pouring in for one of the finest music talents of the land. President Yoweri Museveni is among the thousands of people who have paid tribute to the sensational artiste, who sang alongside Douglas Mayanja (Weasel) in the Goodlyfe Crew.

Museveni, who had contributed sh30m towards Radio's hospital bills, described the Neera hit artiste as a "talented young person with a great future ahead of him".

Radio's mother said he was a "humble and simple son", whose death had left her with nothing.

Local TV and radio stations have been playing Radio's music, most of which he sang with his music partner Weasel. He also did collaborations with other musicians, including Rabadabba.

The social media space is also awash with messages of condolence and celebration of the short life that was Radio's.