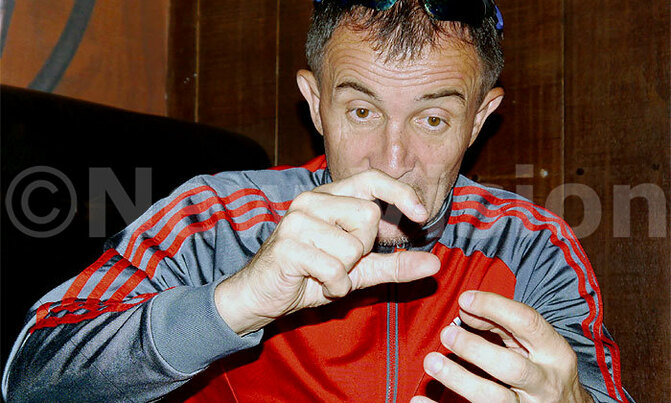 The coach who has guided Uganda back to the Nations Cup finals in Gabon after 38 years, is claiming five months dues.
Uganda football governing body FUFA have up to the end of this month to clear what is due to Cranes coach Micho Sredojevic or risk being thrown out of the 2018 World Cup qualifiers.

The coach who has guided Uganda back to the Nations Cup finals in Gabon after 38 years, is claiming five months dues.

"I don't want to comment on this anymore because I wrote to them (FUFA) and they never replied; I talked to them and they promised but never fulfilled their promises so the only option I was left with was to contact my lawyer who is now pursuing a court case," Micho said.

"Appreciation to all great Ugandans expressing concern about my situation and I regret inconveniences caused in times supposed to be of celebrations," Micho tweeted.
Coach Micho was a restless figure on the sidelines as he watched his men battle, and eventually defeat, Comoros in a crucial tie

He said Uganda now risks a FIFA ban like they did to Zimbabwe if what is due to him is not paid by the end of the month. In March last year, the FIFA disciplinary committee expelled the Zimbabwe Football Association (ZIFA) from the preliminary competition of the 2018 FIFA World Cup Russia.

The expulsion came as a result of the non-payment of an outstanding debt by ZIFA to the coach José Claudinei Georgini following a decision passed on 15 August 2012 by the single judge of FIFA's Players' Status Committee.
Farouk Miya (second from right) scored the only and winning goal that took Uganda through
But in a statement released on Thursday, FUFA admitted owing Micho some money and regretted the frustration the coach was going through.

"FUFA greatly appreciates and recognises the immense contribution and extra efforts of our national team coach in helping Uganda qualify for the Africa Cup of Nations for the first time in 38 years. During the costly AFCON 2017 qualification campaign, FUFA prioritised all the meager resources at its disposal to facilitate requirements for the success of the team and campaign.

"In preparation for the final group D but key match against Comoros, over the last 2 months alone, coach Milutin 'Micho' Sredojevic has been paid three times and received all his bonus and allowances entitlements for the AFCON 2017 campaign just like the rest of the team members. FUFA is committed to ensuring all his salary arrears are cleared and we are confident this will be handled.

"Coach Micho's unpaid dues are currently FUFA's number one priority and the federation is doing everything in its means to raise the funds needed to clear the outstanding amount."

According to the statement FUFA and Micho have held meetings in regard to the matter, though the contractual agreement between the two parties remains confidential.


ALSO RELATED TO THIS STORY

FINALLY: Uganda qualifies for AFCON 2017

In pictures: A nation celebrates