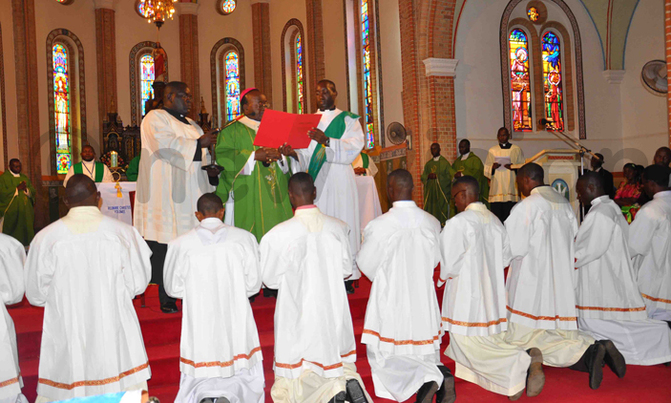 During the holy mass, 21 seminarians of all categories made their acolyte vows before Lwanga
The Archbishop of Kampala Archdiocese, Dr Cyprian Kizito Lwanga, has sent a condolence message to the families, relatives and friends of the people who perished in a road accident along Kampala-Masaka Road on Saturday.
"It's very sad that so many people could perish in single road accident. I call upon all motorists to be extra careful and try to drive with all caution, remembering that our lives are very important," Lwanga said.
He prayed God to forgive and rest in eternal peace the souls of all the people who died in that tragedy.
Archbishop Lwanga, who was delivering his homily during a holy mass he led at Lubaga Cathedral on Sunday also prayed for the soul of the former bishop of Kabale Robert Mary Gay, who passed away in Canada last Wednesday and also for the soul of Solomon Kyalimpa, who was a seminarian studying at Katigondo National Major Seminary.
Kyalimpa died of natural causes on Thursday while he slept.
During the holy mass, 21 seminarians of all categories from St Mbaaga Ggaba, St Mary's National Seminary Ggaba, and the Uganda Martyrs National Major Seminary, Alokolum, Gulu and St Thomas Aquinas National Seminary Katigondo in Masaka made their acolyte vows before Lwanga.
He explained that acolyte is service at the altar during which a seminarian assists the priest and deacon. It is principally to prepare the altar and the sacred vessels and if necessary, to distribute the Eucharist to the faithful as an extraordinary minister.
In the ministry of the altar, the acolyte has his own proper functions, which he must carry out in person.
"You are an extraordinary Minister of Communion; you may also perform all the duties of an altar server besides the priest and the deacon, you are the only people allowed to purify the sacred vessels after communion with the priest's permission, you may expose the Blessed Sacrament for adoration, but he may not give the blessing with the monstrance and also may carry the cross during the procession to the altar," Lwanga explained.
He called upon them to promote peace whenever God sends them to serve his people and also smile to the Christians they are serving so that it helps those being served to love what they entrusted to them.
Lwanga asked the congregation to stop thinking that peace is only in words. Peace is supposed to be in each and one's heart.
"Let peace start from our homes and families and then spread to our work places and wherever we go," he emphasized.
"My dear seminarians you are going to serve in different parishes, but do everything with a smile to the people you will be serving," he urged them.
"The ministry of acolyte is one of the milestones along the journey of a seminarian in formation for the priesthood. Please keep these men and the other seminarians in your prayers. May you always trust and be confident in the power of the Lord to save and raise up those who cry out to him in their need" he added.
The candidates who were from different parishes in Kampala Archdiocese were Timothy Lukamanso (Matugga), Simon Kabenge (Kitagobwa), Michael Kasiita (Bunnamwaya), Richard Kato (Gayaza), Solomon Kavuba (Bweyogerere), Conrad Kayongo (Kisubi), Matthias Kirumira (Ggoli), Andrew Kyagulanyi and Andrea B (both Nakawuka) and Ronald Kyambadde (Nansana).
The others were Vincent Mawejje (Mpala), Lawrence Mbabaali (Kisubi), Peter Buyondo (Ndeeba), John Muganga (Nsambya), Victory B. Muvuni (Kibuye-Makindye), Vincent Sserwaniko (Lubaga), Joseph Tamale, (Naddangira), Samuel Walakira (Ndeeba), Charles Wamala (Nabbingo) and Leonard Walugembe of orders of Catechumenal.
The same mass was attended by many Catechumenal members from who came from Italy, Germany, Congo, Rwanda, Kenya and Tanzania.