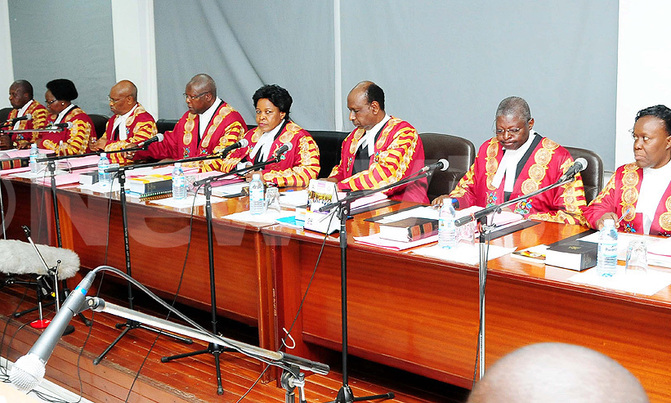 The panel of judges is led by the Chief Justice Bart Katureebe.
The former premier, Amama Mbabazi, has amended his petition that seeks to nullify the February 18 presidential poll results.
The Deputy Attorney General, Mwesigwa Rukutana, told the panel of Supreme Court judges led by the Chief Justice Bart Katureebe that Mbabazi a former presidential candidate had amended his plaint and served the Attorney General.
Court later in the day accepted the amendments to the petition.
Rukutana told court that the scheduling session could not go on before they read and respond to the amendments.
President Yoweri Museveni's lawyers arriving at court. Photo by Nicholas Oneal
"We have just been served this morning with an amended petition and we have not yet looked at it," he submitted.
This prompted Katureebe who is the lead judge on the bench to ask a number of questions to Muhammed Mbabazi, the petitioner's lead counsel.
"Under what rule are you instituting the amendment and how come court is not aware of this," he asked.
Mbabazi responded that they did the amendment under rule 6.
Deputy Attorney Mwesigwa Rukutana submitting in court. Photo by Nicholas Oneal
Katureebe said that the laws governing poll petitions require only 30 days resolving the matter and bringing in a new petition would inhibit proceedings.
He adjourned the hearing for 30 minutes to allow the Electoral commission, Attorney General and Museveni's team to look study the petition.
Amama polled 1.39% of the total votes cast; last week filed a petition at the Supreme Court citing irregularities in the elections. He wants the results annulled.
Museveni was on February 20th, declared the winner of the presidential race with 60.62% of the votes, while his closest rival Dr. Col. Kizza Besigye, got 35.61% of the total votes cast.
HISTORY OF ELECTION PETITIONS AGAINST PRESIDENT MUSEVENI

2011 Presidential Elections:
March, 2011- Mao tries to block Museveni win
http://www.newvision.co.ug/new_vision/news/1015382/mao-tries-block-museveni-win
Presidential Election petition against President Yoweri Museveni dismissed
http://www.newvision.co.ug/new_vision/news/1015422/museveni-win-sealed-petition
2001 Presidential Elections
March,2001- Besigye Petitions
Besigye Hires Al-Gore Lawyer
http://www.newvision.co.ug/new_vision/news/1037100/besigye-hires-gore-lawyer


Petition Hearing Starts
http://www.newvision.co.ug/new_vision/news/1037099/petition-hearing-starts
Cancel Results, Insists Besigye
http://www.newvision.co.ug/new_vision/news/1036819/cancel-results-insists-besigye
Mbabazi Raps Besigye
http://www.newvision.co.ug/new_vision/news/1041597/mbabazi-raps-besigye