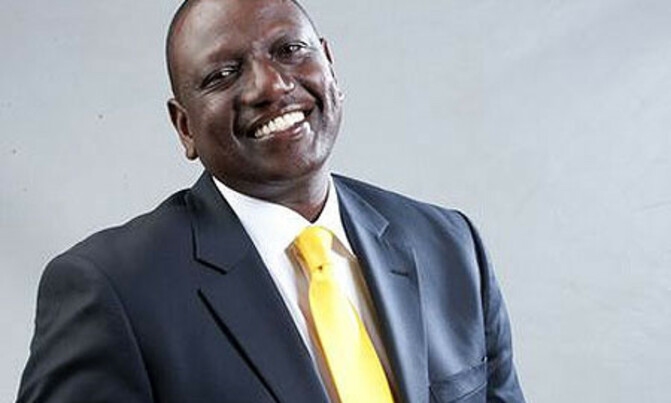 This year's national prayer breakfast will be graced, for the first time by the Kenyan deputy President, William Ruto.
By Mary Karugaba
Kenyan deputy President, William Ruto, is to grace this year's national prayer breakfast.

According to the Speaker of Parliament, Rebecca Kadaga, Ruto was chosen to deliver a key note address because of his strong religious background that is not known by many yet it is so inspiring.
"He is a man who has cut the image of a hardened political mobiliser gifted in the powers of oration. As the head of the choir at a local church, he said a moving prayer that caught the eye of the then president Arap Moi," Kadaga said.
Born in 1966, Ruto now the Kenyan deputy President grew up in poverty, running 10kms bare footed every day to Sambut Primary School. 
"He also sold various merchandise like chicken and peanuts to supplement his income. These are some of the inspiring stories about Ruto and that is why we invited him to speak to us," Kadaga explained.
Ruto is scheduled to deliver a keynote address at the 17th annual national prayer breakfast to be held on October 8, a day before the Uganda celebrates her 53rd Independence Anniversary.
 Now part of the parliamentary calendar, the breakfast is an annual event organized by Parliament to thank God for the gift of leadership and also remind legislators of their role while deliberating on national Issues.
 It brings together MPs from all faiths, members of different political parties, religious leaders, high profile representatives from other countries, members of the business community and the media.
"It gives us the opportunity to ask God for guidance and express our gratitude for what he has given us," Kadaga told journalists.
She was accompanied by State Minister of Finance in charge of planning David Bahati, MPs Benson Ogwal and Tim Lwanga.
At the breakfast, Dr.  Monica Musenero the current assistant commissioner Epidemiology and surveillance in the ministry of health will also share her story how she battled the deadly Ebola Virus to save millions in Sierra Leone.
Dr. Musenero led a team of medical workers at the height of Ebola outbreak in 2014 in Sierra Leone.
She arrived in the country when more than 380 had contracted the deadly disease and of these 192 were fatal. 
"More people were getting infected and dying and being buried. She witnessed all this and came out alive thanks be to God," Kadaga said.

Related to the story

President at national prayer breakfast

Uganda@50: 14th National Prayer Breakfast

Museveni launches jubilee Bible at prayer breakfast
Kadaga explains why Ruto was chosen to grace this years' national prayer breakfast