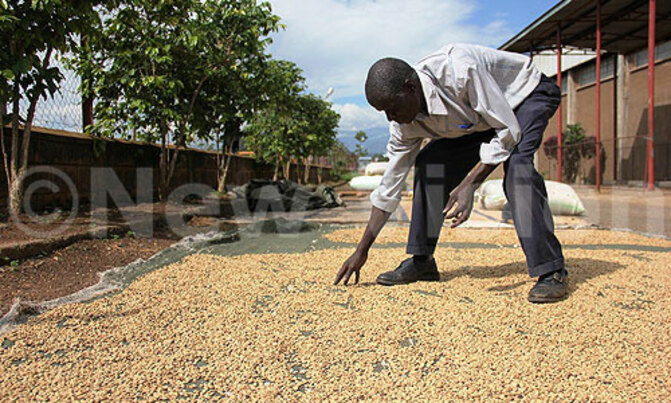 Prices of Arabica coffee parchment have kept a steady rise climbing to sh6200 per kilogram from sh4200 per kilogram in March.
By Daniel Edyegu
Prices of Arabica coffee parchment have kept a steady rise climbing to sh6200 per kilogram  from sh4200 per kilogram in March.

The current increment is twice the cost at the start of the year when it traded at sh3000 per kilogram.

Unlike the March increment  that excited Arabica coffee farmers in Mt. Elgon region after years of steady decline in coffee prices and subsequent stagnation, the current increment has got cold reception from the farmers.
This is due to the scarcity of coffee at the peak harvest season  in February. 
true
At present, farmers are picking fry crop (coffee remnants) in anticipation of the flowering stage.

Rev. Festo Makolo, a coffee farmer in Bubentsye village in Wanale sub county, Mbale district, explained that whereas the price increment is good, it would be better if it either continues upwards or stays until the next harvest season that peaks from October to December.
true
A woman winnows Arabica Coffee parchment in Mbale town. . PHOTO/Daniel Edyegu
"I harvested 35 bags of parchment this season. But I sold everything when prices were sh4200 per kilogram. I couldn't hoard because I shoulder a lot of household responsibilities such as paying school fees for my children at university and secondary schools.  What I'm bringing to the market now is just coffee remnants from the main season.

People who will gain much from this price increment are those who hoarded parchment,"Makolo explained on Sunday.

The increment also coincides with the period major export firms are husking bulk parchment into green beans and packaging it in preparation for export.

Prices of Arabica coffee parchment are dependent on the price of Arabica coffee green beans at the New York Stock Exchange (NYSE), where it trades as Bugisu Arabica.

Towards the close of April, prices of greens beans rose from $2.7 (about sh6900) to $4.4 (about sh10900) per kilogram.
The rise at the NYSE has mainly been triggered by speculation of scarcity due to the destruction of vast acreage of Arabica coffee in Brazil by the leaf rust and tragic floods in Columbia, the lead producers of Arabica coffee in the world.
true
A farmer spreads coffee parchment to dry in Mbale town. PHOTO/Daniel Edyegu
The disasters are projected to reduce the Arabica coffee supply on the NYSE thus the price increment.

Mathias Nabutele, the proprietor of COFFEE ACUP, an Arabica coffee export firm, however, explains that it's difficult to ascertain how long the price increment will last as some major export countries always keep bulk stock to reinforce future poor harvests.

"In the last two weeks, for instance, the price has stayed at just $3.7 per kilogram of green beans at the NYSE, down from $4.3 per kilogram.
Though it has not dropped severely, that tells you where the market is headed," Nabutele observes.

  Related stories
Arabica coffee prices increase

Mbabazi woos Europe's largest coffee roaster

Elgon farmers switch to growing cocoa due to unstable coffee prices

Uganda considers developing drought resistant coffee beans

Uganda coffee exports up 7 percent
Arabica coffee prices double