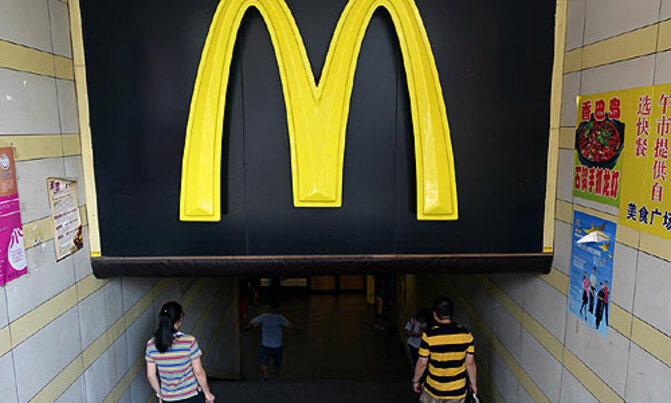 Chinese police have detained five people from a unit of US food supplier OSI Group in a case involving expired meat.
SHANGHAI - Chinese police on Wednesday detained five people from a unit of US food supplier OSI Group, a statement said, in a case involving expired meat sold to fast food giants including McDonald's and KFC.

The Shanghai Public Security Bureau said the five included the company officials responsible. It said a quality manager was among them but did not name the five.

Shanghai authorities on Sunday shut an OSI plant for mixing out-of-date meat with fresh product, re-labelling expired goods and other quality problems, following an investigative report by a local television station.

The case has sparked calls for stronger regulation in a country which has seen repeated scandals over food and product safety.

The factory's other customers in China included restaurant operator Yum's Pizza Hut brand, coffee chain Starbucks, Burger King, 7-Eleven convenience stores and Papa John's Pizza, according to separate statements from the companies.

Outside mainland China, McDonald's Japan has confirmed it sourced about 20 percent of its McNuggets from the Shanghai factory.

Police acting "according to the law" detained the five from the Shanghai Husi Food Co., the statement said, referring to the OSI subsidiary which operated the factory.

Media reports had previously said police were questioning "several" employees. Shanghai television has shown a man described as the quality manager and another manager in meetings with government officials in the days after the closure.

China's official Xinhua news agency said police suspected Husi of taking "organised" action to carry out illegal production.

Police and Shanghai's food and drug agency had found out-of-date meat was used to make chicken nuggets and beef patties, as well as expired and mouldy beef for mini-steaks, it said.
OSI said on Monday that it was "appalled" by the allegations and announced it had formed its own team to investigate.

OSI's Shanghai factory, set up in 1996, had more than 500 workers with five production lines for items including pork, beef and chicken, according to the group's website.

The US company is a long-time supplier to McDonald's in China, starting from 1992, it said.

McDonald's chief executive Don Thompson said Tuesday that his company was cooperating with Chinese authorities who are investigating OSI.

"In this case, we do feel we were a bit deceived with respect to one of these plants," he said, as the company announced second-quarter results.

China's national-level food and drug administration has ordered an investigation of OSI's factories, which includes facilities in at least five provinces.

Responding to the latest food safety scandal to hit China, state-run media have taken aim at foreign brands, accusing them of double standards.

"Famous international brands have not adopted a dedicated attitude toward Chinese consumers," the Global Times newspaper said Tuesday.
AFP
Also related to this story
China shuts meat factory supplying McDonald's, KFC
China detains five in expired meat scandal