After eight hours in a 4WD, the engine grunted its last cries and Nakapiripirit district's strange ways begun unfolding before my eyes.
By Titus Kakembo 
After eight hours in a 4WD, the engine grunted its last cries and Nakapiripirit district's strange ways begun unfolding before my eyes.
The residents beamed with smiles of satisfaction having got 18 boreholes constructed to serve individual manyatas.
During the inspection of the units, it was a revelled that the job was well done save for two that had their floors cracking.
"There is no cause of alarm," explained WaterAid's official, Milly Akwi. "According to the agreement we retained 10 percent of the dues for the job and paid the other 90 percent to the contractors."
"We contracted three different parties comprising; KLR, SUMADHURA and ICON companies.'' Adding that, "This balance will not be remitted to the given contractor unless the condition is rectified.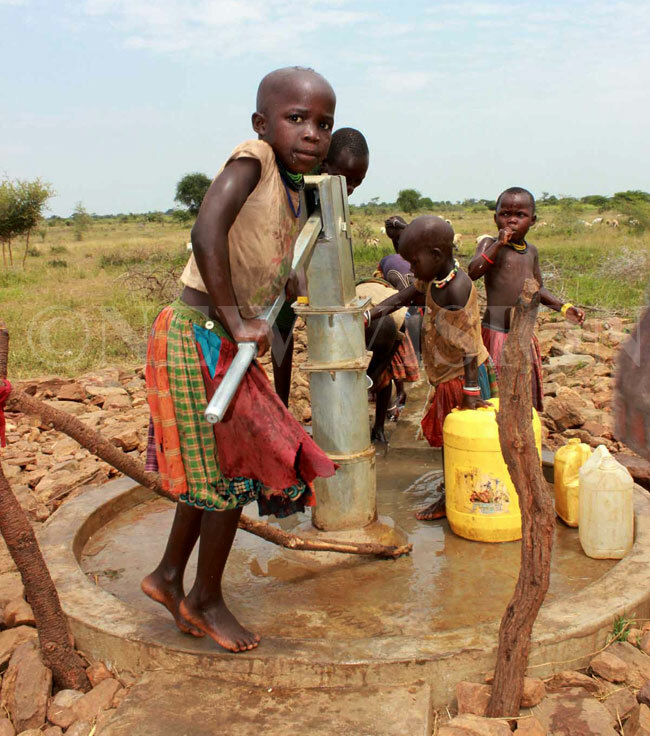 A little girl jumps up and down to pump the water. PHOTO/Titus Kakembo
Asked how the boreholes have affected the lives of Nakapiripirit resident triggered a rapid succession of answers from district leaders, the villagers and NGO personnel.
"The fear of sexual assault when fetching water from 4km away, as it were, is no more," rejoiced the KADP chairperson, Anne Lokiru. "Thousands of lives have been touched by this generous gesture from Kampala city."
In 2013 when news reached Nakapiripirit that the money raised from the MTN marathon would be used to drill boreholes, villagers laughed at the way urban dwellers do things.
"How do you run when there is no wild animal or warrior tribe chasing you?" one Joseph Logeri asked in rhetoric. "We knew this is the madness that had gone into their heads!"
"To many of us, this kind of fund raising remains mysterious. But we are so happy for you have brought water close to our homes."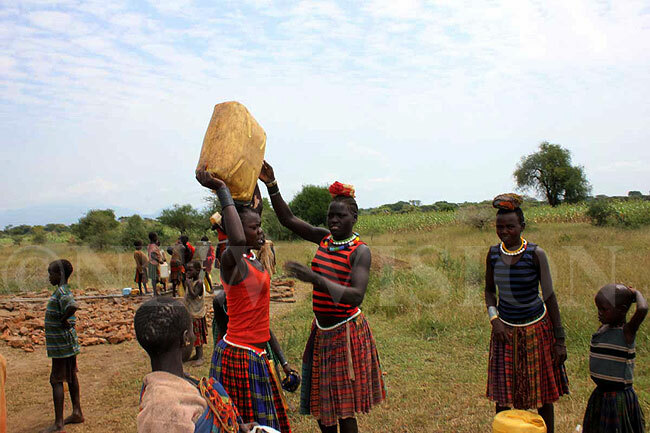 Team work at the bore hole makes works easy for the girls.PHOTO/Titus Kakembo
"We cannot wait to see Mama Museveni officially handing them over, in August, to us," Josepina Acen voiced a popular view. "After dancing and singing for her we will ask her to build for us houses in our Manyatas too, bring goats and cows for us too."
"We need to start planting food, vegetables and rearing hens in Nakapiripirit. The rainmakers lost their power. We have to develop new means of cropping our gardens," summed up Acen.
An exodus of children now frequent the boreholes as youthful men sit by them in groups to monitor how they are used and protect them from unscrupulous residents in their neighbourhood.
Smart boys make careless whispers and whistle at girls snaking their way in the village paths. The boreholes have become the meeting points in the villages where they have been constructed. 

Related Stories
Equitable water, sanitation funding is key to ending diseases

Gulu residents get cheap manual drilling water pumps

New technology water pumps introduced in Arua refugee camp.
Nakapiripirit gets water courtesy of marathon