'I will never lose hope again': The young people taking bold steps in HIV fight

"I stand to tell a story of a young woman who has conquered stigma at all levels," says Luguna Nagai, the reigning Miss ... HIV AND AIDS

At a very tender age, Lawrence Agaba, who is now 16, often wondered why he was taking drugs every day.

When he was 11 years old, his parents revealed to him that he was HIV positive. He had been falling sick regularly, and when they took him to a health facility one day, Agaba was diagnosed with HIV.

What is unusual, though, is that his parents are both HIV negative.

"I am the only HIV positive person in my family. All my siblings are negative. I don't know how I got the virus and neither can my parents explain. This is the question I have been asking, but with no answer," said the teenage lad from Hoima district in western Uganda.

His paradoxical situation is what drove him into advocacy for human rights and fighting stigma and discrimination among young people living with HIV.

And last Friday (November 26), Agaba rose to a platform that would make this work even easier, after he was crowned this year's Mr. Y+ alongside Luguna Nagai, who took the Miss Y+ crown during the Y+ Beauty Pageant 2021 grand finale.

This was at Serena in Kampala on a day punctuated by a blend of entertainment (from the likes of Sheeah Karungi), testimonies, stories, networking and interaction.


"Praise God! I am the reigning Mr. Y+ western region and national, a great opportunity in my life! I will never lose hope again," vowed an elated Agaba, a Senior Four student of Mandera SSS-Hoima, after being crowned.
"With my new designation, I am going to speak for the voiceless and advocate for human rights, and provide accurate information regarding HIV for the young people in my community."
Coming only days ahead of the World AIDS Day (December 1), Friday's event provided a stark reminder of the realities on HIV, and at the same time paid glowing tribute to the individuals who are championing the fight against stigma and discrimination directed at people living with the virus.
US ambassador to Uganda Natalie E. Brown officiated at the colourful event. And her opening remarks were as sobering as they were timely.
"The youth are one of the communities least likely to know their HIV status, least likely to be on antiretroviral drugs (ARVs,) and least likely to have suppressed viral loads. If we are going to reach UNAIDS targets for epidemic control of HIV in Uganda – 95% know their status, 95% are on treatment and of those 95% are virally suppressed – we need young people on board and we also need civil society organizations, such as UNYPA, to get us there," she said.
Uganda Network of Young People Living with HIV & AIDS (UNYPA) is a youth-led organization coordinating engagement of young people living with and affected by HIV and AIDS in Uganda in the national, regional and global response.
Brown hailed the event, saying it was particularly special to her because just about one year ago, her first public engagement in Uganda shortly after her arrival for diplomatic duty was the Y+ Beauty Pageant 2020 grand finale.
US ambassador to Uganda Natalie E. Brown speaking at the event
"My participation in that spectacular 2020 event was a fantastic way to begin to a memorable year of engagements with the youth of Uganda. Admittedly, at this time last year, I was still getting settled into my new home and learning my way around," she told guests.
"Since then, my understanding of HIV in Uganda and the roles that civil society organizations, such as UNYPA, play alongside and in partnership with the US government has grown by leaps and bounds."
The American envoy said this only increased her amazement and respect for UNYPA and the work that the young people, their ambassadors, are doing throughout Uganda to reduce stigma and discrimination, to support service delivery, and to advocate for greater involvement of youths in Uganda's national HIV response.
This year's was the eighth edition and was themed 'Opening opportunities'.
Held annually, the beauty pageant for young people aged from 12 until 24 living with HIV is organized by their umbrella organization UNYPA.
The event involves regional pageants, which culminates into a grand finale where the national winners (male and female) are crowned. It is a campaign aimed at fighting stigma and discrimination, as well as addressing the structural drivers of gender-based violence and other issues related to HIV and sexual reproductive health rights affecting young people living with and affected by HIV and AIDS.
Most importantly, physical beauty is not the primary focus of this pageant, which provides a platform for young people living with HIV to become voices to the voiceless, and pillars of boldness and strength to those still afraid of HIV testing.
Their personal testimonies offer assurance that acquiring HIV is not the end of life.
These young ambassadors then become a network of young people confronting HIV with bold steps, and therefore working towards ousting AIDS by 2030 - a UNAIDS global target.
The annual event is unisex - it involves both male and female contestants
'I am beyond stigma'
Nagai, who is now aged 23, learned she was HIV positive in 2007.
When she was in Senior Three in boarding school, she experienced stigma from her fellow students when they discovered she was taking ARVs every day. They distanced themselves from her. Naturally, she became aloof.
But after enduring a lot of challenges, Nagai became a peer educator in her facility, and was empowered to empower other young persons in her community.
"Today, I am beyond stigma, nobody can stigmatize me. I stand to tell a story of a young woman who has conquered stigma at all levels. Young people living with HIV have the capacity to conquer the country and the world at large," she said.
Luguna Nagai is teh 2021/22 Miss Y+
Nagai hails from Soroti in eastern Uganda, and is a student at Kyambogo University pursuing a bachelor's degree in adult and community education.
She was encouraged to take part in the Y+ beauty contest in order to inspire young people out there who are living with HIV, and those who feel that HIV is synonymous with a death sentence.
"I would like the young HIV people to embrace who they are and appreciate their new status as part of them because they cannot undo what has already happened. I tell them that how and from whom they got the virus is not important. What matters is their ARVs and their tomorrow," she said.
After their crowning, Agaba and Nagai instantly became the national youth ambassadors to lead the fight against stigma and discrimination in their communities, workplace, schools and global platforms.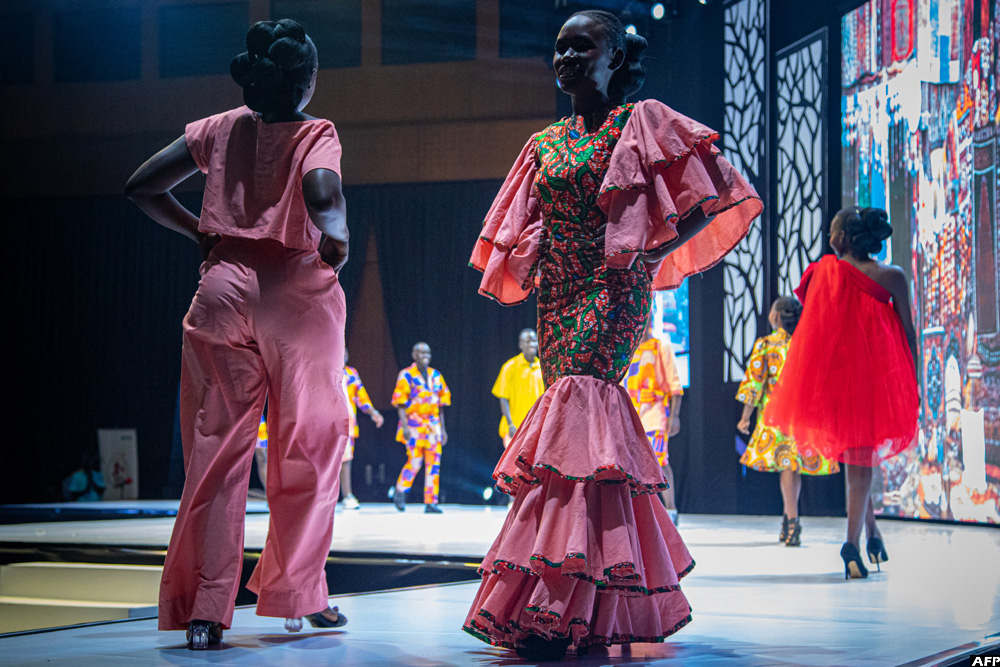 The reality
Meanwhile, Isaac Lekdyang, the executive director of UNYPA, said the journey of the young people has been one that very few can say they have experienced.
He said that as an organization, they are still going strong with over 1,000 ambassadors who have gone through the beauty contest.
"Young people continuously face frustrations that come from stigma and discrimination from families, schools and the general public, which in the long run affects their uptake of HIV services from health centres and adherence," said Lekdyang.
He stressed that the spirit of this beauty contest is not to celebrate being HIV positive, but instead to contribute to the UNAIDS three zeros (on new infections, stigma and discrimination, and AIDS-related deaths).
It is also to show the world that people living with HIV are normal and capable of doing anything like other people who are HIV negative.
Ruth Awori, the UNYPA programme manager, said young people face a lot of stigma and discrimination by the mere fact that they are HIV positive.
"The Y+ beauty pageant doesn't look out for only beauty. It is all about identifying the young person who is ready to take on the stage to support their peers and also build a space through which stigma in their respective communities where they come from can be fought," she said.
A contestant in the waiting area during the event
Providing context on the this year's theme, Awori said that COVID-19 may not go away soon, meaning young people living with HIV need to open various opportunities to ensure the pandemic does not affect their lives like it did last year (2020) when it first struck.
The statistics
Speaking on behalf of the UNAIDS country director, Sarah Nakku said UNYPA's act of organizing such an event amidst the COVID-19 pandemic challenges is the sort of spirit needed to end AIDS by 2030.
There are 1.4 million people living with HIV in Uganda, with an average 730 new infections registered per week. Young people contribute 52% of these new infections.
It is understood that more men are succumbing to HIV than women.
According to the 2018 World Population Data Sheet, Uganda has the highest percentage of people between the ages of 15 and 25 living with HIV and AIDS in East Africa.
In the 15-25 age group, 3.7% of females and 2.4% of males live with HIV.
Globally, millions of people living with HIV are on antiretroviral treatment
A Ministry of Health report indicates that 575 adolescents and young women from 15 to 24 years in Uganda get infected with HIV on a weekly basis.
In fact, UNAIDS's latest statistics indicate that the 575 adolescents and young women have become a vulnerable group, who are getting infected much more than others in Uganda. These are not girls born with HIV, but newly infected every week. When they clock 15 years of age, they become vulnerable to getting HIV.
"Today, young people living with HIV are giving us opening opportunities to break inequalities. This is the spirit needed," said Nakku, adding that focus should not be only on treatment.
"We have to reach out to communities with such innovations that will not only help us to bring those who are stigmatized on board, but also help us bridge the gap that we always look out for."