Orthodox Christians mourn Metropolitan Lwanga

Beautiful remarks were delivered during the deceased Prelate's memorial mass at St Nicholas Orthodox Cathedral, Namungon ... Tributes have been paid to Metropolitan Jonah Lwanga, the Orthodox Archbishop of Kampala and all of Uganda, who died from natural complications in the Greek city of Athens on Sunday (September 5). He was aged 76.
Beautiful remarks were delivered during the deceased Prelate's memorial mass at St Nicholas Orthodox Cathedral, Namungona on Monday.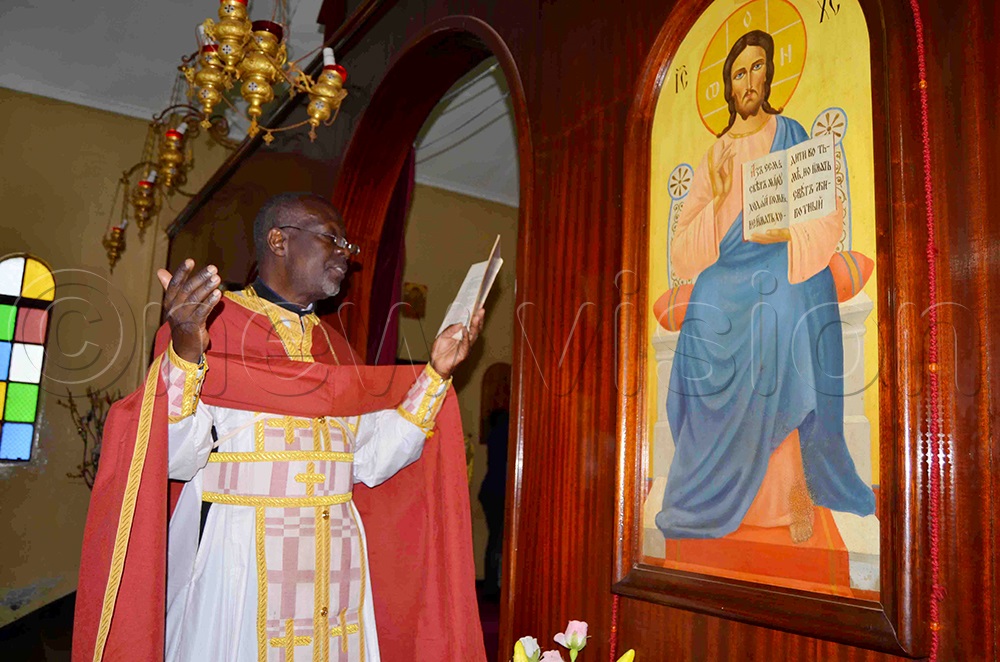 An Orthodox priest, Fr Isabirye reciting a prayer during Metropolitan Lwanga
The Orthodox parish priest of Namungoona, the Very Rev Fr Nicholas Bayego (who presided over the mass) described Archbishop Lwanga as a great Orthodox Prelate, who made a great contribution to the development of the Church and the country.
"He was an imposing figure, a great religious leader. He preached the Gospel in its authenticity. He had that prophetic disposition, which always gave him invincible courage to fight for truth, justice and human rights for all Ugandans. He was a true patriot, a real prophet of God. The Lion of the Orthodox Church has fallen. The Lion has slept. We need your prayers," Bayego said.
The Chairperson of the Board of Trustees of the Uganda Orthodox Church, Fr John Kibuuka Bbosa also spoke highly of Lwanga.
"He was a pillar figure as far as the Uganda Orthodox Church is concerned. He built churches, monasteries, hospitals, and schools. He gave bursaries to many needy children. He encouraged and sponsored priests and nuns to do advanced studies.
The Orthodox choristers taking the chants
"He tirelessly worked for peace and justice. He was a real father, always ready to listen and forgive. One unaccomplished project that has always been on his lips is the proposed Orthodox centennial monument, the Hagia Sophia Cathedral, which he was planning to build at Lubya. We pray that his successor gives it a priority," Bbosa said.
The Abbess of St Irene Monastery Kasangati, Sr Irene Nakirize called Lwanga an embodiment of religious fatherhood.
'Metropolitan Lwanga was my paternal uncle and benefactor. He paid my fees from primary school, up to university. He was a humble servant of God, very obedient and hardworking.
'He was a true religious leader and prophet. He was steadfast in his condemnation of the country's socio-economic evils including corruption, nepotism, tribalism, oppression and repression. As a church leader, he was a real father to his priests and us nuns. He empowered us, counselled us, settled our disputes and reconciled us.'
An Orthodox Christian praying for Metropolitan Lwanga
A Brief on Lwanga
Metropolitan Jonah Lwanga was born on July 18, 1945, at Ddegeya (near Bombo), in Luweero district.
Lwanga reportedly had a strong Orthodox background. His grandfather, Obadiah Basajjakitalo, was one of the grandfathers of Ugandan Orthodoxy. It is thus not surprising that upon completing his secular education (1952-64), Lwanga joined an Orthodox Ecclesiastical School in Crete, Greece (1964-68).
Uganda Cranes Coach Micho Milutin Sredojevic praying
From 1968 to 1978 he studied at the University of Athens, from where he obtained a degree in Theology and Philosophy. He then served as the Secretary of the Orthodox Mission in Uganda (1971-81). He was ordained a Deacon on May 1, 1981. A year later, in 1982, he was ordained a priest.
He was subsequently appointed to Makarios III Orthodox Seminary in Riruta, Nairobi, where he taught Theology. While there, he was elevated to the status of Archimandrite. After ten years of his priesthood, Lwanga was ordained as the Vicar Bishop of Bukoba (Tanzania).
On May 12, 1997, the Holy Synod of the Patriarchate of Alexandria and All Africa elected him as the Metropolitan of the Holy Metropolis of Kampala and All Uganda, an ecclesiastical office he held until his death on September 5 (2021).
Lwanga's Strategy and Achievements
During his reign, Lwanga put emphasis on education and youth empowerment. He believed in children and young people as the future champions of Orthodox doctrine and ideals. As a consequence of his strategy, East Africa currently has the largest number of Orthodox Christians in Africa.
A spectacle of St Nocholas Orthodox Cathedral, Namungoona. (Photo by Mathias Mazinga)
Lwanga also promoted monastic life. During his tenure, he opened up several monasteries, one of which is St Catherine Monastery Kiyindi (in Buikwe district). He also grew the number of Orthodox health facilities to 20. Lwanga also strengthened the Orthodox Mothers Union as a strategy to fight poverty, hunger and illiteracy while advancing the spiritual and social development of the people.
It is also owing to Lwanga's efforts that on November 26, 2018, the Holy Synod of Alexandria led by Pope Theodoros II established the Ugandan diocese of Gulu that takes jurisdiction of Easters and Northern Uganda. The diocese is currently headed by Bishop Silvestros Kisitu.