Uganda in new drive to market Mt Rwenzori
Jan 05, 2021
The Rwenzori ranges are among the UNESCO World Heritage sites
Climbing Rwenzori Mountain ranges is not like eating cake, yet getting to Margherita, the highest peak, is a dream to many adventurous climbers.
In a fresh drive to revive the tourism sector that has suffered as a result of COVID-19 lockdowns globally and locally, Uganda Tourism Board (UTB), sponsored by United Nations Development Programme (UNDP), organised an expedition to Mt. Rwenzori located in Kasese and Bundibugyo districts.
Actions speak louder than words.
UTB's chief executive officer, Lilly Ajarova, got out of her plush office at Lugogo Bypass in Kampala and scaled up the most challenging ranges in East Africa.
UTB boss experience
"It is a thrilling experience and one cannot miss, especially reaching the highest point Margherita Peak, at 5,109 metres. This is evidence that besides the famed mountain gorillas, mammals, birds and reptiles, there are mountains to scale in destination Uganda," Ajarova said on Sunday.
"This was my second venture to climb it, this time it took me nine days to get to the peak. Previously, I spent three days only. It is such a magical experience. The beauty and diversity that the mountain offers is mind-blowing. There are different vegetation zones, the valleys that are laid as 'sets' for a movie production is an art that is beauty at its best," she said.
Ajarova said God is the best artist in the world when one sees the vibrant colours that conjure up scenes and cartoon features.
"Overall, as I got to the higher altitude and on the glaciers, it felt like moving from one climate to another.
Reaching Margherita Peak made me feel on top of the world, everything feels below you, it is euphoric," she said.
Initially, the plans for the hike included Joshua Cheptegei, a Ugandan marathoner of global repute who is also the 5,000m Commonwealth gold medallist and reigning, but his coaches in the Netherlands talked him out of the expedition after flag off.
The gold medallist did not go to the peak for reasons of keeping in touch with his managers, who are in touch with him 24/7.
However, Cheptegei was quoted as saying only those people who have not been to Mt Rwenzori think Elgon is the best Uganda has in store.
Cheptegei hails from Sebei subregion, near Mt. Elgon.
What Golola says
Moses Golola, a kick-boxer with a huge fanbase in Uganda, scaled up the mountain together with Ajarova's entourage. Golola, who has braved many odds to reach the peak of his career, says he can now conquer any opponent who crosses his path.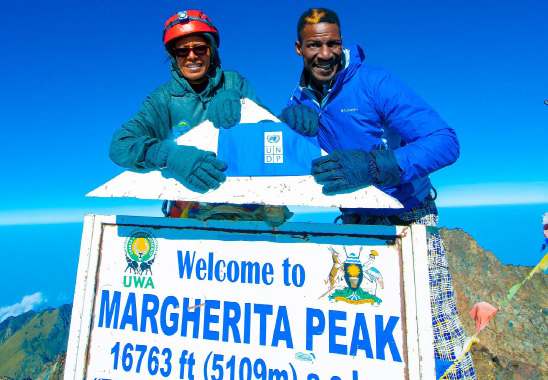 "There were places where the body felt strained, almost quitting but being who I am, I fought on,"Golola said.
"It is not an easy venture but an experience worth encountering in a lifetime," he said.
Eric Ntalo, the spokesperson of Uganda Wildlife Education Centre, said mountain climbing is in the mind. "If you feel that you will make it, nothing can stop you," he told New Vision. "We even encountered battlehardened Uganda People's Defence Forces soldiers walking down the mountain because of altitude sickness.
"Scaling up the Rwenzoris is humbling. The altitude, scenery and the environment keeps changing. Ugandans should conquer Rwenzori Mountains, there is nothing like it. It is even more challenging than Mt. Kilimanjaro," he said.
Rwenzori ranges is among the UNESCO World Heritage sites.
Scaling up the Rwenzori ranges is part of a bid for UNDP to financially support the COVID-19 pandemic wounded tourism sector with $1m (sh3.7b) to enable fast recovery. This was revealed during the flag-off when UNDP's resident representative to Uganda, Elsie G. Attafuah, stressed the importance of tourism in the transformation of less endowed rural areas.
"Mountainous areas are challenged by harsh climate conditions, vulnerable to natural disasters like floods and being hard to reach.
These hinder economic activities enjoyed by other urban centres such as navigable infrastructure and industrial production," he explained.
"Tourism, on the other hand, is a labour-intensive sector with multiple linkages across the economic value chain. It offers chances to uplift local rural communities and stimulate socio-economic growth in mountain destinations," Attafuah said.
Ajarova said Mt Rwenzori has the potential to overshadow her counterparts elsewhere on the African continent.
"Mt Rwenzori is the third highest mountain in Africa, but it has a character of its own. There is a combination of a stimulating terrain, the rarest of vegetation, sights and sounds of magnificent waterfalls and the bluest of lakes. The climax is the breathtaking glaciers and snowcapped peaks," Ajarova said.