Kalangala a hub for HIV, Ministry mitigates impact
Dec 15, 2020
The district is a centre for HIV and AIDS with the highest prevalence rate in the country, 30% prevalence, ridiculously far above Uganda's national prevalence rate of 6%!
HIV/AIDS

KALANGALA- As a matter of fact, Kalangala district is a paradise on earth. Surrounded by plentiful spotless white beaches, monkey sanctuary with over 15 natural tropical forests, Kalangala provides the ideal holiday retreat.

This is just a tip of the iceberg that continuously attracts both local and foreign tourists to the island district.

Situated in Lake Victoria, south-west Uganda, Kalangala seceded from Masaka district.

According to Dr Edward Muwanga, Kalangala district HIV focal person, it has a population of about 55,000 people and is made up of 84 beautiful islands, popularly known as Ssese Islands, located 55 km from Entebbe.

Only 63 of these islands are inhabited and widely scattered from each other, with Buggala Island the largest among the Ssese group of islands, covering an area of 296Km. Other popular islands include; Bukasa, Buyovu, Bufumira, Bubeke, Kkome, and Degaya among others.

Besides being a growing tourist destination, the Ssese Islands are rich lands with fertile soils, abundant water resource, over seven hours of sunshine making it a true nature lover's paradise. Above all, there are smiling faces whichever way you turn.

Highest HIV prevalence

But it is not the scenic beauty that makes news in Kalangala as much as the fact that the district is a centre for HIV and AIDS with the highest prevalence rate in the country, 30% prevalence, ridiculously far above Uganda's national prevalence rate of 6%!

It is also higher than the 25% prevalence rate in Kasensero landing site in Rakai district, where the very first AIDS case was identified in 1982.

The epidemic has claimed most people's lives in Kalangala leaving most of the children orphans.

Muwanga says out of a population of 55,000, over 11,000 people are living with HIV, and because of the COVID-19 pandemic, the numbers must have gone up but the latest is that HIV has now spread to school going children, pupils/ students.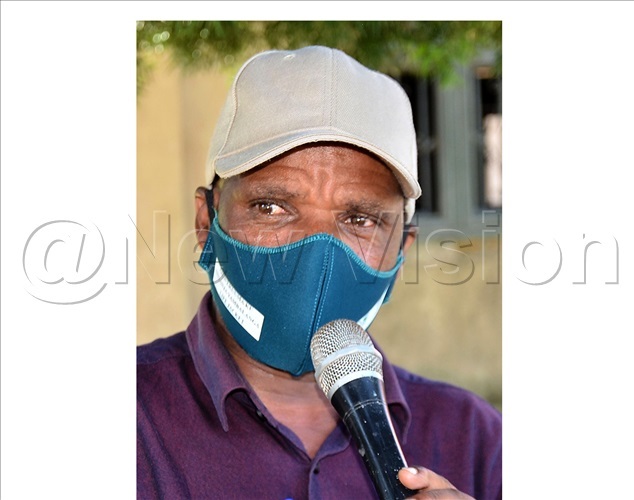 A number of factors contribute to the HIV vulnerability of Ssese Island communities, stemming from, the time fishers and fish traders spend away from home, their access to cash income, their demographic profile, the ready availability of commercial sex in fishing ports and the sub-cultures of risk taking and hyper-masculinity in fishermen.

Many men and women living alone, away from their families, living in remote locations, mobility of fishers moving between landing sites and lakes and daily cash income, also contribute to the vulnerability of the islanders to HIV/AIDS.

"Fishing is hard and dangerous work and dominated by men. A traditional reward is to drink and have sex when we return. Fishing at night and redundancy during the day also increases the sexual vulnerability of men and women," says a 55-year old fisherman, Henry Baligema.

People are moving with their money since they lack the saving culture and their life is leisure life, sexual activities and drinking alcohol.

Even without statistics, it does not take long to realize there is more than meets the eye about HIV in the district, coming up with almost every resident you speak to.

Ministry intensifies solution to lessen the pandemic.

It is this regrettable situation that has prompted the Ministry of Works and Transport in collaboration with Family Rescue Initiatives (FRI-U) Uganda, to undertake distribution of over two thousand female and male condoms to prevent HIV, UTIs and unnecessary pregnancies.

They also distributed Personnel Protective Equipment (PPEs) and Information, Education and Communication (IEC) materials at Misonzi landing site, one of the 84 islands.

Nina Mukunde Mwesigwa, team leader from FRI-U, told Misonzi residents that, their mission is to raise awareness and improve livelihood and safety on fishing communities through investment in the Maritime sector in Uganda.

"We are handling the component of gender, HIV stigma, sex, and reproductive health and right, child protection as well as gender-based violence which is also so much pronounced in these communities," she said.

Adding, "This exercise is especially critical during the current situation of COVID-19 pandemic, where access to information is minimal, with limited access to condoms, an increase in sexual gender-based violence (SGBV), child abuse as well as a loss of livelihood."

Mukunde also revealed that the ministry of works and transport is going to construct a Search Rescue Centres in Misonzi to answer to emergencies.

Come February next year (2021), nine centres are going to be built simultaneously in different landing sites.

"In Uganda, these search rescue centres are going to be the first of their kind, mainly to help with emergency situations people in distress on water, for example, when the boat has got a problem, bad weather, when the engine has died or when passengers are sinking," Mukunde disclosed.

Mukasa's story

38-year-old Joseph Mukasa, a father of three told the FRI-U team that the condoms were timely and well deserved since the residents gravely needed them yet they could not access them.

He narrated how he contracted HIV after coming to Kalangala seven years ago.

He resides in Misonzi at a dilapidated structure where I spent hours learning slowly and painfully the HIV prevalence rate, the causes and what the island has to offer to the affected and infected people. The visibly sickened and weary Mukasa turned his eyes into the sky with a tortured look and cried: "Zinsanze," meaning "Oh-woe is me!" He wept hysterically as he narrated his ordeal.

"I get my antiretroviral drugs (ARVS) from Bukasa Health Centre 2 at Kyamuswa Island, 32 kilometres away from Misonzi. But I have gone without medication, for now, three weeks because I cannot afford the Kalangala inter-island connectivity using mainly water," he said.

He has to traverse nine islands away, which is costly, and where necessary he has to hire a boat, parting with not less than sh 50, 000.

If there is a rough storm due to bad weather, it would take him hours to reach his destination, meaning he would spend 1-2 days to reach.

Many times he would find when the drugs are out of stock in the health facility.

When relocated to Kalangala from Kayunga district, he initially rented a room on Bugala Island, and quickly fell into a fisherman's lifestyle, spending days on the water catching Nile perch, tilapia or the small silver mukene fish, while braving sudden storms that could capsize boats.

Mukasa would return to shore with a catch worth hundreds of "dollars," money he would spend on locally brewed gin and, occasionally, a sex worker. "That is how i contracted the dreaded HIV," he reminisces.

Though he was aware of the probable risk, he tried not to think about it, and he says the way he acquired HIV is the main trend through which many islanders catch it.

He counts over 30 close colleagues of his who have since succumbed to AIDS.

"There is joy and jubilation by residents of Misonzi as we receive female and male condoms since there is too much promiscuity here. The female condom is a real miracle because we have never seen it here. Thanks, FRI-U for the ICE materials which are in Luganda, the language we understand, and the posters with messages on COVID-10 awareness," Mukasa said.

Most challenges associated with people living with HIV, essentially characteristic of Kalangala district, cut across many islanders who are HIV positive, like not accessing medication due to difficulties in the Kalangala inter-island connectivity.

Steven Asiimwe, a fisheries officer attached to Bufumba Sub County, said prostitution, high mobility of people, drug and substance abuse and myths and misconceptions about condom use range high among the population.

The inability of women to negotiate safe sex with partners has led to an increase in the infection rate in Kalangala district.

Accessibility is a major issue because Kalangala is not only a hard-to-reach but it is also hard- to- stay area since the region is accessible either through Masaka or Entebbe.

From Masaka, you go by road through Bukakata (an inland port in Masaka district) to Bungoma, (an inland port in Kalangala district) using the Bukakata-Bugoma Ferry.

The charge is 15,000 to 17,000 and it would take you three hours.

Alternatively, you go through Entebbe -Nakiwogo using a ship and you brave about four hours, paying sh 10,000 in Kirussia or sh 14,000 VIP.

You would be in trouble if you have water phobia. The other alternative is by hiring a speed boat for over 1m.

Asiimwe says health is another big challenge. The district has 11 health facilities, two health centre IVs with Kalangala health Centre IV as the main health facility, six health centre IIIs and two health centre IIs with a total of 33 hospital beds and only one Voluntary Counseling and Testing ( VCT) centers.

The district has no hospital and ambulance to transport patients to referral hospitals.

Despite the island's high infection rate, the majority of residents affected cannot easily access health services due to the high cost of transport to the mainland.

When it comes to education, there 22 government subsidized primary schools located on only 10 of the islands in the district, leaving most children residing on the other 53 islands with very little or no hope of accessing Uganda's Universal Primary Education Programme (UPE).

In order for the majority of children to go to school in Kalangala District, they would have to commute from one island to another every school day, which is very costly and risky.

From the study of the population structures in Kalangala, only 38% go to school, meaning that 62% of the school-going age children cannot access primary education.

Abby Wikizo, marine licensing officer with ministry of works and transport, said Kalangala is not stand alone, its scenario cuts across all the fishing communities in Uganda.

Fishing communities have been sorely neglected in the provision of a wide range of services - from schools and health clinics to good roads and clean drinking water.

And when it comes to HIV, fishing communities have again been neglected - they have not been recognized as a vulnerable group, despite much evidence that the prevalence rates are.

We, as a ministry are responsible for transportation on water, the reason we are intensifying search for solution, he said.