Court issues tough bail terms for Kyagulanyi
Kyagulanyi was freed on a non-cash bail of sh1m.
COURT|CRIME|HEALTH
IGANGA - Court has issued stringent bail terms for presidential candidate Robert Kyagulanyi after he was freed on bail, pending his trial.

Jinja Chief Magistrate Catherine Agwero, who stood in for the Iganga Court Chief Magistrate, Friday (November 20, 2020) issued a strict directive to Kyagulanyi, aka Bobi Wine to follow directives issued by the health ministry and Electoral Commission (EC) during the ongoing campaigns.

The order came after prosecution said Kyagulanyi had violated guidelines issued by the health ministry and EC.

A source from the Office of the Director of Public Prosecutions said the implication of the bail term is that if Kyagulanyi does not adhere to the terms, his bail can be canceled.

Before the campaigns commenced, EC chairperson Justice Simon Byabakama said all candidates will be required to observe guidelines issued by the health ministry to avert the spread of COVID-19.

"All persons participating in the nomination exercise shall be required to comply with guidelines issued by the EC in accordance with the Government and health ministry measures against the spread of COVID-19.

This includes observing social distancing, hand washing and wearing of masks," Byabakama said.

Kyagulanyi was freed on a non-cash bail of sh1m.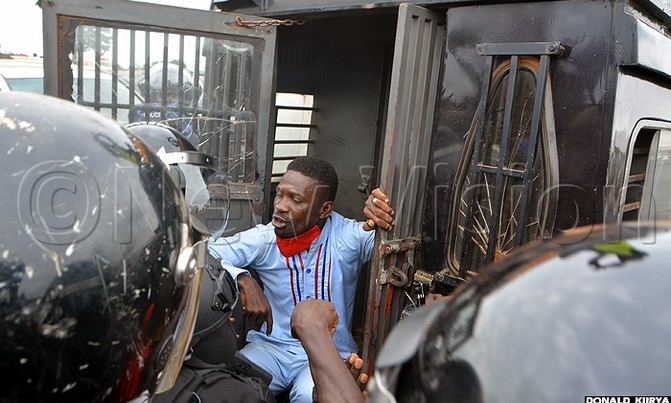 He will reappear in court on December 18 for mention of his case. He was represented by lawyers Medard Sseggona, Benjamin Katana, Anthony Wameli, Adbullah Kiwanuka, Kenneth Paul Kakande, and Luyimbazi Nalukola.

Sseggona told court that the offence with which Kyagulanyi is being charged is bailable and that he is a presidential candidate, who will attend court whenever he is required to.

He also submitted that his two sureties, Paul Mwiru, the Jinja Municipality East MP, and John Baptist Nambeshe are substantial sureties.

Kyagulanyi was arrested on November 18 in Luuka district, eastern Uganda, ahead of a planned campaign rally.
Kyagulanyi, the presidential candidate for the National Unity Platform, is accused of breaching COVID-19 regulations by mobilising large crowds for his campaign rallies.

Charges

Prosecution said that on November 18 at about 5:00 pm at Luuka town council, Kyagulanyi negligently committed an act which he knew or had reason to believe was likely to spread COVID-19, a disease dangerous to life.

Under Section 171 of the penal Code, under which Kyagulanyi was charged, any person who unlawfully or negligently does any act which he or she knows or has reason to believe to be likely to spread the infection of any disease dangerous to life commits an offence and is liable to imprisonment for seven years if convicted.

In March, the health minister, Jane Ruth Aceng, tabled a statutory instrument in Parliament to declare that there is a pandemic -COVID-19 in line with the Penal Code Act.