He learnt breeding larvae in Europe, he is implementing it in Uganda
The flies are housed in a brick structure, roofed with iron sheets.
While working in the United Kingdom (UK), David Batobokwe fell in love with black soldier flies.
These are flies that produce larvae that are fed to livestock especially poultry and fish.
"Whenever I got time, I would visit livestock farms and this is how I learnt about this innovation," he says.
He explains that the larvae are a concentrated source of proteins for livestock. "They have more protein than all the protein sources including mukene that we are using today," he says.
When he returned to Uganda a few years ago, he started plans to start breeding the larvae in Uganda.
"I approached some government stakeholders in the agriculture sector, who however told me that this was beyond their mandate," he says.
He then decided to go it alone. 'I went to Makerere University and got more knowledge about the flies and also got an expert in in insects to manage my innovation," he says.
Batobokwe has since the beginning of 2020 invested millions of shillings in commercializing larvae breeding, at his expansive home in Masooli, near Kitetika, off Gayaza road.
The flies are housed in a brick structure, roofed with iron sheets. Inside are cages covered with wire mesh were the breeding is done.
According to Kabasinguzi, the facility can breed as many as 150kgs of larvae per week.
With each kilogram sold at sh5,000, that is at least sh750,000 earned. The facility also sells breeding eggs to other farmers at sh56,000 per gram.
One gram of eggs contains thousands of eggs that when they develop into flies can help a smallholder poultry farmer start his or her larvae breeding.
According to Eldrrine Kabasinguzi, the farm manager, gradually, larvae produced by black soldier flies is turning into common feeds for livestock.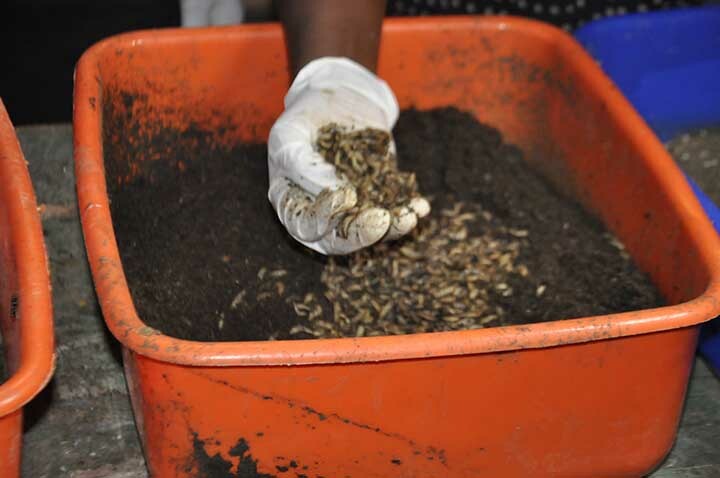 The nutritional content of these insects means you can make them an essential part of your chicken's diet - and they might even help your flock grow better and lay better eggs.
The black soldier fly larvae are full of protein, fat and essential vitamins and minerals. Protein is essential to raising healthy hens, and for feather growth. Feathers provide warmth for the chicken.
"When you look at the alternatives, which is mukene (silverfish) and soya, these maggots carry more protein and above all, they can be easily produced by farmers.
A diet high in protein is also essential for excellent egg-laying - so if your flock's diet is low in protein, then they might lay abnormal eggs," Kabasinguzi says.
The money
For a small scale farmer who is breeding to feed a flock of 100 chicken or a fish pond of 2,000 fish, you need a system that can produce at least 50kgs every week.
This is quite a small system that can be set in a room or structure that is 10x10feet. You can use simple timber fabricated into boxes and covered with wire mesh.
The structure can cost you between sh500,000 to sh1m. Then, you need to buy mother stock for your farm. What you need is the pupa, that is soon turning into flies.
"You can buy a kilogram of these at sh50,000 from the few breeders around. Once these turn into flies, they will lay eggs that in less than two weeks will hatch into larvae. You keep multiplying until you have the capacity that you need. If you are keeping them commercially, the investment is higher, but too are the earnings," Kabasinguzi says.