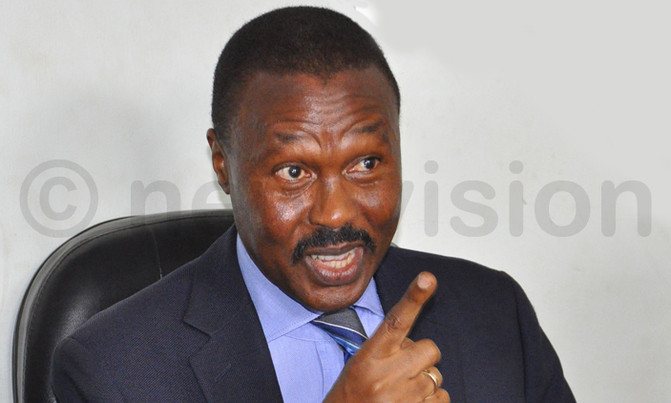 "You cannot meet people in large gatherings because of logistics, which is a difficult thing for the Opposition. We need the EC to agree to pay for airtime so we can communicate with voters."
ANT presidential candidate Gen. Mugisha Muntu has decried what he termed as unfair treatment during the presidential campaigns. He noted that because they are campaigning during the difficult COVID times, the Electoral Commission should have at least provided airtime since they cannot have large gatherings.

He also said the opposition cannot afford the sh1m amount per show that is required at radio stations.

Muntu said the time frame given to the presidential candidates to carry out campaigns is also limited because given as it is, they have to traverse three constituencies per day to pass their messsage across to potential voters.

He said if the campaigns had started in June or July, they would have been able to campaign with ease.

"You cannot meet people in large gatherings because of logistics, which is a difficult thing for the Opposition. We need the EC to meet us and agree to pay for airtime for opposition candidates so all of us are given a chance to communicate to voters."

Muntu Implored Ugandans to not just seek to unseat the current regime, but have a clear strategy as to the change they want to see or risk going back to the drawing board

He was speaking this morning at a local TV station.

Mugisha Muntu campaign hit by poor co-ordination

Meanwhile, Muntu was on November 16 expected to address people in different trading centres in the districts of Kyotera and Rakai. Muntu was expected to rally people at Kyotera Old Taxi Park and Sanje trading centre (Kyotera), as well as Rakai town council and Kibaale trading centre (Rakai).

However, only one rally in Kibaale and another in Sanje attracted at least more than 100 people largely youth, while others fl opped. This was blamed on poor co-ordination and mobilisation. There were no people gathered at Kyotera Taxi Park and Rakai town council, which prompted Muntu to proceed to Sanje.

At Sanje and Kibaale, Muntu appealed to the public to desist from tribal sentiments and religious differences, which, he said, may affect Uganda's politics and development.

"People who believe in unity work together, regardless of their tribe and religious differences," he said.

He explained that religious matters should remain in faith-based institutions, while tribal issues should remain a matter of cultural institutions. He urged the public not to use it as a yardstick for Uganda's development and change.

Muntu said it is through unity that a country can get rid of problems, such as corruption and enforce transparency and equality for all. He noted that they do not want to build ANT on pillars of hatred, tribalism and religious differences.

"We want people in Rakai, especially those who believe in unity and transparency, to join ANT and support the cause to have a better Uganda," he added.

He further pledged to improve the agricultural sector through subsidised agro-inputs and markets for products. In addition, Muntu pledged to instil discipline in all security agencies, to respect people's rights and freedom.

"As candidates, we have the right to hold campaigns, but the Police and army have continued disrupting us, which must end," he said. On Sunday, Mugisha Muntu campaigned in Masaka city.