Many Express supporters have stayed away because of a lack of identity.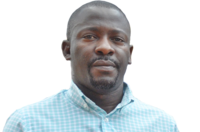 The vibe coming through Uganda's traditional giant clubs is exciting. Hardly two weeks have passed after SC Villa launched a national members registration exercise following the creation of the 'Villa Trust' than KCCA FC have announced the re-naming of their Lugogo based stadium after securing a new sponsor too - the MTN Omondi stadium.Both initiatives are well-timed and well thought. The fresh news will lift the spirits of their fans and possibly revitalize them after months of redundancy and uncertainty.
What both Villa and KCCA have done is to monetize the assets they have to create commercial value which will in turn directly subsidize the costs of operations and management of their clubs. Villa's biggest asset has always been the huge fan base across the country, while KCCA has facilities that other clubs can only dream of. What they don't have in supporter numbers, they make up in asset ownership. Villa, who as recently as two months ago couldn't even guarantee the venue of their home matches for the upcoming season, are trying to make up for the disadvantage with their numbers.
The off-pitch rivalry has already begun. The question now is what their other joint rival, Express FC, have up their sleeves. If the Betway Muteesa II Wankulukuku based club finds no response, it will be most unfortunate. Ugandan football needs these three clubs to be at the top consistently to push each other. Though Vipers SC, the Kitende based club has more than ably filled the void left by Express for the last decade, brand Express is still important to Ugandan football.
Vipers' business model is a dream. It has now been followed with a management and operations model that is envied by KCCA, Villa, and Express. From the technical wing; expansive with its directorate and fully-fledged coaching team backed by a full capacity senior and youth teams, to the commercial wing; complete with marketing and PR departments, Vipers have developed into a real football club. They are the ones who; for the last couple of years, have been at the forefront of creating innovative fans recruitment campaign efforts. Though it's ownership is individual, it's operations and administration are institutional. With a modern stadium, ambulance, modern gym, and independent training ground, it's enough to evoke envy from the traditional big clubs.
To Express' credit, during the most depressing period of the Corona pandemic, they reshuffled once more, their technical team, and made wholesome changes which extended to the squad. At the very least, they were able to bring back ex-players to forge a backroom staff and coaching team that understands the nuances that usually stop their sustained improvement. The challenge facing the club now is how to bring back the passionate fire-brand supporters to re-invoke the old spirit of 'mukwano gwa banji.' And like Villa and KCCA, they need to identify their competitive edge.
Many goodwill Express supporters have stayed away because of a lack of identity. They are no longer sure they belong and at worst, they don't know what to do to get involved. Now that 'club constitution' talk has become a myth at most clubs, you expect that they are being run in the modern way, through the membership model. Those that take the shape of companies would encourage the buying of shares and have a corporate management structure. Express, unfortunately, has been torn in between for years now.
It's hard therefore to think of a project that can involve all associated with the club without first addressing the identity question. Who is the Express supporter? What are his qualification and validation? What is the extent of their participation in club politics? The answer squarely lies with the present board which has made several efforts in the last three years to start somewhere. Should they delay this further, KCCA, Villa, and Vipers could create a new force that would leave them out. On the business front, it is a scenario Express would not wish to see.