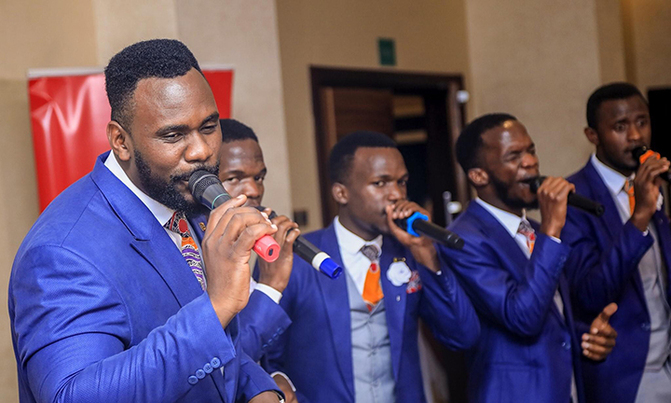 With this trend of growth, one may be quick to imagine that it is time for acapella music to soar in Uganda, but is it?
For the last 10 or so years, the genre that is acapella has been struggling to make it out of the closet into the mainstream field of music.

Light at the end of the tunnel started to manifest itself about five years ago, with a number of aggressive acapella groups cropping up.

With this trend of growth, one may be quick to imagine that it is time for acapella music to soar in Uganda, but is it?

Last year, the future of acapella became even brighter when one of the groups, Jehovah Shallom Acapella, represented Uganda at the first East Africa's Got Talent competition that took place in Kenya.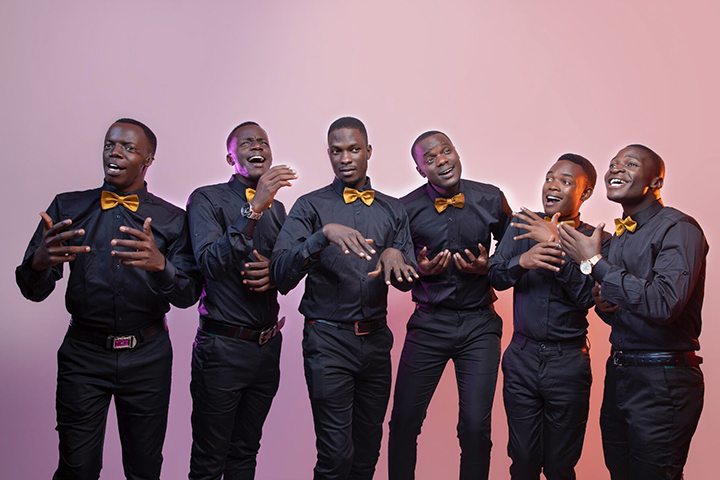 The group went as far as finishing as runners-up in the competition, only beaten by two youngsters Esther and Ezekiel, also from Uganda.

Needless to say, Esther and Ezekiel can also be regarded as acapella musicians.

Today, a music concert will have more oomph if it has a session of an acapella group, although many concerts, before the COVID-19 pandemic, had not embraced the concept yet.

But what explains this stalemate in growth? First, one would wish to trace the evolution of the genre.

Acapella music in Uganda has, for a long time, been known to be a reserve of the Church, and if you are a regular attendee of the Seventh Day Adventist Church, then your ears have probably been treated to some of those high-pitched notes harmonised by several other voices, to produce soothing melodies for the ear.

Interestingly, however, voices are never backed by any form of instrumentation.

It has always been about the voices, which makes the genre quiteunique compared to other forms of music.

Over time, various groups began forming out of choirs and churches at large to form acapella ensembles.

However, even then, these groups did not join mainstream music to compete with other genres.

Samuel Lubwama, the team leader of Canaan Gents Acapella, says during his high school days, there were a number of acapella groups that used to move around schools and churches performing some of the songs they had composed.

"There was no mainstream acapella group outside church and schools at the time. It was due to this gap that my colleagues and I decided to start a mainstream acapella group in 2011 when we joined university," Lubwama says.

Weathering industry storms

But has it always been an easy sail for acapella musicians? Certainly not.

Lubwama says apart from having to train vocally on a regular basis, the members train on vocal instrumentation, because it is one of the elements that complement acapella music.

Lubwama, however, points out that acapella music is only appreciated when it is being played live on stage.

He says out experience, he has realised that because acapella is largely about raw voices with no instrumentation, recording the songs in studio sort of tampers with the pure feel of the voices.

"When our fans are subjected to listening to our music on compact discs and radio, the recorded sound and instrumentation in studio sort of distorts the originality of acapella," Lubwama says.

Because acapella music stems from schools and churches, it has largely been shaped into a particular direction of music - gospel music.

Lubwama suggests that this could also be a barrier in crossing into the wider spectrum of music fans, with a thought that Christian music does not widely appeal to most fans.

However, he is quick to say with acapella music, it is mainly about the melodies and voices that enthral music lovers.

"Eventually, they will love and appreciate what acapella is," he says Lubwama adds that because acapella musicians are used to doing music with no instruments, they always have an edge when it comes to doing live music as opposed to folks in the other music genres.

He advises other regular artistes to try acapella.

"For other musicians, it is crucial to be able to sing acapella. It is a great opportunity that will help them to focus more on the intonation in their music, hence being appreciated better by their fans," he says.

But what makes the genre such a unique one that requires intense practice?

Lubwama says the power of acapella is mainly in the voices; tenor, soprano, alto and bass.

He adds that since this kind of music is mainly done by a group, the members assign roles to each other depending on one's voice.

"For Canaan Gents, we started out with me as the lead vocalist because I had the tenor, which is good for a lead vocalist. However, as time went on, we decided to alternate lead vocalists, and this meant that each member had to go out of their way to learn a different voice.

If you have realised, acapella music is one that can easily bore listeners, especially those who are not fully into it. So, changing lead singers is an ingredient to spice up our performances," Lubwama says.

Stage presence

In terms of growth, it is only right to judge acapella music basing on the concerts they have staged thus far.

Speaking concerts, the Music Evolution Project that made its way into the music industry in 2014 was possibly the first to give acapella music a platform in terms of performances and concerts.

The project, at its debut concert, brought together a number of acapella groups, which competed for top positions.

Many of them have since become household names in the music industry.

Joseph Segawa, the team leader of Music Evolution, says 10 years ago, you could hardly sight a single acapella group that was waving the flag high for the genre.

He adds, however, that it was platforms like Music Evolution that paved the way for acapella in Uganda.

"Today, the genre has spread to about 60% of the central region," Segawa says.

He, however, expresses concern that the rest of the regions of Uganda still do not know a thing about acapella music.

The history of concerts for acapella music is not that old. It can only be traced to as recent as 2014, when the inaugural Acapella concert was staged in Kampala.

Organised by Music Evolution, the concert made a statement that acapella had come to claim its share of the fan base.

The same show would go on annually until recently when COVID-19 struck.

Besides the Music Evolution concerts, acapella groups such as Springs Gents had started venturing into organising concerts.

Last year, the group organised their first concert dubbed, Acapella Experience, held at the Golf Course Hotel, Kampala.

Away from the solo concerts, acapella groups have had a fairly good shot at gigs.

Though many still perform only in churches, a good number of groups have crossed into the secular world, performing both cover songs and original compositions of mainly Christian and what they refer to as inspirational music.

Bright Wasswa, the manager of Jehovah Shallom Acapella group, says ordinarily, for a wedding ceremony, the group charges about sh3m.

For music concert gigs, an acapella group would charge about sh2.5m, using Jehovah Shallom Acapella Group as an example.

Is it a male-dominated genre?

There is worry that the genre is maledominated, which is true if you have closely been following the trending acapella groups.

Segawa attributes this to what happens to most girls after school.

"Since this genre mostly picks up during a time when members of a group are almost finishing school, girls do not stand a chance of taking it any further because they get into marriage, and there is no way they can focus on a career in acapella music," Segawa argues.

On the other hand, Wasswa, says another reason for male domination is because acapella groups use voices to emulate music instruments and harmonies.

He says this means one has to use their voice to produce the sound of a kick or drum and a snare, among others.

"I think it is something women have not embraced. It is rare finding a woman beatboxing, and you find that most female groups do only harmonies with no voice instruments," Wasswa says.