FDC's Amuriat nominated barefooted
Nov 03, 2020
Amuriat becomes the sixth presidential aspirant to be nominated
Forum for Democratic Change aspirant Eng. Patrick Amuriat Oboi was on Tuesday nominated as candidate for the 2021 Presidential race but without shoes.

Amuriat becomes the sixth presidential aspirant to be nominated after NRM Yoweri Museveni, Alliance for National Transformation Mugisha Muntu, Lt. Gen ( rtd) Henry Tumukunde among others.

Speaking to the press, Amuriat condemned the manner in which he was arrested Tuesday morning.

"Today I came to this nomination a prisoner. While trying to access my documents, I was kidnapped, forced into a saloon vehicle, brutalised and I feel body pain. I come here without shoes not because I chose not to wear shoes but show the kind of dictatorship, " Amuriat said.

He noted that FDC would never give up untill the your of the dictatorship is removed.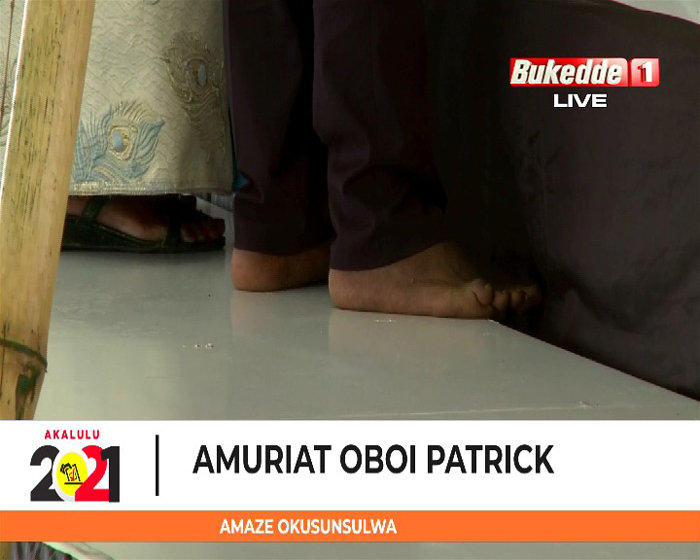 He appealed to the chairman of the EC to intervene and ensure equality. Amuriat noted that change in the country would not come on silver platter.

Amuriat was arrested on Tuesday morning following a stand off at the party headquarters. He was pulled from his car and thrown into a police saloon car that drive him to Kyambogo.

Amuriat later emerged out of the police car without shoes.

Amuriat further called on the FDC leadership to rally support of all ugandans. He noted that his slogan was building a new Uganda.

My candidature is about this woman who when she goes to deliver, risks dying and yet we have people receiving preferential treatment out there.
He noted that the dictator had all the money, security agencies and bootlickers but his comfort was that they had the people on their sides.

He noted that the party would be unveiling it's manifesto within one week in soroti City.

He noted that his presidency was going to be a lean govenment so that the money saved would deliver services.

He noted that he would fight corruption and preach the message of hope.