"Civic and media spaces, seem to be under constant threat from state regulation, but also other threats, including self-censorship, anti-media behavior, violence, and harassment against journalists."
The Country Representative for the Office of the United Nations High Commissioner for Human Rights (OHCHR), Robert Ayade Kotchani, has appealed to Uganda authorities and other stakeholders to promote and safeguard press freedom as the country goes through general elections to enable citizens to make informed decisions.

Press Freedom is a situation where the media are able to independently make decisions on what to publish or broadcast without interference from the state authorities or any other actors.

Kotchani made the remarks as a special guest during the swearing-in of the newly elected executive of Uganda Parliamentary Press Association.

"A free press is essential for peace, justice sustainable development, and human rights. On this occasion, allow me to quote the UN Secretary General António Guterres who said no democracy is complete without access to transparent and reliable information and the media indeed play this very important role," Kotchani stated.

The UN diplomat also appealed to media houses to ensure they always do the journalism work professionally.

"This is especially true during election periods. And as such, facts, not falsehoods, should guide people as they choose their representatives. While technology has transformed the ways in which we receive and share information, sometimes it is used to mislead public opinion or to fuel violence and hatred," he argued.

Kotchani expressed concern about continued reports of violation of press freedom in Uganda.

"Civic and media spaces, seem to be under constant threat from state regulation, but also other threats, including self-censorship, anti-media behavior, violence, and harassment against journalists. OHCHR is therefore deeply concerned by the reported numbers - though many go unreported - of arrest and attacks on journalists, and the culture of impunity owing to which many of the perpetrators of such human rights violations are not brought to face justice," Kotchani stated.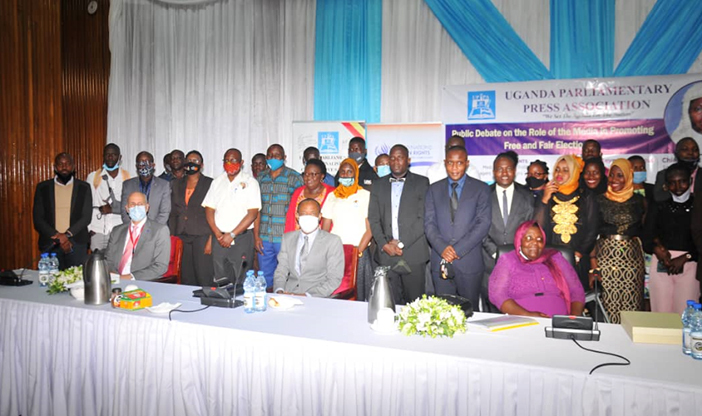 During the same event which was combined with a public debate on the role of the media in promoting free and fair elections, the head of the European Delegation to Uganda Ambassador, Attilio Pacifici, expressed concerns about ongoing propaganda that they have ill intentions in Uganda.

Ambassador Pacifici informed the Parliament Journalists that the Electoral Commission had not invited the EU observers to observe the 2021 general elections.

In the last general elections of 2016, the EU observers raised a red flag on Uganda's elections when they concluded that the elections were below the minimum international standards for free and fair elections.

Ambassador Pacifici noted that in the past general elections unequal access to media platforms has been one of the major concerns.

"We realize that this is now even more of an issue in an election where mass rallies are not possible. In this context, we welcome the Parliament's approval earlier this year of changes to section 24 of the Presidential Elections Act, which provides for stronger rules designed to ensure equal treatment of presidential candidates on state-owned media. This is a step in the right direction and I call for this equal treatment to be extended to parliamentary and local government candidates and for privately owned media platforms to also ensure that their coverage is as equitable as possible," Ambassador Pacifici appealed.

Eminent media scholar, Dr. Peter Mwesige, of the African Center for Media Excellence, implored journalists to hold all stakeholders including the Electoral Commission accountable, and ensure that electoral malpractices are exposed.

In her speech read by the parliamentary commissioner, Safia Nalule Jjuuko, the Speaker of Parliament Rebecca Kadaga appealed to media houses to be fair to all political players.

"At this time, and especially as the country is heading for a 2021 scientific election where media is expected to play a leading role in senstising and mobilising voters, the principles of accuracy and fairness in reporting becomes paramount. The principle of impartiality especially when reporting about political campaigns involving partisan interests, is what we expect from you," Kadaga said.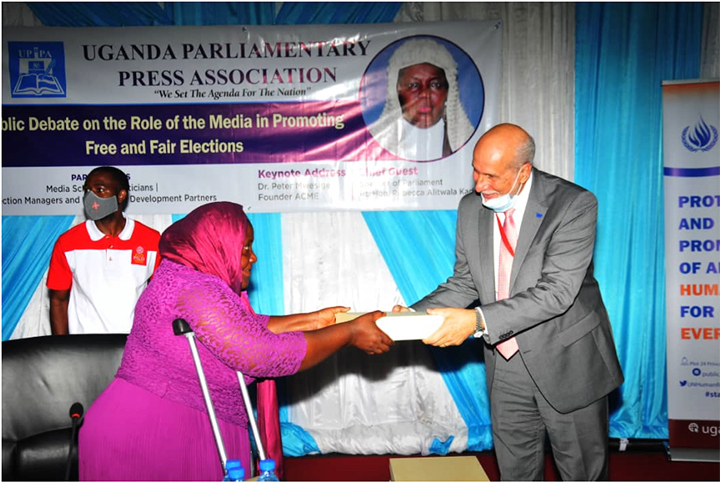 The speaker pledged the commitment of the institution of Parliament to unwaveringly defend and promote press freedom and all other rights of Ugandans.

Vision Group's Moses Mulondo, who was re-elected to serve as the President of UPPA, appealed to President Yoweri Museveni to fulfill his constitutional obligation to constitute the Communications Tribunal provided for in section 65 of the Uganda Communications Act to stop the problem of Uganda Communications Commission always acting as the complainant, the prosecutor and the judge on cases of journalism professional misconduct.

Arguing that all economically progressive countries discourage taxes that limit people's access to the internet, Mulondo also appealed to the government to scrap Over the Top Tax (OTT) which he said has brought down Uganda's access to the internet from 47% to 34%.