Uganda has been one of the fastest-growing economies in Africa; and agricultural growth is key in helping the country progress towards middle income status.
AGRICULTURE|MINISTER
KAMPALA - The Minister of Agriculture, Animal Industry and Fisheries (MAAIF), Vincent Ssempijja has said that the ministry has addressed a variety of agriculture challenges.

According to Ssempijja, in the financial year 2019/2020, the ministry committed itself to address the issues that included mobilising and supporting small scale farmers along with the four-acre model concept, increasing exports of specific commodities, and Supporting individuals and companies for seed production.

Others included planting and breeding materials, promoting the use of fertilizers, and appropriate irrigation technology to beat.

He made the remarks during the agriculture Performance Review for Financial Year 2019/20, last week.

Ssempijja said this year's review was organised under very trying times of the COVID-19 pandemic.

"There are few participants here, but the majority of our stakeholders are participating virtually through zoom", he said.

Delivering his speech, the minister said Uganda has been one of the fastest-growing economies in Africa; and agricultural growth is key in helping the country progress towards middle income status.

"Many of you may be aware that Uganda has been one of the fastest-growing economies in Africa.

The agricultural growth is key in helping the country progress towards middle income status and to the second Sustainable Development Goal of ending hunger and all forms of malnutrition by 2030," Ssempijja said.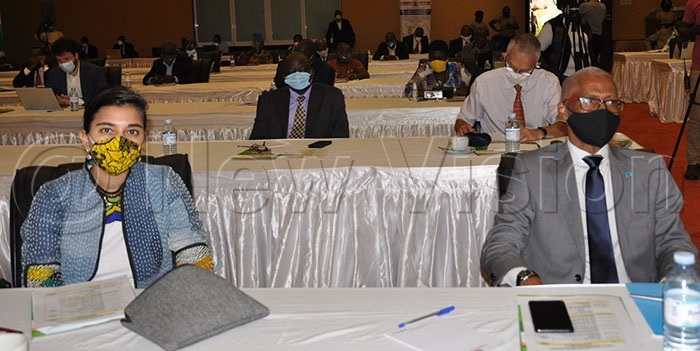 Despite this sustained economic and agriculture sector growth, Uganda still suffers from the hardships associated with poverty, hunger and malnutrition.

A Cost of Hunger in Africa study by the African Union in 2013 indicated that up to 5% of the annual GDP in Uganda is lost due to malnutrition.

Stunting, an indicator of chronic undernutrition is still moderately high at 29% in children under 5 years of age, while anemia is a serious public health concern affecting 53% of children and 32% of women of reproductive age.

Undernutrition is, therefore, widespread with 36 percent of the children chronically undernourished or stunted. This cannot be allowed to continue.

Uganda has the potential to become the food basket for sub-Saharan Africa but this opportunity is still far from being actualized.

Agriculture, comprising the crop, fisheries, and livestock is neither efficient as desired nor resilient and is vulnerable to climate shocks and disasters.

Low production and productivity are directly linked to access to quality inputs, resources for women and youth across the value chains, financial services, extension services, market information, and markets among others.

The minister said that he was happy that the ministry's review brings together actors from a wide spectrum of both public and private sectors as well as the international actors to deliberate on issues affecting the performance of agriculture.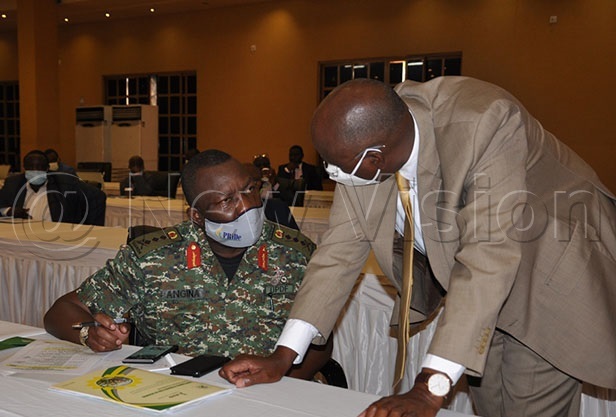 The period under review was characterised by natural disasters such as the COVID 19, desert locusts invasion, and the flooding of rivers and lakes that caused disruptions in production and productivity.

The COVID-19 and the associated control measures presented a wide range of challenges to agriculture and food systems.

"The widespread disruptions to agricultural production and market access resulted in distortions in agricultural supply chains and reduced farmers' incomes," Ssempijja said.

The Food and Agriculture Organisation country representative, Antonio Querido said many Ugandans are currently facing food shortages and, therefore, lack food.

As the effects of the pandemic continue to bite hard on the urban, a survey on food availability has revealed that 17% of Ugandans living in Kampala are facing acute food insecurity.

The minister of state for fisheries, Hellen Adoa and Lt. Col. Bright Rwamirama, minister of state for Animal Industry were both at the function of reviewing 2019/2020 performance.

Others were Eric Sempambo from Private Sector Foundation Uganda, Lt. Gen Charles Angina, the Coordinator Operation Wealth Creation, Dr Ambrose Agona, Director for National Agricultural Research Organisation, among others.

The design of the interventions considered both the agricultural sector, specific support, and the business development support to spur growth across the different agricultural value chains.

The agriculture ministry is working closely with the Ministry of Finance to support agricultural-related private businesses, particularly the stressed SMEs to extend loans and loan guarantees and credit lines through Development Banks and Micro Finance Support Centre.