Makerere University starts ICT innovations marketplace
TECHNOLOGY |

Alice Nalule trained as an IT graduate, she holds a certificate in computing, but always struggled to fit into her job at her sister's internet café.

She was not well-grounded in handling new computer software, especially computers with the latest technology.

However, Nalule has less to worry about, if she is to join big institutions like Makerere University. In an effort to promote Information Technology (IT), Makerere University College of Computing and Information Science remains at the heart of Uganda's development agenda.

Dr Mary Nsabagwa, assistant lecturer, College of Computing and Information Sciences said IT has transformed the way we live and work.

She said the ICT Innovations Marketplace (InnoMak), is an innovation portal whose aim is to bridge the gap between proof-of-concept to maturity, adoption, and commercialisation of innovations.

Grace Kamulegeya. the Solution Architect of the project and assistant lecturer at the college of Computing said Innomak is aimed at nurturing work-ready people and exposes them to the actual working environment in the field.

According to Kamulegeya, developing the ICT innovations marketplace will expose Ugandans to the basic concepts to equip them with practical skills that are much needed to develop IT projects.

Innomak portal has been tested and supports Project creation and upload, donation workflow, collaboration workflow, and project also adoption workflow.

"Innomak is a new technology, which uses interdisciplinary concepts between working people and students. The technology is being widely used to improve the efficiency and reliability of solutions, where IT works is to be done repeatedly and with great accuracy. We decided to start the innovation, with people who are already working," Kamulegeya explained.

Nathan Kambugu notes that, as an IT student, one should do mini projects that are constantly evolving. One should use such projects as a platform to learn and understand new technologies and their implementation.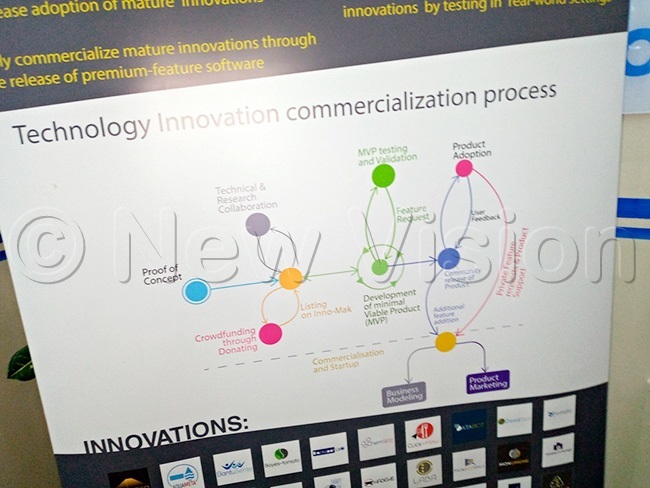 Where to find Innomak

The College of computing is set to train more IT students and also handle innovative projects both local and international.

This is one of the top universities in Africa. The 98-year-old university is responding to the growing need for more skilled IT experts in Uganda's sector. To implement the different innovations, the university is being funded by the government of Uganda through Makerere University Research and Innovations Fund (Mak-RIF).

"These new innovative skills are meant to expand the scope of IT", said college Principal Professor Tonny Oyana.

Oyana, emphasised that the project is within the strategic plan of Makerere University.

He advised ICT lecturers to shift their focus from theory and research work that is locked behind the doors of university libraries and instead produce and patent home-grown solutions that can be replicated.

Innovative technologies incubated in research labs and businesses can focus on the key sectors of the economy.

Why case

Kamulegeya, says innomak is about design, making things happen, and solving problems, adding that the field calls for creativity, management, and communication skills, as well as technical expertise and knowledge.

"The field of IT is vital to a country's development. That is why we are working with Ministry of ICT," he explained.

Tumusime Mpoza, a research assistant on the project said through supporting their profession with the new technology, they know that they are training the labour force that can be helpful in running IT industry," he says.

Nsabagwa says Innomak will offer practical, rather than theoretical knowledge, which will help individuals and organisations to understand the new technologies.

The Innomak project looks to improve its employment-oriented skills training management, as well as to disseminate its experience to other universities.

The targets

The project is trying to attract worldwide technical and research collaboration on highly impactful and commercially viable Ugandan ICT-based innovations.
Crowdfunding through donations to improve immature innovations (proofs-of-concepts)

Users to adopt usable innovations released as Community Editions (CE)
Continued user support, feature requests, and licensing of commercial versions of the mature Ugandan ICT innovations