UPDF responded to information from civilians living near the border
The Uganda People's Defence Forces (UPDF) has shot dead two South Sudanese soldiers who had reportedly erected an illegal roadblock on the Ugandan side at the Uganda-South Sudan border post in Ngomoromo, Lamwo district.
One of the South Sudanese soldiers was captured alive, and three sub-machine guns were recovered during the Thursday afternoon incident, revealed the UPDF deputy spokesperson, Lt. Col. Deo Akiiki.
Akiiki said the UPDF responded to information from civilians living near the border that an unspecified number of armed men clad in South Sudanese uniforms had erected a roadblock, about two kilometres inside Ngomoromo on the side of Uganda.
"With information from civilians about the roadblock, the Ngomoromo detach commander quickly moved to the ground with a section of soldiers to verify the information. Unfortunately, he was welcomed by excessive fire from the people who were manning the illegal roadblock," Akiiki told New Vision.
He said the UPDF reacted to the situation with reinforcement from the nearby army unit and two armed fighters were put out of action, another unidentified fighter was captured, and three guns recovered.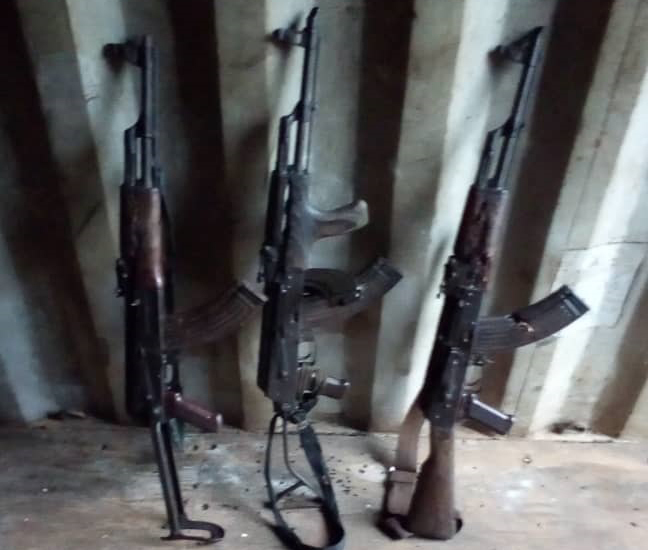 Akiiki said no Ugandan soldier died or got injured in the fire exchange and that the bodies of the two South Sudanese soldiers and the suspect were kept at Ngomoromo detach as they liaised with their colleagues from South Sudan.
Later in the day, the two bodies, the captured soldier and their guns were handed over to the South Sudanese army, Akiiki revealed.
He noted that UPDF was still monitoring the situation as they seek to verify the South Sudanese soldiers' mission and unit they are attached to.
He said a team under Maj. Gen. Paul Lokech was in contact with South Sudanese military and government officials with a view to investigate the matter to establish facts that will help deter such ugly incursions from re-occurring.
According to the deputy army spokesperson, "UPDF will continue to advocate for safety alongside our borders to enable trade and peaceful co-existence. We continue to have armed elements along some of our neighbours' borders. We continue to share intelligence and work together towards that."