On the fateful day, Namayanja slid and fell down at the gallery. But the previous day, she had felt dizzy at an exhibition but did not take it seriously.
Upon graduation with a bachelor's degree in development studies from Makerere University, Ritah Namayanja Kivumbi worked with the university's art gallery as art director and curator.

Unfortunately, in November 2008, all fell apart when she lost her sight.

But the 38-year-old has kept her head above the waters as a dedicated mother, wife, motivational speaker and proprietor of Magezi Arts Exhibition Centre next to Namirembe cathedral.

Losing her sight

On the fateful day, Namayanja slid and fell down at the gallery. But the previous day, she had felt dizzy at an exhibition but did not take it seriously.

Meanwhile, when she helped herself up, she could only see glitters from like a smashed coloured glass.

Fast forward, the mother of a three-year-old daughter then, developed a headache on the left hand side which shifted to the right through the eye. That was the genesis of her sight loss. She would visit different clinics and hospitals in vain. All tests from HIV to TB and meningitis were negative.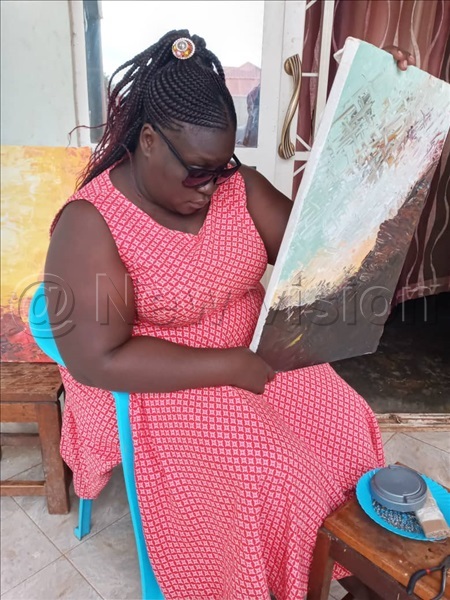 "I was down with dizziness for two weeks. My bosses got concerned," she remembers.

They took her to different hospitals but nothing was diagnosed but her health was fast deteriorating. She couldn't walk. Her eyes popped out. The best professors in medicine at Makerere University intervened but they also failed. They pointed to a problem with her nerves and did a lumber puncture which yielded nothing. She feared to die because she had heard that this test is carried out on terminally ill patients.

"These were tough times. One day I looked in the mirror and It dawned on me that I could no longer see," Namayanja says. At 28 years she had become totally blind. And then, she developed a severe headache which twisted and stiffened her neck for months. It hurt so bad that she could hardly sleep.

Various tests were carried out on her eyes in Mengo hospital until one specialist doctor dropped the bombshell. Something was paralyzing the optic nerve.

"He advised me to turn to my God for a cure. That my condition had defeated them," she recalls.

Meanwhile, by this time, Namayanja's siblings, family and friends had forsaken her. They thought she was dying. Being an orphan, she was left at the mercy of her fiancée, her matron Stella Mutoni and one of her bosses who put aside her tight schedules to nurse her.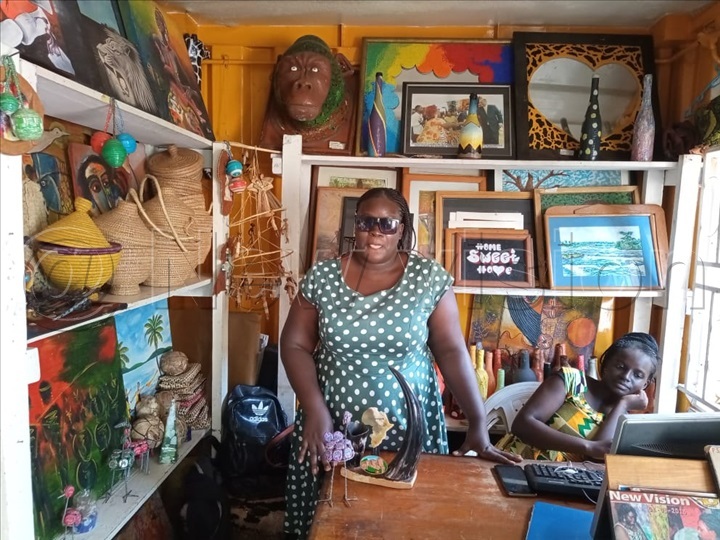 Luck was also on her side when her bosses, students and workmates joined hands to foot her medical bills.

By the end of it all, the recommended rehabilitation for Namayanja to help her live with visual impairment. She was traumatized.

Besides, the mouth had twisted to one side, hands were shaking and the fingers were tingling. The sound in her ears was terrible. She became restless.

She was started on reflexology which helped to normalize her neck. She also gained momentum to sit and walk again.

Snapping from misery

Namayanja also resorted to hope therapy through art. It helped to keep the mind busy.

To take you back a bit, while at work, Namayanja had pursued her masters after which she decided to open Magezi arts gallery in Kitara, Entebbe. This business was a month old when she lost her sight. It collapsed.

Seven months later, Namayanja's fiancé, Godfrey Kivumbi proposed. She blushed it off as a joke because all she focused on was healing not marriage.

"I had lost hope in life. I hated myself but he stuck to his guns and walked me down the aisle in Namirembe cathedral," she recollects.

Later, Namayanja would snap out of the hard situation that almost claimed her life. She determined to help her husband put food on the table. He had drained his savings on treatment to restore her sight.

In 2010, she opened a Facebook page. Her former students offered to run it. He would invite students to her home to be trained for a fee.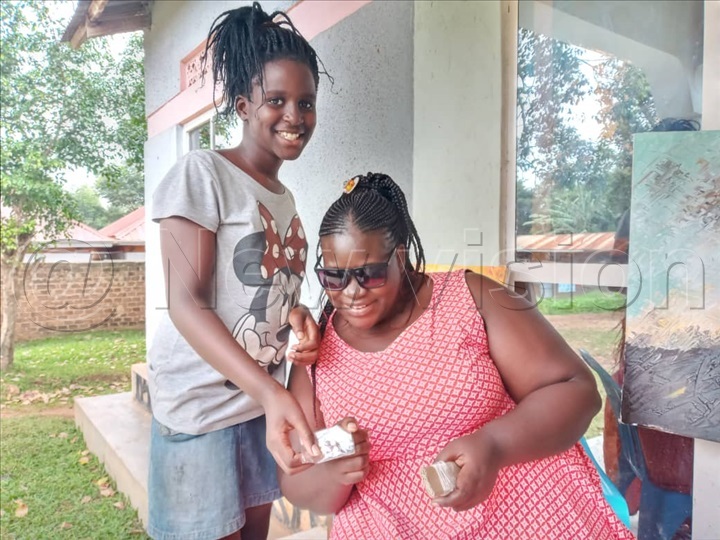 "I realized that I could still do jewelry and textile designs with the interns," she recollects. But she would still get emotional lapses and self-esteem issues that drew her miles back. This would take her six years to heal.

"I was challenged by students who run successful galleries. I determined to revive mine as well," she recalls.

"I shunned listening to negative news on the radio. This helped me to keep my hope alive," she adds.

However, much as Namayanja wanted to fish on her own, she lacked capital. The university had been paying her for 18 months and stopped.

Depending on her child

Namayanja started saving from what she earned from training the students. She would later venture into jewelry making and paintings.

"I hawked them with the help of my six-year-old daughter; Amazing Grace Kirabo. She had to grow up fast to move door to door, in supermarkets, bars and offices," she reminisces.

The demands were overwhelming; school fees, home bills, feeding and medical treatment among others.

"We relied on friends and relatives for market but they stopped coming. We had to move out and look for the market," she says.

But this was not a walk in the park. In the hostels, some students would slam doors at them and custodians too would bounce them.

Kirabo remembers one Saturday afternoon when they were embarrassed at a restaurant. The waitress threw them out while shouting at them to stop feigning blindness.

Crossing the road was another challenge. Kirabo took a long to master how to cross the road and yet her mother depended on her. She would ask passersby to help hold her hand and her mother's but some of them would lash out at Namayanja to stop fleecing people. This hurt her.

Away from that, In 2010, the couple welcomed their second born; Divine wonders Sanyu who was followed by Trinity Glory Matendo in 2013.

"I call these two miracle babies. I did not think I would ever give birth again. The treatment and trauma was over whelming," she says.

Parenting challenges

Meanwhile, when Namayanja realized her sight was fast fading, she prepared Kirabo to cope with the eventuality.

"Mum would smile, sing and dance for me while encouraging me to be strong through Bible stories," Kirabo says.

"Her sense of humor couldn't let me know that she was blind at the level of 'B1' meaning she was totally blind," Kirabo recalls.

However, Namayanja had parenting hiccups along the way.

For example, Kirabo would task her to explain why God can't open her eyes despite all the prayers and fasting. Matendo and Sanyu also wondered why their mum can't see like other parents but they have got over it.

Namayanja would resent herself a lot that she would never visit her children at school for fear of being stigmatized but she has gained courage and now moves to different schools teaching art.

"Sanyu was my experiment. I would sometimes think I am feeding the baby but miss the mouth. Porridge would spill on me instead,' she remembers. She avoided feeding bottles for fear of hygiene.

Namayanja stopped hiring maids. They took advantage of her condition to steal from her.

She trained herself to cook most of the food.

She has brought up her children singlehandedly with the help of her husband.

"I can feel them grow to different stages. I sense when they learn how to sit, crawl and walk," she says. She also communicates to them more through songs and poems. She has trained her children the virtues of hard work, integrity, discipline, respect and team work.

"Mum is so special to us. She is the glue that binds us. We don't want to leave her side and will do anything to make her happy. We are blessed to have such amazing parents," Sanyu says.

Kirabo 14, is an author with six books. The most popular; Nurtured by a blind mother has sold thousands of copies and from the sales she is able to contribute to her siblings' school fees at Victorious Education services. Sanyu is a poetess and Matendo a pianist.

They also paint pictures and make jewelry.

Reviving the gallery

"Sanyu gave me hope that if I could hold a breast to feed then I could still hold a brush," she shares.

In 2015, she revived Magezi arts gallery. It has a variety of visual artworks. Namayanja also organizes painting and drawing sessions for students as well as jewelry making, sculptures, ceramics, fashion, textile design and mixed media.

She is directly involved in the day to day running of the gallery with Kirabo and one volunteer.

Kirabo is charged with marketing, banking money and documenting art collections.

"I have challenges with telling money apart. So I can't sell a piece without an assistant," she says adding that, "But I can feel and tell the art pieces apart before determining the price."

Namayanja has imparted skills to over 600 children and adults with disabilities more so, those with visual impairments. She strives to see them live independent lives mostly the abandoned mothers. She also does motivational speaking thanks to the Uganda Bible society.

How Namayanja paints

For inspiration, she listens to the audio Bible and radio. Afterwards, she visualizes images before sketching them out. She then runs her left hand across the manila paper surface to create an Imaginary work of art, and sketches with her right hand using ink.

With the help of a sighted assistant, she cuts the sketch out of the manila paper, creating a negative which she places on the canvas. She follows the law of thirds as well.

Owing her knowledge of the colour scheme, she mentally works out what colours to use on her sketch. She however relies on a sighted person to identify and sort the colours before applying them on the canvas. In this case, Kirabo helps her.

Challenges

In 2016, Namayanja was awarded presidential golden medal by President Museveni recognizing her selfless efforts in empowering youths and women. The president assigned someone to help her collect her donation but she has since been blocked from reaching him.

Namayanja also struggles with transport. She finds it hard to move by public means since they shifted from Kasubi after being evicted over rent. The family moved to Bweyogerere Kakajjo which is far from her workplace. Besides, she has to move to different places to find visually impaired children she trains.

"Getting reliable transport means will help me a great deal," she says.

Additionally, Namayanja's business was hit hard by COVID 19 lockdown which locked out tourists, her main clients.

"I have failed to clear the rent arrears which have accumulated to five months," she says adding that last week she was served with an eviction notice but she is stuck on where to go.

She calls on well-wishers to help her keep her business open and running because it's the only means of her family survival.