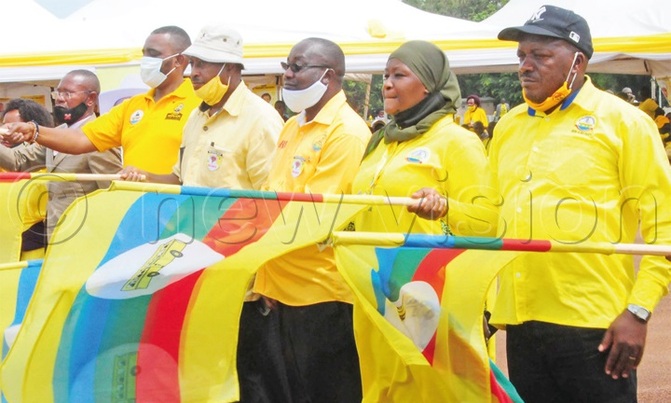 The party leadership and the flagbearers have vowed to secure victory for themselves and presidential flagbearer
The battle lines have been drawn between the National Resistance Movement (NRM) and the opposition parties on who takes over Kampala in the forthcoming general elections.
NRM has now laid strategies to end opposition dominance in Kampala in a grand plan dubbed "end opposition enslavement".
The party leadership and the flagbearers have vowed to secure victory for themselves and presidential flagbearer Yoweri Museveni.
"We have the numbers, but are enslaved because of lack of a right strategy. We want to pledge that we have to deliver Kampala from the hands of the Opposition," a two-time Woman MP for Kampala, Margaret Zziwa, said.
Zziwa, a former East African Legislative Assembly speaker, now Nakawa West candidate, asked for logistical support from the party to enable them canvass for support.
"We request that as flag-bearers, we are Museveni's first call in Kampala. We ask for support in terms of publicity, airtime, T-shirts, among other things. Donate to us money to do this work," she said.
This was during the function where the NRM vice-chairperson for the central region, Godfrey Kiwanda, handed party flags to NRM candidates for MPs and local government councils at Kololo Independence Grounds in Kampala on Friday.
Kiwanda represented the party first vice-chairperson, Haji Moses Kigongo, at a gathering that attracted over 500 party candidates from the five divisions of Kampala.
The Electoral Commission (EC) guidelines provide for campaign meetings not to be attended by more than 70 people.
"We are in the Government and Kampala should be in the hands of NRM," a female NRM councillor said.
The same view was shared by former attorney general and a two-time Nakawa division MP Freddie Ruhindi. "We are fed up of opposition enslavement in Kampala," Ruhindi, a Nakawa East candidate, said.
The NRM flag-bearer for City lord mayorship Daniel Kazibwe, who thrilled the party enthusiasts with his popular hit Ndigida Ndigida, emphasised the need for unity.
"The dream will come true for NRM to win Kampala provided we are united. Our problem has always been giving us the necessary logistical support at the last minute," the singer turned politician said.
Kiwanda, on behalf of the party, promised timely logistical support. He said NRM win will be based on credible candidates, well packaged messages to the voters, resources and well-managed party structures right from the grassroots.