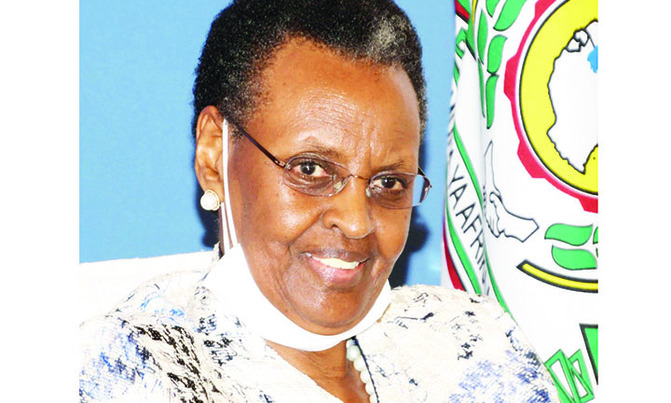 "The revised syllabus will also help students studying from home to progress to another class."
The Ministry of Education and Sports has revised the syllabus for candidate classes in Primary Seven, Senior Four and Six.
Under the revised syllabus, the ministry has summarised content to be taught this year, attributing the change to the coronavirus pandemic, which led to the closure of schools for over six months.
According to the final Home-Study Learning Framework, which New Vision has obtained, the National Curriculum Development Centre (NCDC) has redesigned the syllabus focusing on key concepts per subject.
In Primary Seven English, topics such as school holidays and letter writing have been omitted.
NCDC is mandated by law to design, develop educational curricula for primary, secondary and some tertiary institutions in Uganda.
Sources have revealed that the selected concepts will be the main focus for setting national examinations by the Uganda National Examinations Board (UNEB).
The reduced content in the syllabus will affect all subjects, including sciences from primary, secondary and other tertiary institutions.
"The school calendar has been reduced due to the impact of the coronavirus. There will be no time to cover all the concepts and that is why the ministry instructed NCDC to reduce the content," a source from the ministry, who preferred anonymity, said.
TERM TWO REDUCED
The source said the second term, which started on October 15, has been reduced to just two months from three.
Under normal circumstances, second term is supposed to run for 89 days, but due to COVID-19, it has been reduced to 63 days, with weekends inclusive.
Out of the 89 school days for the first term, students were in school for just three weeks before President Yoweri Museveni ordered the closure of educational institutions.
On March 18, President Museveni ordered the closure of all academic institutions as part of the measures to stop the spread of COVID-19.
The Home-Study Learning Framework was approved and signed by the First Lady and education minister, Mrs. Janet Museveni.
The framework was developed to ensure continued learning at home using the different modes for learners when schools are closed due to the coronavirus pandemic.
It was also developed to highlight the different modes of lesson delivery to be used for continued learning, guide teachers on how to develop and deliver radio and television lessons.
WHAT NCDC SAYS
In an interview with New Vision, Grace Baguma, the NCDC director, said the revised syllabus will guide on progression to another level. "What we removed was extracted from the old syllabuses and it will not have any impact," she said.
Baguma said the selected concepts are the most vital and will guide learners to progress to the next class or level of education. "Our curriculum experts, who are also teachers and examiners, were at the forefront in revising the syllabus. They know what is needed for a child to write an exam and those are the ones we focused on," she said.
Due to limited time, Baguma said, it would be impossible to cover the whole syllabus and that is why the education ministry ordered changes.
If followed, she said, the revised syllabus will also help students studying from home to progress to another class. She said the revised content will enable students to study on their own.
SECONDARY SCHOOL COVERAGE
Baguma urged schools, teachers and candidates to embrace the revised document. She said NCDC has developed and published reading materials for the rest of the year, from pre-primary to secondary education levels, considering the new changes. For instance, under O'level chemistry, (sulphur and its compounds topic) which will be studied this term, the key concepts will be just two.
The selected key concepts are structure of sulphur atom and the existence of sulphur allotropes, and catalytic oxidation of sulphur dioxide to form sulphuric acid by contact process.
Under applied chemistry, which covers industry and domestic uses of water, water pollution, hard and soft water, the key concepts will be the presence of magnesium ion and sulphate ion in the cause of hardness of water, stages of water treatment.
Under Senior Four agriculture syllabus, only four topics have been selected. These are fruit crop (pineapple and banana), farm tractors, small ruminant production and agriculture economics.
Much as the above topics in agriculture have several subtopics, each of them will have just one key concept, according to the revised syllabus.
In Senior Four mathematics, the syllabus has four topics, including matrices of transformation, composite functions, linear-programming, travel graphs, extension of trigonometry, and lines and planes in three dimensions. Remigius Baale, a curriculum specialist in charge of mathematics at NCDC, said the math syllabus has 13 topics.
WHAT TEACHERS SAY
The revised syllabus has attracted mixed reactions from both private and government-aided schools.
A physics and mathematics teacher from a government-aided school, who spoke on condition of anonymity, said: "This will affect science subjects. Science is built on steps and you have to follow them. If one is omitted, a learner would face hardships in comprehending the content."
Another teacher said: "We have to adjust to the difficult times. Subjects such as biology and geography are wide. Teachers would need more time to complete the content." Hassadu Kirabira, a researcher at Uganda National Association of Private Schools and Institutions, said if the syllabus is not reduced, most schools will fail to complete it.
He said most candidates have not studied at all from home, and that they have started from term one content. "We have established that most students did not study at all while at home. We have had to start all over again. If we are to follow the normal syllabus, it means we will not be in position to complete before examinations," he said.
What are the key concepts to be covered in primary seven?

Under the Primary Seven mathematics syllabus, each topic has been summarised from what should have been covered from first term to the third term. There are 11 topics in Primary Seven covering all three terms for maths.
However, the topics have been reduced to 10. The 10 topics include set concepts, whole numbers, operations on whole numbers, patterns and sequences, fractions, integers, data handling, geometric construction, length, mass and capacity as well as algebra.
For instance, under patterns and sequences, which should have been covered in term one, but will be carried to term two, NCDC has selected just two key concepts under the topic.
These are work out divisibility tests of 6, 8, 9, 10 and 11 and forms of patterns and sequences of numbers using composite, triangular, square, cubic, prime, odd and even numbers.
Under integers, NCDC has selected three key concepts, which include solve problems involving application of integers. Under the English language syllabus for Primary Seven candidates, the seven major topics have been reduced to five.
The selected key topics are examinations, electronic media, rights, responsibilities and freedom, environmental protection and ceremonies.
The omitted ones include school holidays and letter writing. Elly Musana Wairagala, a curriculum specialist in charge of English language at NCDC said: "Some content for English language was summarised following the outbreak of COVID-19.