The day Edidian Luttamaguzi was killed, Namusisi was in his house. She was tortured to reveal Museveni's whereabouts, but braved the excruciating pain.
A few metres from Nakawuka trading centre in Wakiso district stands a dilapidated house, where Dimitiria Namusisi Namunyango lives a destitute life with 10 children.

She claims to have hosted President Yoweri Museveni for weeks when he pitched camp at their home in Makulubita during the bush war.

Namusisi, who was 18 years old at the time, prepared meals for groups of fighters on promise of a good life upon victory.

The day Edidian Luttamaguzi was killed, Namusisi was in his house. She was tortured to reveal Museveni's whereabouts, but braved the excruciating pain.

She lost her teeth, while her head and back still hurt, yet she has to do odd jobs to make ends meet. Tears stream down her face as she recollects her journey.


Early life

Namusisi was born 59 years ago to Wilson Nsubuga in Kagembe village, Makulubita, Luweero district. Her parents separated when she was four months old.

She was raised by her paternal grandmother, Kasalina Mukuuma, who educated her up to Primary Two, then introduced her to the local brew business.

When the war broke out in 1980, Namusisi was about 17 years old and was cohabiting with one Christopher Kalule and the couple had one child.

They parted ways and she ran back to Mukuuma for safety. Meanwhile, Mukuuma and Luttamaguzi were popular traditional healers and great friends.

Although they stayed in different sub- counties; Ssemuto and Kapeeka, they often visited each other. It was at Mukuuma's home that Namusisi was introduced to Museveni in early 1981.

"One day, Lutta visited my grandmother with rare excitement. He informed her about the important guests he wanted her to host," she recalls.

Mukuuma became restless when Luttamaguzi whispered Museveni's name, who they called Mzee. Namusisi was by Mukuuma's side following the conversation.

"They agreed to keep it a secret because the news of the rebels' presence had started filtering through," she recollects.

Fast forward, at dawn, the guests arrived. They were about 30 fighters, led by Museveni.

He asked if there was food for them to prepare, but Namusisi and Mukuuma had already prepared for them cassava and beans.

"Two of the fighters helped me carry the saucepan to the banana plantation, where they had camped. I served them with Museveni's help, who was also engrossed in a conversation with Mukuuma," she recalls.

Some fighters pulled out plates from their backpacks, while others used banana leaves. Namusisi vividly remembers Gen. Salim Saleh as being one of them.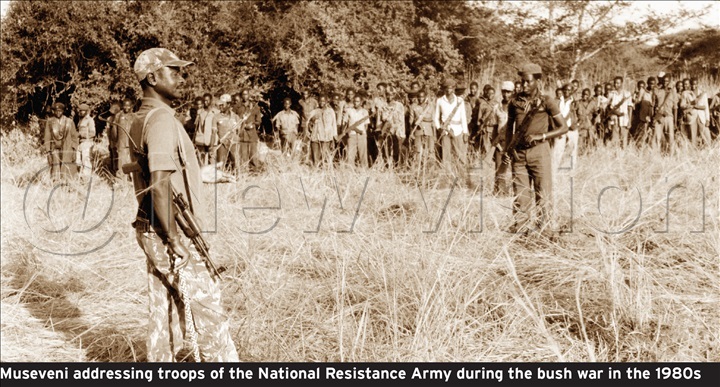 "Salim Saleh always thanked me for being kind to them and promised me a good life once they won," she says.

After supper, Museveni would walk down to the forest at the periphery of Mukuuma's land to sleep.

They split into groups; with some sleeping in the banana plantation and others around Mukuuma's grass-thatched house.

This went on for weeks. Namusisi would cook for them every day. They would spend the day hiding in the forest and plantation and only move at night.

"The work was overwhelming, but I braved it because Museveni assured my grandmother of a good life ahead," she shares.

However, this chore also came with challenges of concealing evidence. The heaps of peels were a big pointer to the rebels' presence in any place.

Namusisi would dig a ditch and bury the matooke and cassava peels. All was well until one day when the group got intelligence information that their hideout had been busted.

Mukuuma helped Museveni to escape to another village. She offered him two guides; Namusis's fiancé and her brother.

Months later, the war intensified and Mukuuma became a target for having hosted the rebels.

She escaped together with Namusisi to Luttamaguzi's home in Kikandwa.

Luttamaguzi's death

"On our second day at Luttamaguzi's home, two men visited and interrogated him on Museveni's whereabouts," Namusisi recalls.

He feigned ignorance and even laughed about it. They left, but warned him not to risk his life by shielding a rebel.

As fate would have it, the next morning, June 9, 1981, at around 6:10am, army men stormed his home and kicked the door open.

Luttamaguzi, his wife and Mukuuma hid under the beds. Namusisi, who was found lying in the sitting room, was tasked with revealing where Luttamaguzi and Museveni were.

She refused and was hit with gun butts. Being pregnant could not save her the persecution.

A house search was made and the three were pulled from their hideouts.

"Luttamaguzi wore shorts. His hands were tied backwards, thrown in the compound and whipped heavily, but he denied knowing Museveni," Namusisi reminisces.

Mukuuma was lucky to be spared, thanks to her age. She was in her late 50s. Also, Luttamaguzi's wife was ignored.

Namusisi was battered for lying about Luttamaguzi's whereabouts.

"They mercilessly flogged and kicked me. I feared that I would have a miscarriage, but God was on my side," she says.

At the end of it all, Namusisi's jaws were dislocated and her teeth fell out. Her body was terribly bruised that she could barely eat or support herself to walk.

Her head, chest, back and ribs were hurting badly. Meanwhile, Luttamaguzi was dragged a few metres away from his home, to where he was tortured to death.

His body had deep cuts and his head was flattened. All the while Namusisi was lying besides him, gasping for breath.

The whole village had gathered around them and many labelled them traitors.

Luttamaguzi's body was mounted on a heap of about 15 others, among them doctors, teachers and other wealthy people who were accused of espionage and collaborating with Museveni.

Meeting Museveni again

Deep in the night, when Namusisi gained consciousness, Mukuuma helped her to escape from where she had been dumped.

She also gathered Luttamaguzi's eight children and his wife, before setting out on a journey to safety.

Mukuuma successfully escorted Luttamaguzi's wife back to her parents in Kikyusa and along the way, left Namusisi at Nakaseke Hospital, where she was admitted for two weeks.

When Namusisi recovered, she sought refugee at her sister's home in Kiweebwa for a few months, before returning home to Makulubita to harvest coffee.

At this time, Mukuuma was stuck in Kikyusa. They only reunited months later.

One day, Namusisi says Museveni called for a meeting at the home of one Lulika in Mugogo village and insisted that Mukuuma attends.

Lulika (second name not known) was co-ordinating the rebel activities in the area.

He was friends with Mukuuma. He also asked her to go along with Namusisi to get better treatment.

Mukuuma and Museveni were thrilled to meet again "We sat down in Lulika's living room, where his wife served us matooke and chicken. Mukuuma and Museveni ate on the same plate as they chatted," Namusisi recalls, adding: "When Museveni was leaving, he asked grandmother to stop moving with me, saying I was too young to keep secrets."

He also gave Mukuuma the rank of sergeant and asked the group to always remember her for the selfless role she played to feed and secure Museveni from his killers.

"Museveni gave me tablets and cautioned me to take them to relieve the pain in my fallopian tubes and, thereafter, he left," she recalls.

Since then, Namusisi and Mukuuma started a life of running from place to place for safety, sometimes staying in deserted homes.

They escaped death countless times. Namusisi's parents and three siblings were killed during the war.

"I also lost my second child, but left the body in the house and took off," she remembers.

The church massacre drove them further from Makulubita, Kiweebwa, Busomba, Buloba to Sentema.

To cut the long story short, in 1986, they ended up in Nakawuka, where Namusisi married one Hamis Muniina, who was jobless.

She became the sole breadwinner for the family; doing odd jobs like digging in people's gardens to put food on the table.

She also rented for Mukuuma in Nakawuka trading centre.

After the war

"Life has been hard all through. It hurts that I failed to educate my six children. My grandchildren have also dropped out of school," she says.

Namusisi adds that in 1987, Mukuuma's friend, one Naddamba, was touched by their story. She connected Mukuuma to Dr Samson Kisekka (late), who took her to State House.

"Museveni was so happy to see grandmother again. She asked for a house and he instructed Serwanga Lwanga to build it, but he only gave us sh100,000 and 10 iron sheets," Namusisi recalls.

She is quick to add that the items were taken by Luttamaguzi's relative, who was once a district head.

Luckily, Museveni invited them again, but they were barred from entering State House.

They were fortunate to see Luttamaguzi's sister, Nakabira, who helped them. Namusisi remembers enjoying the State House opulence for two weeks, sleeping and feasting like a royal.

"Museveni could meet us at 10:00pm for a chat, but after two weeks, I decided to go back to my children and I left Mukuuma behind," she says.

Museveni again asked what they wanted and they insisted on a house.

"He ordered one Alex Mugumya to build for us a house in Namulanda, where I had bought a piece of land for Mukuuma and built for her a room. I bought the land after selling our land in Makulubita," she explains.

To their surprise, the army man bought land adjacent to Mukuuma's home and erected blocks of rental units.

Mukuuma was only awakened by the landlord, who notified her that the title was in Mugumya's name.

"Mugumya threatened us when we tried to pursue the matter. He died and left this property with his family," she says.

Unfortunately, Mukuuma died in 2004, aged 90 years, from a couple of ailments. She could hardly foot her medical bills, let alone a decent meal, according to Namusisi.

"She moved to different offices seeking to be helped in vain. We were barred from reaching the President. We also heard he was told that we died," she says.

Grace Sempiira (the elders' coordinator)

When Dr Diana Atwine came to Mpumudde health centre in 2018, I talked to one of the people in her team about Namusisi's suffering.

The gentleman advised Namusisi to report early for the President's event so that she sits in front, where he could recognize her.

Indeed, the President called Namusisi forward and held her hand. After a brief chat, he handed her over to his assistant, but nothing has been done since.

Namusisi's plea

I ask the president to help me. Life has become harder. My children and grandchildren dropped out of school and I can hardly feed them.

I also want to enjoy the good life you promised me. My grandmother died a destitute despite the friendship you had and all the sacrifices she made.

It hurts to see many people enjoying the fruits of your victory yet I am left out. I don't need much, except a decent house and source of income.