In 2012, Katuregye started Esseza Foundation to rehabilitate children with deformities. She has made gains and great losses, but has stayed the course.
Self-centredness is a common virtue in humans. Many argue that taking care of oneself is of utmost importance and a priority. However, a few have offered time and resources to support those in need and 62-year-old Ann Katuregye is one of them.

She has gone the extra mile to help the needy. She particularly reaches out to children with disfigured body parts.

Katuregye, a retired teacher, partnered with Ishmael Kabananukye, also a retired academician from Makerere University, to begin Esseza Foundation, a non-governmental organisation that rehabilitates deformed children and gives them a new lease of life.

Today, the plight of vulnerable children, especially those with cancerous deformities, is their primary concern.

How it began

In 2012, Katuregye, then a retired teacher, saw a TV advert on Uganda Broadcasting Corporation and was touched.

The advert was of a two-year-old girl called Esseza, whose 13-year-old mother from Buwenge, Kamuli district, appeared helpless and was seeking help for her baby, whom she carried in her hands. Esseza appeared stunted.

She could not sit without support or keep her neck straight. Worse still, she had a swelling on her forehead. She needed major surgery at Mulago Hospital.

Katuregye felt drawn to Esseza's case. This was her call to action.

"Instinctively, I felt I was commissioned to do something about this girl's plight," she says.

Though unsure about how to go about the whole process due to the baby's condition, Katuregye followed up the baby to Buwenge, where she lived with her mother.

"What I found there was disheartening. The baby and her mother lived in deplorable conditions with the baby's blind grandmother," recalls

Katuregye, a mother of three, who has been widowed for the last 30 years. Out of faith, she picked the child and her mother without any clear idea where she was going to get the money for Esseza's surgery.

A devout member of All Saints Church Nakasero, Katuregye then resorted to fundraising from her circle of influence in the church and, luckily, the response was encouraging.

At Mulago Hospital, a CT scan revealed that the baby had a brain tissue which had protruded on her forehead and needed to undergone a major brain surgery.

Determined to succeed despite the likely complications, Katuregye raised funds for the surgery and trusted the medical team's expertise. Fortunately, the surgery was a success.

"It was a miracle to see the baby bloom and heal. However, watching the child who was stunted achieving major milestones like children of her age was my greatest achievement," says Katuregye.

Basking in this initial glory, Katuregye took the baby and her mother back to Buwenge for a special thanksgiving service and the baby's baptism.

It was such a glorious day as speaker after speaker described Esseza's healing as a miracle.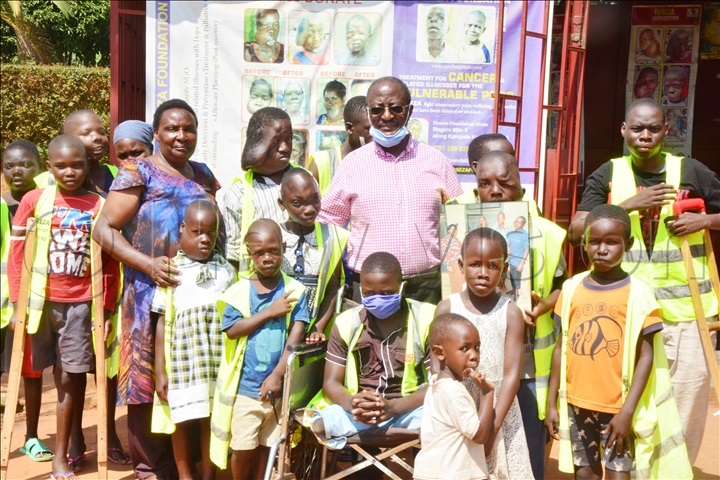 If the miracle was about little Esseza, it would have ended there, but it was the beginning of Esseza Foundation that supports other children.

Katuregye recalls how parents brought their children with health impediments to her, pleading for her intervention.

Encouraged by the initial success, she felt God was directing her to start something to help children with cancer-related illnesses.

The idea to start a foundation, which was named after Esseza, was then born.

Eight years later, with more than 300 children who have received care and healing through Katuregye's efforts, she says she probably would never have lived peacefully had she not obeyed the divine instruction to help Esseza.

She is passionate about her work and says her heart leaps whenever a child has been healed and returns to his or her family.

She has often succeeded, but not always. She says sometimes even after the foundation has given its best, things can still go wrong.

Over the years, Katuregye's lowest moments were when she lost a child whom she had developed a special bond with.

"From the time we started this foundation, we have lost over 12 children on different occasions," she says.

Katuregye adds: "We hoped that perhaps their condition would improve; sadly, we lost them on separate occasions. It has always been heart-breaking to lose someone so dear to our foundation," she says regrettably.

However, in comparison, the fatalities are much less than the testimonies of beneficiaries that have been healed.

Testimony of beneficiaries

Kararrisa Niyonkuru is a 12-year-old girl from Ntungamo district, who was identified by the foundation with a big swelling on her left leg.

She had been treated with local herbs with no improvement. Her healing came when she was taken on by the foundation seven years ago.

"I have been with Esseza Foundation for the last seven years and my leg has completely healed," says Niyonkuru.

However, these success stories are not limited to direct beneficiaries only. Jo Sykes, a founder of Chances Charity, who visited Esseza Foundation, commended the impact the organisation had had on society.

Sykes says Katuregye's big heart is truly inspiring.

"At first I found it hard to look at their faces. But Ann has taught me to look deep into their eyes and see through the ugliness to incredibly grateful beings, whose lives are being transformed," Sykes says.

Bundle of energy

Being around Katuregye is invigorating; she carries with her positive energy that gives hope beyond despair.

She will do everything within her means to support her cause. Usually on a normal working day, she stands on the busy streets of Kampala with children from her foundation holding a powered megaphone and calling for people's attention to the plight of children with deformed faces.

Some respond generously, while others look away. With time, more requests came in from children with cancer and other related illness seeking help.

She realised that the work was becoming too much for her alone and, therefore, needed to find a helping hand.

Luckily, Kabananukye, who was also a fellow church member at All Saints Church Nakasero, was readily available for this task.

The two became an inseparable team and today, Kabananukye serves as chairman, as well as board of director at the foundation.

Getting family acceptance

However, in the beginning if she had thought that perhaps her biological children would easily applaud her initiative of helping the venerable children, she was wrong.

Initially, her biological children were disturbed with what they considered as craziness of her standing on the streets with children with deformed bodies holding a megaphone calling out for help.

She ignored their criticisms and continued with her initiative that she believed in.

With time, her children had to come to terms with her new identity as mother of vulnerable children.

Today, Katuregye's 30-year-old son, Ivan Alikelo, works as a volunteer at the foundation. He recalls having mixed feelings about his mother's charity work.

"When I realised that she was doing great work in saving and transforming the children's lives, I was soon drawn to what she was doing and felt I could also do something to help," he says.

In the meantime, as more contributions came in, more children benefited from the foundation.

Some of Katuregye's friends became trustees of the foundation. Before they knew it, their small contributions had sprouted into a giant tree of Esseza Foundation.

In the last eight years, the foundation has grown by leaps and bounds and currently boasts of over 300 beneficiaries.

A skilling home

Katuregye is glad she can make a difference in the lives of these children.

For instance, she equips them with skills, such as making briquettes, poultry farming and rabbit rearing.

"Coming from such a bruised background of pain, most of the children come to us with antisocial behaviours, so we try to rehabilitate them and teach them how to be each other's keepers. Simple as these interventions may sound, they equip them with social and survival skills," she says.

Under normal circumstances, the foundation accommodates about 40 children, but at the moment, there are fewer children because of the COVID-19 pandemic, which means they have to follow the standard operating procedures, of which social distancing is a part.

"Although we operate in an open environment, we try to shelter our children to keep them from mixing with the locals in compliance with the health ministry's standard operating procedures of social distancing," Kabananukye says.

The foundation, which began like a mustard seed of kindness, has grown into a bounty tree, but now looks to spread its wings to buy land that would house it.

"Currently, we are fundraising, so we appeal to well-wishers to contribute or even donate land where we can construct a rehabilitative and palliative care centre. We also hope to acquire an ambulance," he says.

Challenges running the foundation

Despite the phenomenal turnout at the foundation, funding remains a challenge.

Kabananukye notes that apart from creating promotional publicity, there is nothing much the foundation gets out of street fundraising, yet the demands of those seeking help are enormous.

"Street fundraising was intended to create awareness and networking with other people, who in turn offer tokens that support the foundation," he says.

Through this initiative, the foundation has been able to get sponsors, such as the Rotary Club. However, more funds are needed for children's upkeep.

Initially, she was shunned by her children when she went to the roadside with the children with deformities to ask for money from well-wishers.