Promoting Uganda's interests abroad
The foreign affairs ministry engaged local and international press in promoting the image of Uganda abroad.
The Ministry of Foreign Affairs continues to implement a foreign policy that promotes peaceful and friendly relations with all countries, on the basis of respect for each other and mutually beneficial trade and commercial interactions, and regional economic and commercial cooperation and integration with our neighbours.




The ministry, today, is pursuing, as a matter of utmost importance and priority, a policy of commercial and economic diplomacy aimed at promoting Trade, Tourism and Investments to spur economic development and transformation.

The ministry is championing Uganda's constructive contribution to regional and international economic development, peace and security, by playing active and constructive roles in organisations such as the East African Community (EAC), the International Conference of the Great Lakes Region (ICGLR), the Intergovernmental Authority for Development (IGAD), the Common Market for Eastern and Southern Africa (COMESA), the African Union (AU) and the United Nations.

The Constitution of Uganda, the National Development Plan III, and the NRM Manifesto have mandated the Ministry of Foreign Affairs the responsibility of protecting and promoting the country's interests and image abroad.

THE KEY FUNCTIONS OF THE MINISTRY
-To promote commercial and economic diplomacy.
-To promote regional integration.
-To mobilize and empower Ugandans in the diaspora for National Development.
-To promote Regional and International Peace and Security
-To promote compliance with International Law related commitments/ obligations.
-To provide Diplomatic, Protocol and Consular Services at home and abroad.
-To promote Public Diplomacy and enhance national image abroad.
-To strengthen Institutional Capacity of the Ministry and its affiliated Institutions. In discharging these responsibilities, the ministry has a network of 35 embassies, high commissions and consulates in various capitals abroad.
ACHIEVEMENTS IN 2019/20 FY

The ministry engaged the local and international press in promoting the image of the country; promoted cultural and sports diplomacy; enhanced presence on digital and internet-based advertisement platforms, important media and social platforms; published and sponsored promotional publications, engaged in social and corporate activities etc.




PROMOTION OF COMMERCIAL AND ECONOMIC DIPLOMACY EXPORT PROMOTION

The ministry has long recognised that international trade can play a major role in the promotion of economic development and the alleviation of poverty and is at the forefront of seeking market access for Uganda's products.

Overall, Uganda's exports increased from $3.536b in FY 2017/18 to $3.960b in FY 2018/19 representing a growth of 12% compared to 8% between FY 2016/17 and FY 2017/18.

The principal export destinations are: United Arab Emirates (25%) Kenya (13.5%) the DRC (13.2%), South Sudan (9.2%), Rwanda (4.3%), Turkey (3.2%) and the Netherlands (2.6%).

INVESTMENT PROMOTION

Through engagements with foreign investors, 25 companies were attracted to start businesses in Uganda in the sectors of energy, farming, housing and construction, textile, food processing.

They were sourced from; UAE (three), Germany (two), Italy (two), Netherlands (one), UK (one), Ireland (two), Turkey (four), Sweden (two), Denmark (eight).

TOURISM PROMOTION

Uganda Missions Abroad continue to promote Uganda as an attractive tourist destination, by participating in 13 International tourism expos/exhibitions.

There was a 7% increase in the total number of tourist arrivals from 1,402,409 in 2017 to 1,505,699 in 2018. Prospects would have been even better in 2019/2020 were it not for the Covid-19 pandemic.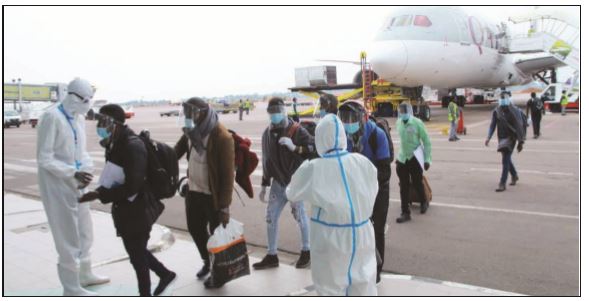 BILATERAL AIR SERVICES

The Ministry of Foreign Affairs has been key in the revival of the national carrier, Uganda Airlines in August 2019. The ministry co-ordinated the negotiation of Bilateral Air Services Agreements (BASA) that designated Uganda Airlines to make commercial flight services to different parts of the world.

When airports reopen, Uganda Airlines shall make scheduled commercial flights to: Kenya, South Africa, the Democratic Republic of Congo, Tanzania, Burundi, South Sudan, Somalia Zambia, and Zimbabwe, thereby increasing economic interactions, promoting the country's image and boosting tourism.

TECHNICAL ASSISTANCE, RESOURCE MOBILISATION & SCHOLARSHIPS

In order to build the capacity and quality of Uganda's workforce for economic transformation, the ministry continues to engage with bilateral and multilateral partners to facilitate transfer of knowledge and technology.

The ministry mobilised over 410 scholarships, five donations, and loans towards improving the welfare of Ugandans. They include:
-Delivery of Water Projects in Refugee Camps (Hungary).
-Cancer diagnostic and treatment machines, and 11 containers of human medicaments (India)
-Negotiated for the establishment of a Construction Equipment Training Institute in (Luwero) Uganda, (Japan).
-Knowledge transfer and capacity building: 410 short and long term scholarships for Ugandan youth in tertiary, vocational and technical institutions from Japan, Brunei, Thailand, Singapore, Malaysia, India, China, UK, Belgium, Netherlands and Russia.
-Received 70 SUV vehicles valued at sh21b ) from China as support to hosting of the SouthSouth Summit, which is scheduled to be held in Kampala in 2020.
-Received 88 assorted vehicles from the Government of India estimated at sh26b).
-A donation of two double cabin pick-ups, 10 motor cycles and four cameras to the Uganda Police Force from Germany.
-A donation of 10 Emergency Vehicles (five Fire fighting Vehicles and five Ambulances) from the Japan Firefighters Association to the Ministry of Foreign Affairs.
-The government of China under the FOCAC initiative to construct an extension building of 8 floors for Ministry of Foreign Affairs, among other 27 projects.
-A grant of £600 million from United Kingdom under UK-Africa investment Summit 2020, towards the development of Namanve Industrial Park, and tourism/park roads.
COOPERATION FRAMEWORKS

Pursuant to the ministry's role in strengthening bilateral cooperation, 35 co-operation frameworks were signed with various development cooperation partners covering the following projects: agriculture, border programmes, Prison Services, visa requirements, labour, nuclear energy, vocational institute, political co-operation, collaborative research, and food processing, medicine, commercial disputes, Defense and investment in aquaculture.

REGIONAL AND INTERNATIONAL PEACE AND SECURITY

There is an inextricable nexus between peace and security, and development. Regional peace and security, together with regional integration, remain key focus of Uganda's foreign policy objectives.

Uganda continues to play significant roles in regional peace initiatives such as in Burundi, South Sudan and Somalia. The ministry has coordinated and participated in 13 peace and security initiatives to foster regional peace, security, and trade.

Furthermore, the ministry, through its multilateral Missions in New York, Addis-Ababa, Geneva and Brussels actively represents the country to foster international peace, security and development.





CONSULAR SERVICES

The Ministry of Foreign Affairs provides consular services to Ugandans at home and in the Diaspora. Following the global outbreak of the COVID-19 pandemic, many Ugandans were stranded abroad due to airport/border closures and restrictions of movement.

The Ministry of Foreign Affairs and its Missions abroad worked closely with other countries and airlines to arrange special repatriation flights that returned over 10,000 Ugandans home. In the Financial year 2019/2020, the Consular services provided to Ugandans include:
-Assistance to Ugandans stranded abroad including repatriations, majority of them being victims of human trafficking.
-Negotiated the release of 11 Ugandans who had been imprisoned in DR Congo
-Facilitated repatriated 92 remains of Ugandans who had died abroad.
-Facilitated 1207 Ugandans living abroad with passport application/ renewal.
-Through Uganda Mission abroad, 567 applications for National Identities were processed. Atotal of 2434 Ugandans abroad were facilitated with Emergency Travel Certificates. Uganda Embassy in Riyadh, Saudi Arabia provided support to 900 Ugandan pilgrims during the Hajji and Umrah Period.
-The Ministry provided rescue accommodation facilities at Uganda Embassies in Abu Dhabi, Riyadh and New Delhi to offer minimum shelter and other basic needs to distressed Ugandans working in the Middle East.
-Authenticated and certified 2,648 documents for foreign use.


PROPERTY DEVELOPMENT AND MANAGEMENT

The ministry continues to acquire land, develop and maintain properties abroad for purposes of providing Ugandan diplomats with favorable working environment, generating NTR and improving the image of the country. The following have been achieved in 2019/2020:
-Chancery in Dar es Salaam has been fully refurbished
-Fifty per cent of the renovation works for the Chancery in Brussels has been completed and works are expected to be completed by December 2020.
-Completed the construction of the Chancery in Bujumbura.
-Commenced constructions works for the Chancery and two staff apartments in Juba.
-Finalised the designs and drawings for Construction of the Chancery and Official Residence in Guangzhou, and Chanceries in Paris, France and Dodoma, Tanzania.
-Secured a building permit from the Government of DR Congo for the renovation of the Current old Chancery, and approval of Architectural designs from the federal authorities for Uganda chancery building in Abuja Nigeria.
-Re-modeled 9th floor of Uganda House into an executive floor to host VIPs, tourism and commercial diplomacy events as well as additional office space.