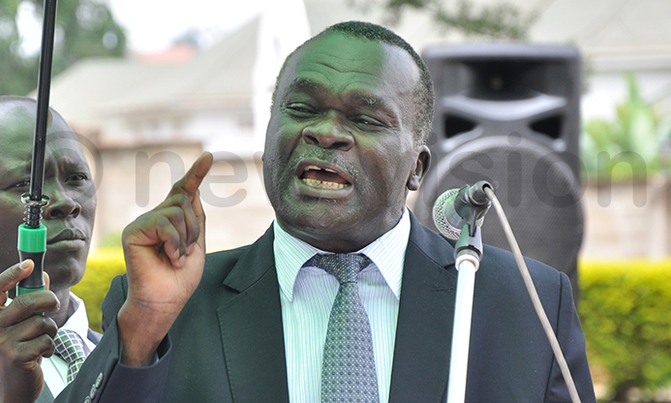 He assumed the role of Chief Justice in August following the retirement of Justice Bart Katureebe
The Chief Justice Alfonse Owiny-Dollo has revealed that his village home in the Acholi sub-region has been turned into a law firm of sorts by litigants seeking justice.
Owiny-Dollo made the revelation while presiding over the 2nd legal aid innovations conference organised by Legal Aid Service Providers Network (LASPNET) at Mestil Hotel on Thursday.
"Wherever I go to my home village in the Acholi sub-region, the moment the people hear my siren, they start flocking my residence as early as 4:00 am. But most of their problems rotate around access to justice and lack of legal advice and representation which I believe should interest LASPNET," Owiny-Dollo said.
He attributed the impulse to limited access to legal services by the majority of litigants, particularly in remote areas.
"In my view, legal aid should not just be representing the underprivileged people but it should equally emphasise advisory legal roles such as educating the citizens about the law and their rights," Owiny-Dollo said.
Born on January 18, 1956, in present-day Agago district, Owiny-Dollo assumed the role of Chief Justice on August 20, 2020, following the retirement of Justice Bart Katureebe.
Owiny-Dollo pointed out that some courts are several kilometers apart, which affects access to justice.
"From my home village in Acholi to Gulu High Court is 160 kilometers and there are no buses. You can imagine a situation where a litigant has to transport over ten witnesses and I believe in a situation like this, there is justification to provide physical access to justice," Owiny-Dollo observed.
Justice Geoffrey Kiryabwire of the Court of Appeal, who chaired a committee that selected the best legal innovation firms, said COVID-19 has accelerated the need for innovation.
"If embracing innovation was not a challenge to us, at least the COVID-19 pandemic has indicated to us that it is the way to go," Kiryabwire noted.
Kiryabwire revealed that 36 innovators picked interest in this year's legal aid innovations competitions but only three met the standard.
Legal Hub which came up with legal podcasts in which it produces simplified audio legal information hosted on Soundcloud for online users, Yunga, a legal rescue digital network that connects neighbor to neighbour and law enforcement in case of a crime, and Law Development Centre which centered on the use of megaphones particularly in remote areas to aid juvenile justice.
LASPNET chief executive officer Sylvia Namubiru revealed that the concept of the legal innovation challenge was birthed in 2016 by Barefoot Law as one of the ways of using innovation to improve access to justice.
Justice Law and Order Sector senior technical advisor Rachel Odoi Musoke applauded LASPNET for picking interest in legal innovation. She noted that innovation is inevitable in the global world.
Ugandan Ambassador to European Union Mirjam Blaak applauded the government for the timely intervention against COVID-19, which she said is part of guaranteeing the citizens' rights to health.
Australian Ambassador to Uganda Dr Roswitha Kremser said legal aid is vital to a fair trial, which she acknowledged that it is well cemented under Articles 21 and 28 of the Constitution of Uganda.
"What we want is increased access to justice. Although a lot has been achieved, JLOS institutions still face pertinent challenges such as Police stations being far apart among others which need to be worked on," she noted.
Kremser however said innovations should be centered on the human rights approach to avoid frustrating justice.
"Government needs to come up with affordable and reliable internet to pave way for the innovations in the justice sector," Kremser said.
The Director of Public Prosecutions (DPP) Jane Frances Abodo said innovators in the justice sector need mentors to ensure effective inventions.
"COVID-19 has greatly impacted on access to justice because even right now my office still working at 30% and innovation is the way to go but we need to mentor them," Abodo noted.