Government to empower women to mitigate conflicts
Oct 22, 2020
She stressed that despite of the political peace at hand, women still face many challenges yet they can play a critical role on peace building.
Despite of the various laws and policies aimed at promoting gender equality, women remain hard hit by the various conflicts in the country.

The government has now partnered with the UN Women and other development partners to find areas of shared collaboration to build consensus on how to empower women towards mitigating conflicts in communities.

This is going to be implemented through the National Action Plan III (NAPIII) on Women Peace and Security (WPS) agenda under the United Nations Security Council Resolution 1325 (UNSCR 1325).

While making a presentation at the donor roundtable breakfast meeting on NAPIII, at Sky Hotel, Naguru on outskirt of Kampala, the Commissioner Gender and Women Affairs, Ministry of Gender, Labour and Social Development (MoGLSD), Angela Nakafeero, said the ministry needs sh90.5bn to implement the plan.

The event was organised by the MoGLSD, UN Women and Ministry of Defense.
The five-year project is to run until 2025. It focuses on boosting women's role in preventing and resolving all forms of conflict; women leadership, management, and influence in the security sector; women in prevention and mitigation of natural and human-made disasters; effective systems and resources to successfully implement NAPIII and strengthening the Monitoring and Evaluation framework.

It is going to be implemented with support from Government agencies, Non-Government Organisations (NGOs) and United Nations agencies.

The project will be overseen by the secretariat based at the MoGLSD where funds will be channeled.

The secretariat is composed of UN Women, MoGLSD, and donors to ensure transparency.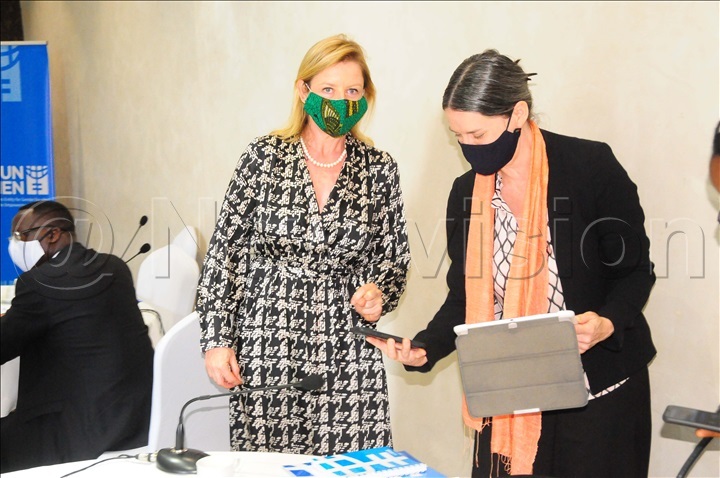 The project also has a steering committee which will be headed by the Minister and head of UN Women with their deputies, and a national technical committee which will be offering guidance.

"This project is key towards promoting gender equality and women's empowerment. We are looking at effective women participation in conflict resolution. Women remain the most affected group in any conflicts at both local and national level," Nakafeero said.

She said women are to be empowered through various programs to gain capacity in mitigating conflicts in their communities.

She explained that women's security is broader from the point of armed conflict.

"We are looking at issues which when addressed lead to meaningful peace for women. Issues like women's access to justice, health services; fair participation in decision making positions, access to land, protection from sexual violence, and other forms of Gender-Based Violence," she noted.

She stressed that despite of the political peace at hand, women still face many challenges yet they can play a critical role in peace building.

"We want all forms of violence eliminated and resolved, and strengthen social cohesion through a multi-sectoral approach. We are going to work with other ministries for effective implementation," she added.

The UN Women Country Representative, Dr Maxime Houinato, said the plan was a result of a holistic nature involving a wide range of stakeholders to ensure ownership and sustainable implementation.

She said UN Women is proud to have been part of the process of developing NAPIII.

"This will go a long way in ensuring that women, peace and security is at the heart of development," she added.

She noted that UN Agencies and NGOs will be getting funding based on the outline eligibilities for various programs.

"We need clear management standards to ensure transparency," she noted.

The State Minister of Defense and Veteran Affairs, Christopher Kibazanga, said advancing gender equality and women empowerment of women in different spheres is a prerequisite for attaining sustainable peace and security in the country.

He stressed that NAP, takes a holistic view of security by addressing a number of issues that potentially conflict drivers in society and flexible enough to respond to any changes in the implementation context and emerging realities at the local level.

He noted that with the worsening economic inequality and more people falling back into extreme poverty due to the COVID-19 pandemic, Government through various ministries needs to redouble efforts to address the problem, to avoid conflicts in the long run.

"The development of this plan is an opportunity to create fair, equitable and just societies, build social cohesion, expand access to socio-economic opportunities and enhance gender inequality and women empowerment," Kibazanga said.

He said the government through the plan also considers outlawing some of the bad cultures, which put women behind doors.

Targeting female combatants, UPDF spouse and veterans

The minister said his ministry of defense has already contextualised NAP targeting female combatants, military veterans and UPDF spouses to directly influence and create positive change in their lives.

"We are addressing an adverse set of issues ranging from Gender-Based Violence, integration of military veterans into productive civilian life, women socio-economic empowerment and equal access to opportunities within the military structures," he said.

"Most of our soldiers are in foreign missions and at times some die there. So we try to support widows and their children," he added.

He noted that they discovered that children of combatants whose fathers died in service become of a source of conflict due to lack of care.

The Ambassador of Australia to Uganda, Roswitha Kremser, commended Uganda for the good policy frameworks aimed at promoting women rights and pledged to support the implementation of the project.

"We want equal participation of women at all levels to easily fight against various injustices," she added.