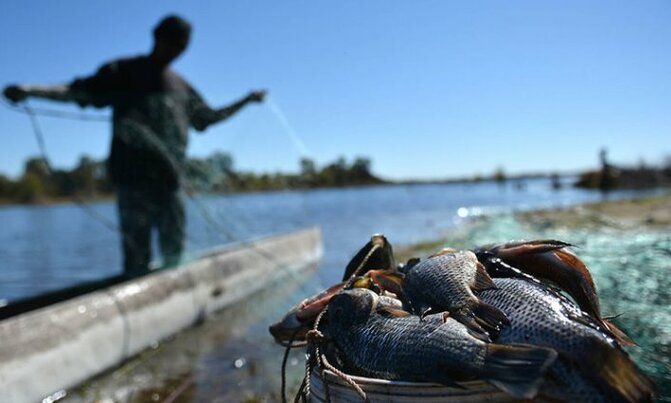 The new laws will see everyone involved in the fish sector pay for a licence to operate or run a fish business.
Engaging in any fishing activity for commercial or recreational purposes will not be done without a licence, according to the new regulations released by the agriculture ministry.
Any person, including those residing close to water bodies and would freely go fishing, will now be required to obtain a licence before engaging in fishing-related activities.
According to the guidelines for Fisheries Licensing 2020, even fishing in swamps across the country will be subject to obtaining a licence.
The new regulations will also cover boats and canoe builders, fishermen, trucks, dealers and transporters of smoked and dried fish as well as fishmongers.
All intending persons shall specify the species of fish for which the licence is being applied. Individuals intending to deal in more than one species shall require more than one licence and the fees for each licence shall be as provided for.
The development was confirmed by Dr Edward Rukunya, the head of the Directorate of Fisheries Resources at the ministry.
Rukunya said the licensing exercise for all activities will start immediately. The move is aimed at ensuring constant supply of fishing resources.
"The guidelines are part of the implementation of the Fishing Rules of 2020. We have to regulate this sector to economically benefit from our fishing resources as a country," he said.
Initially, Rukunya said, fishing in swamps had not been under the ministry, but rather a few local governments.
"Some local governments would charge for fishing in wetlands. But now, it will be done nationally by the ministry," Rukunya said on Monday.
He added that players in the sector will be required to renew their licences every year and that the fees will be collected by the Uganda Revenue Authority (URA).
Between 2018 and 2019, Uganda recorded improved performance under the fisheries sub-sector, which is attributed to the strict laws.
Last year, Uganda recorded an increase in fish production from 449,311 metric tonnes in 2018 to 561,065 metric tonnes. In the same period, earnings from fish exports increased to $227m (about sh849.4b), up from $215m (about sh804.5b) in 2018.
Licence categories and charges
The new guidelines fall under 22 categories and each has a different charge. Water bodies ranging from major lakes, rivers and swamps will attract varying licence rates.
Lakes such as Victoria, Albert, Kyoga, Edward, George and Wamala fall under the same category. Vessels plying these lakes will pay a licence fee of sh100,000 per vessel annually.
These bodies are followed by lakes such as Nakivale and other minor ones, which will attract a sh50,000 fee per vessel. Vessels operating on rivers and dams will attract a licence fee of sh25,000 each.
In addition, the guidelines indicate that there will be a licence for vessels used or owned by non-citizens. Under this category, the players will be required to pay sh2m.
The other licensing categories include trucks carrying fish less than five tonnes, trucks carrying fish of between 5-10 tonnes and trucks carrying fish of over10 tonnes.
There will be licences for containerised vessels by tonnage less than five tonnes, containerised vessels by tonnage less than 5-10 tonnes and containerised vessels by tonnage over 10 tonnes.
In addition, transporters of byproducts and processed fish, including dried and smoked fish, will be required to have a licence.
As part of the guidelines, artisanal processors or fish mongers and large scale artisanal processing for fish maws must be licensed.
There will be fish processing control fee for processing factories, fishing net manufacturing factories and importers, boat builders, local gear makers and repairers.
The players will also be required to pay for a fishing control permit for citizens, while there will be a special fishing control licence for non-citizens.
The other licences include recreational fishing permit, special licence, application fees and fish sanitary certificate, which will be paid per consignment.
Stakeholders react
George Abbot Ouma, the Bukooli Island County Member of Parliament, cautioned against over licensing the sector. Already, he said, people are paying for licences and that it has pushed many out of business.
"The sector is becoming over regulated without giving alternatives for those who have abandoned it. In my constituency, people have fled following the crackdown by the army," he said.
Much as he supports the Government initiative of protecting fishing resources for future generations, Ouma said it should have a resettlement action plan for those who have abandoned fishing.
Haji Musa Muliika, who owns fishing boats, said: "We will read and internalise the different licences and what they mean to the sector. For now, I cannot comment on the subject."
How to apply for a licence
The Ministry of Agriculture, Animal Industry and Fisheries has introduced an electronic registration and application portal for applicants.
The applicants can either apply through URA or the agricultural ministry online. Rukunya told New Vision that this was done to ease the process of registration and licensing.
In addition, fresh registration shall be done once every two years and registered persons shall not engage in any fishing activities without a valid licence.
According to the guidelines, each licence has different requirements in the application form and applicants may need all or some of the following requirements — a national identity card or passport, possession of a tax identification number obtained from any Uganda Revenue Authority office or their agent.
Applicants are also required to present previous years' licence(s) or payment of arrears must be proved, and any proof of registration.
Thereafter, all applicants shall be vetted for compliance to fisheries rules and regulations before issuance of licences. According to the guidelines, non-compliant fishers shall be deleted from the register.