"We have a QR app on our mobile phones, which we use to authenticate all the results presented to us,"
VISION UPDATES | ENTEBBE


Aviation Police at Entebbe airport has intercepted 23 passengers who were about to board a plane with allegedly forged Covid-19 certificates on Sunday evening. Patrick Onyango, the Kampala metropolitan police spokesperson, said police have been receiving reports of people forging Covid-19 certificates to be able to travel out of the country.

"This has been giving a bad image to the government of Uganda. We are going to charge these ones with forgery and uttering forged documents," noted Onyango. He appealed to every traveller intending to leave the country, to get a Covid-19 certificate through designated right channels.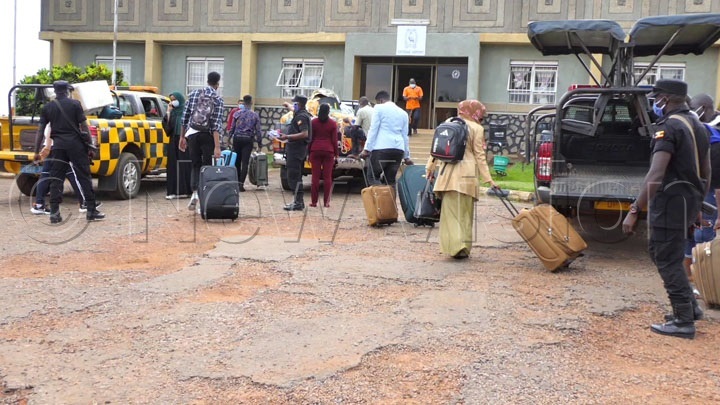 Earlier this month, Dr. James Ejul, the head of port health at Entebbe Airport, revealed that aviation passengers especially those coming from abroad, forge Polymerase Chain Reaction (PCR) results of Covid-19, to portray their results as being negative.

Upon resumption of passenger flights on October 1, five passengers reportedly faulted the Standard Operating Procedures (SOPs) when three of them presented fake results where two had not taken the test prior boarding the aircraft. "We have a QR app on our mobile phones, which we use to authenticate all the results presented to us," noted Dr. Ejul.

"We put all of them in a van and were escorted to an isolation facility from where another test was done and two of them were found to be positive," further intimated Dr. Ejul. This was confirmed by Eng. Ayub Sooma, the director for airports and aviation security saying, people who default SOPs face arrest as directed by the president.

According to Emmanuel Barungi, the Ag. general manager for Uganda Civil Aviation Authority (UCAA), departing passengers are required to report to the airport four hours prior to their flight departure time in order to enable health screening procedures in addition to presenting authentic and valid PCR test certificates issued within 120 hours before travel.

On the other hand, arriving passengers are required to present a PCR test certificate within 72 hours before boarding any aircraft inbound to Uganda.