COVID-19: Hand washing on increase from 33% to 61%
This has been attributed to continuous education in regard to covid-19 as a preventive measure to curb the pandemic.
HEALTH|COVID-19|SOPs
KAMPALA - Hand washing has registered an increase of 38% and 61% in rural and urban areas respectively.

The commissioner rural water in the Ministry of Water and Environment, Eng Joseph Eyatu has revealed.

This has been attributed to the effective implementation of standard operating procedures (SOPs) resulting from the current pandemic of Covid 19.

Speaking during the commemoration of the global handwashing day at the Ministry head offices in Luzira, Eyatu, also the acting director of Water Development, stressed that in rural areas, hand washing has shifted from 33% to 38% and jumped from 37% to 61% in urban areas.

This has been attributed to continuous education in regard to covid-19 as a preventive measure to curb the pandemic.

Eyatu explained that a survey conducted showed that in May and June this year, 95% of people had the facilities in front of their doors to wash hands, and this was due to the enforcement by the government following the directive by President Museveni.

"What we are now encouraging is how to sustain the behavior and these need ambassadors for a chance so that people can continue to wash hands to fight diseases like diarrhea among others, "Eyatu said.

He said this can reduce the time spent in hospitals, expenses, save money and instead use the same to make other economic activities to develop economically and avoid being in the hospital when you are supposed to be working.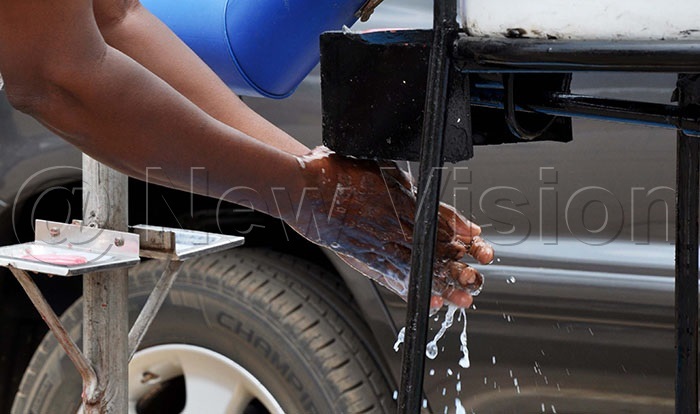 Eyatu explained that in terms of safe water coverage in rural areas, it stood at 26% 30 years ago but of now, 68% of villages are having at least a source of water and more than 30% of villages have more than one water source.

"What we are fighting to address is to reduce the long distances walked. Uganda is very much endowed with natural resources where everybody is able to access water, with the only issue remaining being time spent to collect it from the far distance, "he said.

He however observed that a good number of people have access to hand washing equipment but deliberately fail to hand wash.

Catherine Namyalo, the public health expert at the Ministry of Water and Environment decried inadequate funding to the ministry which is threatening effective delivery of hand washing services.

The executive director of Uganda Water and Sanitation Network (UWASNET), Yunia Musaazi said civil society organisations (CSOs) have invested about sh75bn to avail clean water to people in addition to about sh13bn into the provision of hygiene services.

She said that as players in the sector, they will continue to collaborate with the government until it realizes the intended target.

Joanita Menya from Unilever said that ever since Covid-19 started, the consumption of soap from customers has increased.

She said that handwashing with soap is still a long journey, requiring products that require first killing bacterial products.