Omugo's agricultural transformation can be largely attributed to the work of Nutrition and Income Generation Intervention (NIGI) programme.
One thing immediately grabs your attention when you visit Omugo sub-county in the West Nile district of Terego. Beautiful vegetable gardens adorn the backyard of most homesteads. Equally amazing is the uniform and neat layout of the gardens.

For someone familiar with farming communities in rural Uganda, they will automatically suspect that Omugo's case must be the handiwork of a professional entity.

Indeed, Omugo's agricultural transformation can be largely attributed to the work of Nutrition and Income Generation Intervention (NIGI) programme, a project funded by the Embassy of the Kingdom of the Netherlands in Uganda.

Molly Adokorach, the project manager for NIGI, explains that NIGI seeks to provide innovative, sustainable and scalable solutions to improve the nutrition and food security for people in and around the refugee settlements in the West Nile region.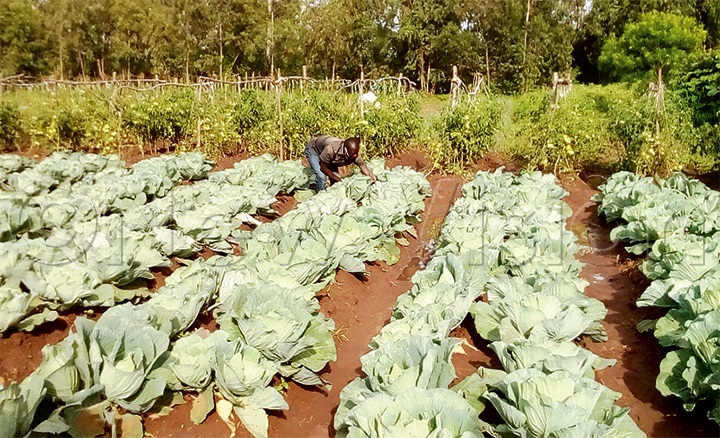 "In particular, addressing the urgent need for available and locally produced nutritious food, such as vegetables and fruits. We also have an extension services aspect, and that can explain these seemingly uniform vegetable gardens," she said.

According to Adokorach, besides teaching farmers to grow vegetables, they also give practical lessons on how to prepare food to retain its nutrients.

Solomon Osakan, the Refugee Desk Officer in Arua, says the World Food Programme (WFP) only gives food relief to refugees, yet many host communities are equally food-stressed due to various factors.

"The challenge of malnutrition is still a big problem in refugee settlements, as well as in the host communities. However, with NIGI on board, this has been addressed in Omugo Refugee Settlement and the host communities to a large extent.

Impact on host communities

At St. Joseph the Worker Catholic Parish in Arue village, Omugo sub-county, what welcomes you is a demonstration garden with vegetables, such as cabbages, dodo, sukuma wiki, as well as pumpkin and tomatoes, among others.

Fr. Geoffrey Ojandu, who leads a group of 52 farmers, says they also grow beans and have a fish pond.

"All we do here is teach the farmers best practices so that they go back and replicate this at their homes," he explained.

Egidio Ondia, a member, says he grows different vegetables on half-an acre at his home. He attributes his success to the empowerment and on farm training he has received at the demo garden, courtesy of NIGI.

"I have learnt that having a nursery house ensures that a farmer raises clean, pest free seedlings in a controlled environment. And such seedlings perform well in the garden after being transplanted," Ondia explained.

He added that they have also learnt planting crops using proper spacing and in line, as well as on beds for improved productivity because this ensures even distribution of nutrients. Beds also help with water retention and

preventing soil erosion. Ondia said the acquired knowledge has enabled families to adopt new farming technologies, improve their diets and also earn some income from selling the surplus food.

David Kayemba, an agronomist with NIGI, explains that their focus is mainly on knowledge transfer on best farming practices and proper nutrition to the community.

Kayemba says NIGI partners with East-West Seed Knowledge Transfer to train farmers, but also to help them get access to quality planting materials of Dutch varieties.

"We don't encourage giving out handouts, and that is why we set up a demo farm everywhere we have an activity, so that farmers learn and apply the knowledge on their farms. We also emphasise the importance of planting quality seeds for improved productivity," he says.

For Joel Odama from Envea village in Obi parish, the knowledge he has acquired in vegetable production has enabled him to raise money to start constructing a permanent house. He grows watermelon, cabbages, onions and tomatoes.

"I started with watermelon in the first season and earned over sh2.5m. This motivated me to work harder, so I incorporated cabbage. I also grow tomatoes and I have already earned sh300,000 from clients who come to buy at the farm..

"I appreciate the training NIGI provided, especially the importance of planting on beds, which help with soil and water conservation," he adds.

Odama says he has acquired more four acres so he can engage in serious commercial production.

"NIGI has also helped me and the community to know the nutritional value of vegetables. We are now healthier than before and also able to pay school fees for our children and siblings," he says.

At Omugo Health Centre IV, Simon Asule, a nursing officer, says about a year ago, they used to register over 50 cases of malnutrition weekly and their nutrition department was overwhelmed. However, with NIGI coming on board, the cases reduced tremendously. "This is because our graduates leave when they have mastered how to raise and prepare nutritious vegetable-based meals," he says.

Ruth Nakintu, the nutrition and horticulture officer for NIGI, explains that they follow up graduates from the health centre to provide them with more training on healthy feeding and vegetable growing.

"These graduates are normally breastfeeding mothers, pregnant women and children with a deficiency in Vitamin A, iron and micronutrients," she says.

Nakintu adds that they have set up demo gardens at Omugo Health Centre IV, where trainings are conducted every Thursday.

"We later link the graduates to other community-based trainers and track them down often to ensure they are doing the right thing," she says.

What refugee community says

In Omuge Refugee Settlement, Peter Yugu, a key farmer in Tank 27, says NIGI has taught them how to grow vegetables to supplement their diet.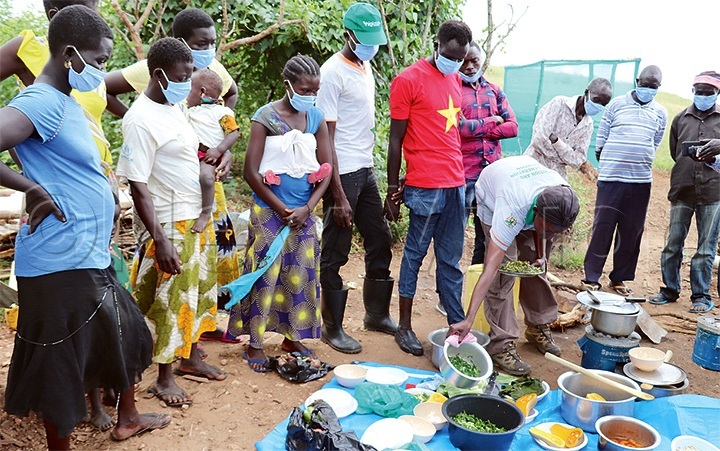 Yugu, however, says the community is living in fear because they have heard that NIGI's two-year tenure is about to expire, yet this is the time it is needed most.

"Recently, our food rations were reduced to 8kg per person. But because NIGI has empowered us with knowledge, we now have many vegetables and we are not feeling the pinch that the food cuts would have caused.

Our prayer is that NIGI continues its operations here for many more years so that more people are trained. This will reduce our food and nutrition burden," he says.

Diana Jemila, a mother-of-two from Tank 27, says before, her family used to eat only posho and beans, and the food was barely enough.

"With NIGI's support, I now have a variety of foods to eat and I even produce enough breastmilk for my baby because of eating healthy," she says.

Emmanuel Malchi, a key farmer in Tank 28, says NIGI has transformed the community by teaching them the benefits and agronomics of vegetable growing.

"We have learnt about seedling production, the importance of a nursery, how to transplant and the correct spacing. We have also been enlightened on soil and water conservation," he says.

He adds that Terego rarely gets enough rain, however, they learnt how to use mulching to conserve water and moisture for proper production, thanks to NIGI's training.

"Before, we were operating like blind people. We did not know about proper crop management, fertiliser application and pest control. This knowledge has helped the community in the settlement to diversify on the diet, as well as even earn some extra money from selling vegetables," he says.

"Previously, we used to get many other organisations with livelihood programmes, but none delivered like NIGI. We request that the project continues so that every farmer can be a beneficiary.

Hellen Sande, another resident of Tank 27, says she came to Uganda when she had just completed her O'level studies in South Sudan, and that she was not sure whether she would study in future. However, with the exposure to vegetable growing, she has hope of pursuing a career in agriculture.

Sylvia Ajonyo, a nutritionist at Ocia Health Centre III in Omugo, says they mostly attend to pregnant mothers.

"With NIGI's help, we have been able to set up a demonstration garden here, where we teach them how to produce dodo, spider plan, tomatoes, eggplant, onions, okra and pumpkins to supplement their diet. Most mothers were formerly malnourished because they only relied on the posho and beans they receive," she says.

Ojonyo says the training on nutrition that NIGI provided enabled many mothers to establish kitchen gardens at home, which has greatly reduced the cases of malnutrition that they register at the health centre.

"We used to treat over 100 cases of malnutrition in a month, but these days we get only about 50 due to the improved feeding in homes," he adds.

David Baguma, the team leader for East-West Seed Knowledge Transfer, explains that in the refugee settlement, they work with NIGI to identify a key farmer, who has 10-15 other farmers attached to him.

According to Baguma, each farmer has a kitchen garden measuring about 25sq metres, where they grow a minimum of four vegetable varieties. Altogether, there are 26 key farmers in the settlement, each co-ordinating about 15 others.

"In the host community, we use the commercial vegetable production approach because people have big chunks of land to produce in bulk. In the settlement, we strictly have kitchen gardens to address the malnutrition challenge among the refugee community," Baguma said.

He says recently, WFP reduced the food rations to the refugees by 30% due to funding constraints posed by COVID-19.

The seeds aspect

Adokorach explains that NIGI, in partnership with the Integrated Seed Sector Development programme in Uganda (ISSD Uganda), introduced the component of Local Seed Business (LSB) to promote the production of quality seed and planting materials.

The aim is to support the development of a vibrant, pluralistic and market-oriented seed sector, that provides smallholder farmers access to affordable quality seed of superior varieties.

Adokorach says the LSBs are skilled to specifically produce quality seed, such that other farmers can purchase to produce grain for consumption.

Agago Women LSB Group in Naku village, Drajini sub-county in Yumbe district is one such beneficiary. According to Alex Rubega, the chairperson, they started in 2011, but became an LSB in 2015.

"We are engaged in growing beans (NARO Bean 1), soya bean and sesame, strictly for seed. We are now 25 members (15 women and 10 men) and are in advanced stages of setting up a modern storage facility and processing plant for value addition, with support from the agriculture ministry," he says.

"NIGI has supported us with quality assurance training and market linkages. For instance, last year we supplied cassava cuttings to refugees and have previously worked with NAADS to supply soya bean seeds," he says.

Rubega adds that the livelihood of members has improved because of the money they earn from the sale of seeds and planting materials.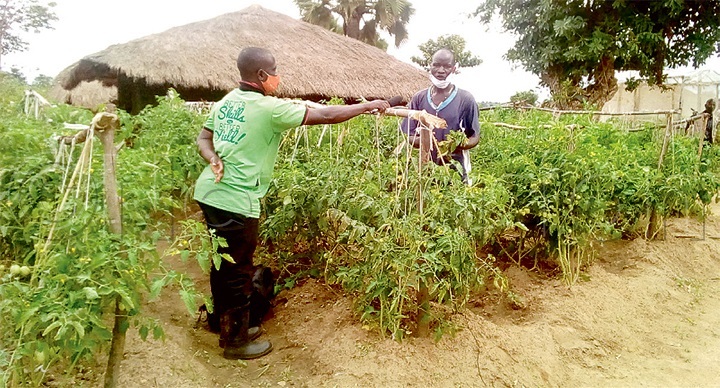 "Beans are also a high-value crop, which has improved the health of our families. We plan to venture into value addition by baking cakes using soya bean flour," he says.

Members of ACTS Local Seed Business group based in Aliamu, Drajini sub county in Yumbe district, are also full of praises for NIGI. The group primarily engages in cassava production and currently has over 100 members.

Stella Dratru, a member and mother of two, says she has benefited from NIGI's training on proper agronomic practices and can access foundation seeds easily.

"I grow cassava, beans and sesame on two acres. Last year, I sold over 60 bags of dry cassava chips and about 120 bags of cassava cuttings. With the money I earned, I have embarked on constructing a house for my family," she says.

The future

With WFP cutting down on the food rations, Osakan says he wishes that NIGI's tenure is extended so that the model is replicated in the other refugee settlement where the issue of malnutrition is biting hard.

Oyee says there is a need for the project to continue and bring innovations on board, such as irrigation equipment for sustainable implementation.

Challenges

Oyee says Omugo is rocky and rugged, yet NIGI intervention is farming-related, hence calling for more innovation and also having to spend a lot of resources to create the desired impact.

"Most of the technologies and seed varieties are fairly new to the beneficiaries hence taking time for people to adapt to them. We are happy that they are adopting very first," he said.

He adds that there is a general lack of quality agricultural inputs in the area, such as seeds and planting materials, which increases the cost of doing business.

Oyee also says the farmer markets are not fully operational due to COVID-19, which has negatively impacted the activities of some of the beneficiaries.

Project overview

Patrick Oyee, the Chief Party ISSD-Uganda, says NIGI project is funded by the Embassy of the Kingdom of Netherlands in Uganda and implemented by the Wageningen Centre for Development Innovation — WUR.

He adds that NIGI also partners with East-West Knowledge Transfer Foundation to undertake its activities. "The project looks at two critical areas; nutrition and income generation. For nutrition, we promote the production and consumption of highly nutritious foods, particularly vegetables, which can easily be grown in areas constrained by space," he says.

Oyee added that they train the beneficiaries on how to produce and prepare the vegetables to maximise the nutrients. And refugees mainly receive high carbohydrate-based foods, hence train them to embrace the consumption of to provide vitamins and irons.

"For income generation, we train the refugees and host communities on how to produce vegetables profitably. We train them on the best technologies and link them to the sources of the best varieties and seeds. EWS is the major partner here," he said.

He added that they want people to adopt the same practices on their farms, to produce for both home consumption and the market.

"We are happy that the entire community is embracing the growth of the tomatoes, onions and cabbages scientifically to make some cash," Oyee said.

He said people can use small spaces to produce healthy foods, as well as earn income. NIGI also works with ISSDUganda, to link both refugees and host communities to the certified seed producers in West Nile for easy access to quality seed.