The ISO director general was accused of reshuffling long-serving security operatives and surrounding himself with young opportunists
The Thursday dropping of Col Frank Kaka Bagyenda as director general Internal Security Organisation (ISO) had been long overdue, a senior security source has told New Vision.
On Thursday evening, President Yoweri Museveni, who is also the Commander-in-Chief of the Armed Forces, through a radio call message to the Uganda People's Defence Forces (UPDF) units, dropped Kaka and appointed seasoned operative Lt Colonel Charles Oluka.
Museveni also transferred Taban Amin, who was the deputy director general in charge of West Nile, back to the ISO headquarters as the substantive deputy. He also appointed Lt. Emmy Katabazi, who was promoted to the rank of Major, as the second deputy.
Don Mugimba, who was Kaka's deputy, was also dropped in the new changes.
At the time of his appointment, Oluka was in Karamoja co-ordinating the operation to track down prisoners who escaped from Moroto Prison last month.
Kaka's tenure at the helm of the covert security agency was characterised by allegations of torture, human rights abuses, arbitrary arrests and internal fights among security operatives, New Vision has learnt.
"His sacking was long overdue. The President had received a series of intelligence reports about how the spy agency had degenerated, but took his time until yesterday," the senior army source said.
Checkered tenure
Col. Kaka was plucked from the business world and appointed to head ISO in January 2017, taking over from Brig. Ronnie Balya.
Kaka, a bush war hero, was an experienced agent and is credited with carrying out a series of successful reconnaissance and intelligence gathering that were key during the National Resistance Army (NRA) fight against the Milton Obote regime.
However, Kaka is accused of turning the security apparatus into what sources called "a den of "reckless operatives".
Andrew Mwenda, a veteran journalist, accuses Kaka of fabricating intelligence.
"His worst contribution to our intelligence system was to destroy whatever good that had been built in ISO and then running torture chambers, euphemistically called safe houses, where he brutalised his victims with the barbarity of Idi Amin goons. But all is well that ends well," Mwenda says.
However, it should be noted that the existence of safe houses did not start with Kaka's time at ISO.
Security agencies, both ISO and the Chieftaincy of Military Intelligence (CMI), have, for long, been running safe houses, an issue which has been of concern to human rights organisations and activists.
Kaka was accused of reshuffling long-serving security operatives and surrounding himself with young opportunists, who took advantage of the agency to peddle fake intelligence.
Oluka is among the many operatives who were equally affected.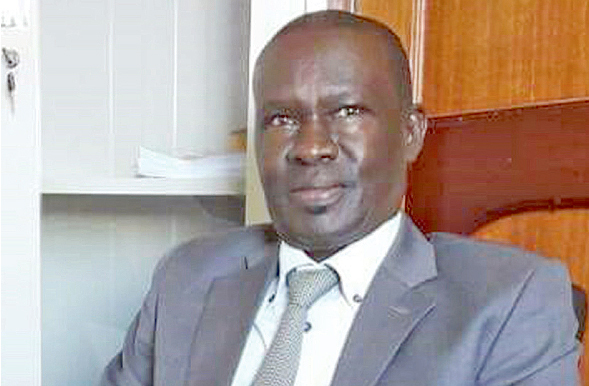 Oluka, who was the director technical services, was suspended in 2018 by Kaka after a Finnish arms dealer was found dead in a hotel room in Kampala. Also suspended was director of economic monitoring, Charles Ndawula and Joseph Aliganyira, the director of political affairs.
Oluka was later brought back in 2019 to head special operations in the office of the director general.
ISO was on the spot following an intelligence report that implicated the former Inspector General of Police, Gen. Kale Kayihura, in the murder of Police spokesperson Andrew Felix Kaweesi.
Kaweesi's car was sprayed with bullets on March 17, 2017, in Kulambiro, Kisaasi, a Kampala suburb.
Sources who spoke to New Vision noted that President Museveni ordered for the arrest of Kayihura on June 13, 2018, after being handed the report by ISO, implicating him together with the then Flying Squad commander, Herbert Muhangi, Col Atwooki Ndahura, formerly director crime intelligence and several other senior Police officers. These were implicated in the planning, executing and covering up of the Kaweesi murder.
ISO had detailed evidence collected by the intelligence officers under Kaka.
However, the President directed an investigation into the report and it was discovered that it had allegedly been fabricated to pin the suspects.
The intelligence officer, Simon Peter Odongo, who was said to be the originator of the audio recording, did not show up when the committee wanted to question him on the source of the audio, which was part of the evidence. The committee also questioned Odongo's qualifications.
In March this year, Odongo was arrested by CMI after he allegedly authored another report, accusing CMI officers of working with elements outside the country to try and destabilise Uganda.
Odongo was head of the ISO cyber unit.
CMI officers confiscated his computers and laptops to investigate allegations that he had masterminded fake intelligence reports about several government agencies and individuals, including the raid on MTN in 2018.
Sources noted that other security organisations, such as CMI, Special Forces Command (SFC) and Police had decided not to work with ISO following questionable reports written about them.
In July this year, CMI, together with the SFC, raided several ISO safe houses in Kampala and following a shootout in one of the facilities, Kaka recorded a statement concerning the matter.
Handling of NUP
The last saga that was perhaps the final nail in Kaka's coffin was the handling of the fallout in the National Unity Platform between former party president Moses Kibalama and current party president Robert Kyagulanyi aka Bobi Wine.
While appearing on a talk show on one of the TV stations, the Chief of Defence Forces, Gen. David Muhoozi, revealed that he met Kibalama, but declined his request to give him armed guards.
Responding to a question on whether he had met Kibalama, the CDF said: "We met. It was unsolicited. I never wanted to meet Kibalama. The person who brought him made it appear it was an SOS. I was moving for another assignment and he said there is something of security importance. I asked, can't it wait? He said this man's life is in danger. I agreed to meet Kibalama. He said he needed security.
When I advised that he contacts Police, he insisted that he wanted UPDF security. I told him I was going to consult Police and he left. Later, I saw him on TV in court. He had also approached another sister security agency — ISO to be precise," Muhoozi said.
Security sources told New Vision that the subsequent court proceeding embarrassed security and that Kaka was questioned on why they had intervened in the party's internal fights.
The President, sources said, was left with no option, but to relieve Kaka of his services on Thursday.
About Oluka
Lt. Col. Charles Oluka, who has been named the new ISO director general, is one of the longest serving officers in the spy agency.
Apart from military training, which he received from the Tanzania Military Academy, a prestigious training institution in Monduli, northern Tanzania in 1990, Oluka is also a flight captain and an instructor.
Before Col. Kaka removed him and other directors, he was the director technical services for many years.
He reportedly played a critical role in the crushing of the Col. Kizza Besigye-led Walk to Work protests in the aftermath of the 2011 presidential elections.
Oluka has also over the years played a central role in acquisition of defence technology for the intelligence community. He was head of the contracts committee of the ISO in 2008.
Oluka has reportedly been to several European countries to attend specialised surveillance technology trade shows and military technology events.
Museveni-Kagame meeting
The dropping of Kaka also came a day after President Museveni met his Rwandan counterpart, Paul Kagame, via a virtual video conference.
In February this year, Rwanda demanded the sacking of six Ugandan officials over allegations of supporting and funding Rwanda National Congress and RUD-Urunana networks.
The six included the state minister for regional affairs, Philemon Mateke, CMI boss Maj. Gen. Abel Kandiho, Kaka, Brig. Fred Karara and Brig. Charles Asiimwe, among others.
It remains unclear whether the President was effecting this demand when he relived Kaka of his duties.